Reading Time:
7
minutes
Starting a successful clothing store doesn't only rely on your passion and determination. Succeeding in a retail business requires many different factors coming into play as the landscape is increasingly competitive. Now, you'll have to go up against big brands with a huge customer base too, such as SHEIN, ZALORA, and more!
To start, you'll need to ask yourself some important questions, including;
"What did those clothing stores and brands do to achieve this level of success in the retail landscape?"

"What did they do to win their customers' hearts and grow sustainably?"
Let's dive into some tips to successfully start your own clothing store now!
Where can I start my clothing store?
Image by Al Kirouac from Pixabay
It's 2021, which means that you're no longer just bound to brick-and-mortar operations. Here are three main channels that you can consider when opening your clothing store.
1. In-store
The advantage of having your own store is that your customers can visit and try the clothes on. As a store owner, you can also interact and engage with them to build as well as manage customer relationships.
If you offer great service, your customers will keep coming back and continue buying too!
But how much does it normally cost to open a brick-and-mortar clothing store?
We would say a minimum of RM7,000 is needed, but this could go higher depending on your shop space or size. Remember, you'll also need some budget set aside to pay for stock, rent, utilities and more, so this figure is a rough estimation and is expected to be much higher.
2. Booth in the markets or the malls
You might also want to consider starting your clothing business by selling your goods in a booth, set up at markets or department stores. By doing this, you'll save on rental costs and have the freedom to sell whatever you want.
This is especially true if you plan to sell in markets. You'll even get to enjoy the flexibility of selling in multiple locations that have booth spaces available for you.
However, rental fees may vary based on locations and the space required, ranging between RM3,000 and RM100,000 a month, or RM100+ per day.
This does not include the cost of mannequins, clothes racks, cloth hangers, and other equipment, though. Therefore, you will need a minimum capital of RM1,200 to sell your clothes in markets or malls.
3. Online
Selling clothes online is popular among young entrepreneurs. It is the most cost-effective and convenient way to run a clothing business.
With an online platform such as Facebook, Instagram, WhatsApp, or even an ecommerce website, you can sell your clothes anywhere and anytime. All you need is to ensure that you have enough stock and a great marketing strategy.
The initial capital you'll need to run an online clothing store usually ranges from RM500 – RM700+.
Tips to start a clothing store and grow sales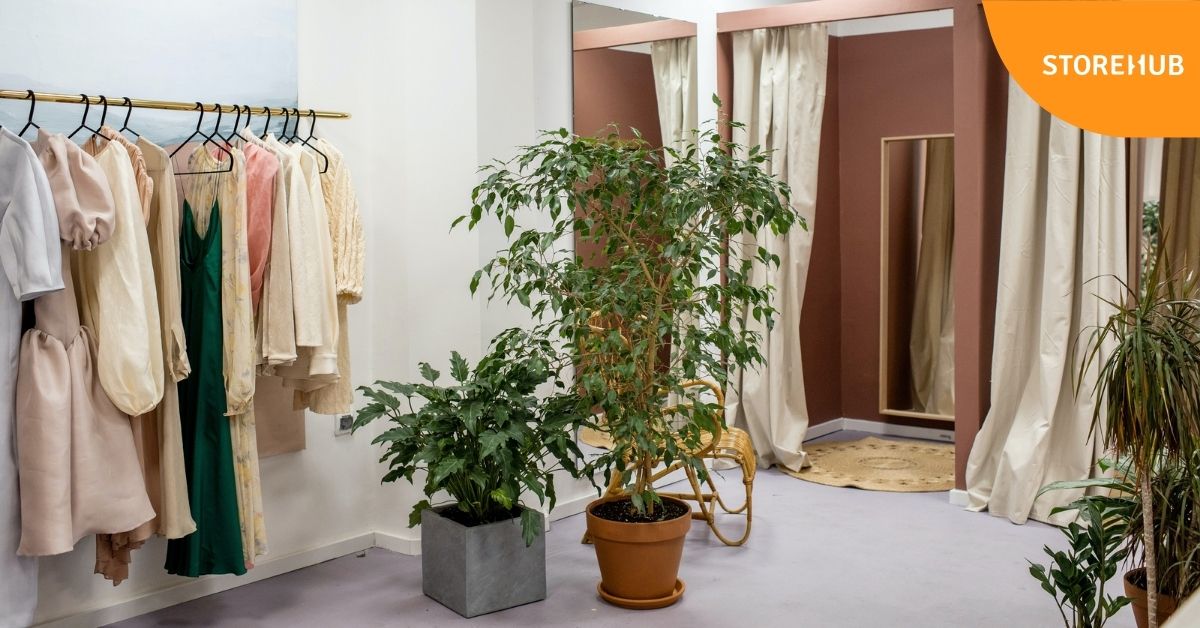 Image by Ksenia Chernaya from Pexels
Now that you already have an idea of where you want to start your clothing business, you'll need some tips on how to start it successfully.
In this section, we'll cover clothing store management tips and tricks to help you succeed. Check out these 8 strategies below!
1. Start with your passion and stay updated with new fashion trends
With passion and determination, you're already on the right track! However, the fashion industry is constantly changing. Therefore, you'll need to always keep up with the latest trends to serve your customers' needs, especially if you want to reach a younger demographic.
Passion for fashion is important as you'll need the drive to keep abreast of the latest trends and competitor activities. That's why you'll always need to start by having passion as well as the creativity to research and experiment with new ideas for products.
2. Be unique
When deciding what items you'd like to sell, it's important to think out of the box and plan ahead. Whilst being able to keep abreast of trends is important, you will also need to be able to distinguish your store offerings from competitors' so that you do not risk drowning in a sea of sameness.
Be sure to find your store's uniqueness and turn it into a selling point, which could be many things – such as your signage, store design, clothing arrangement, and services.
When you have unique selling points, you'll be more likely to attract customers and make them stay with your business in the long run. Don't be afraid to be unique and different!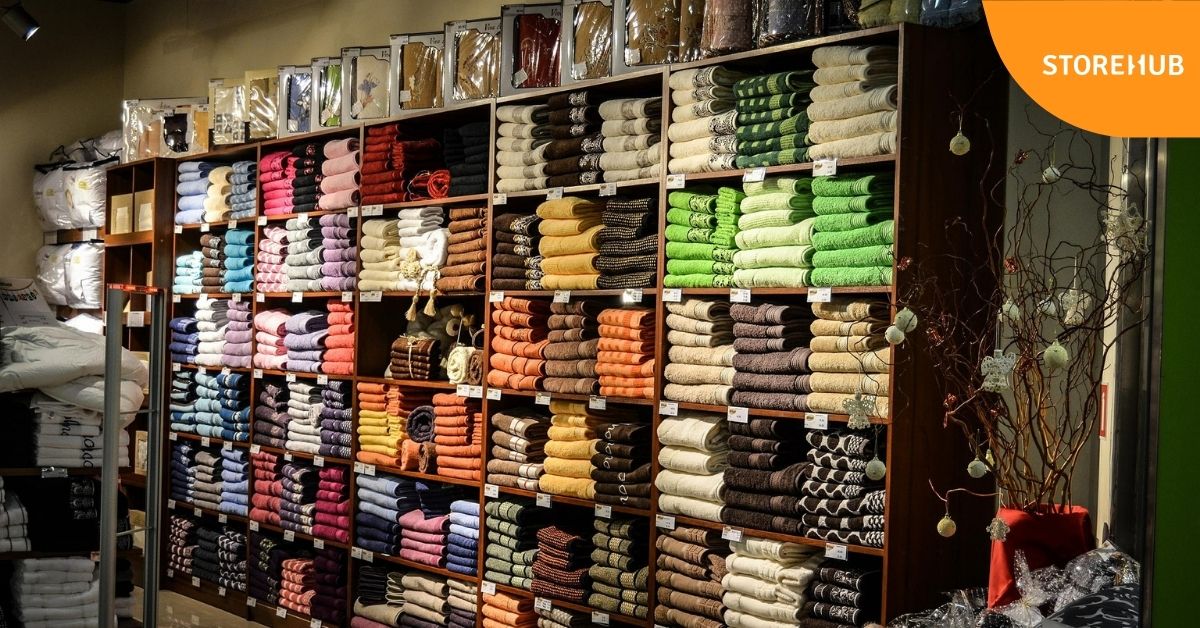 Image by Michal Jarmoluk from Pixabay
3. Know your customers
Another crucial factor in starting a clothing business is knowing your customers. This will help you identify what you should sell, and manage your clothing store more efficiently.
Try narrowing down your niche by identifying what you want to focus on:
Styles

– street clothing, Korean fashion, uniforms, etc.

Gender

– male, female, or others

Age

– teenage, adults or elderly

Occupation

– students, office workers, singers, actors, etc.

Income

– RM2,000 – RM3,000 or more
Some groups of customers may have the same taste in styles and fashion but may be limited by their budget. These factors will help you plan your product and store concept better, and in turn, you'll be able to sell to the right group of people, too!
4. Pick the right and reliable supplier
Suppliers or manufacturers are very important in the clothing business. When you have the right suppliers who are reliable, you will be able to sell hassle-free.
That's because a trustworthy supplier will help ease your store operations flow. With better-quality stock, you won't have to worry about your customers being unsatisfied with their purchases – and you can then focus on enhancing other areas of your business, such as marketing, customer experience and service.
In contrast, when you have suppliers that provide poor quality products, you may lose revenue, business, and loyalty. So be sure to do your research on reliable manufacturers and suppliers!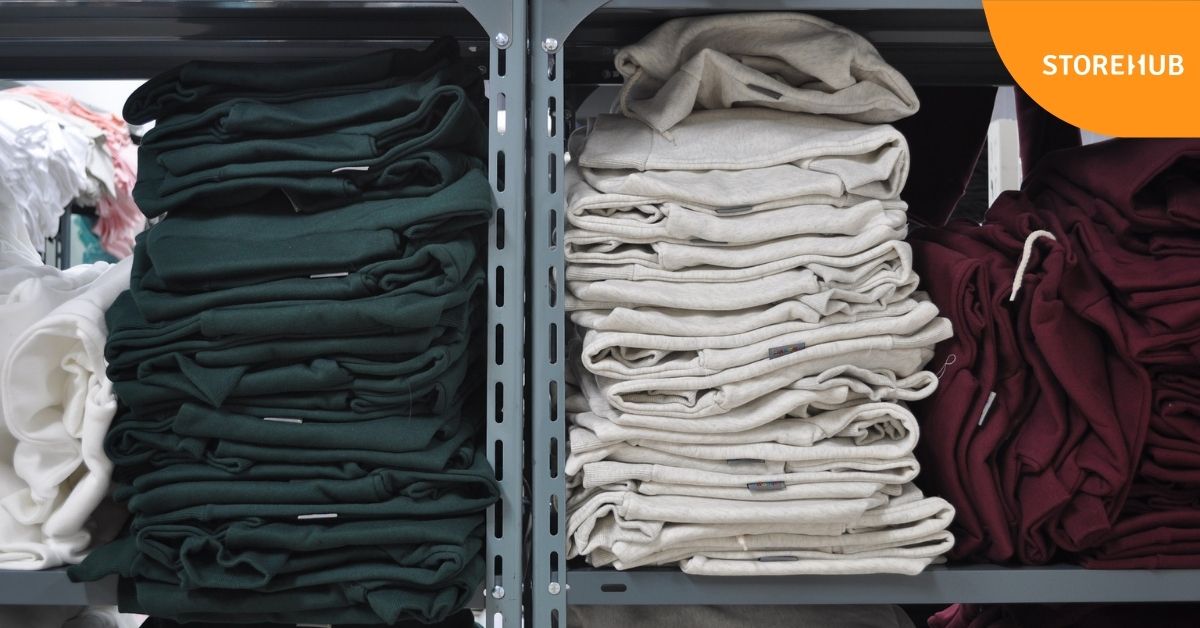 Image by atom6408 from Pixabay
5. Choose the right location for your clothing store
Location is also an integral part of your considerations when planning your store – being at the right location will help attract more customers and bring in more sales.

Here are some important aspects to consider when sourcing for a location for your clothing store:
Visibility

Traffic flow

Transportation

Competitors
Choosing a location starts with listing out potential locations, then comparing rentals and traffic. Once you are able to answer these questions, setting up a shop will be much easier.
6. Always be service-oriented
Service orientation should be a critical part of your business, regardless of which industry you're in. In fact, studies have shown that 86% of customers are willing to pay more for great service.
You'll need to ensure that your staff members also share the same service orientation; giving your customers the best experience possible. It could be as simple as giving customers advice when they need it, or even helping them to choose their favourite items – great customer service can go a long way in helping you turn new customers into loyal ones.
This can be made much easier if you have a CRM-integrated POS system such as StoreHub. All you need is one powerful omnichannel platform with over 30 features that can enable you to optimise business operations.
Having a CRM-integrated platform allows you to collect crucial customer information such as their names, phone numbers, and email addresses.
Plus, the StoreHub CRM system is also integrated with a cashback loyalty program called Beep Cashback that has been found to encourage up to 2.7x higher customer spend!
What are you waiting for? Level up your customer service and keep more customers coming back now!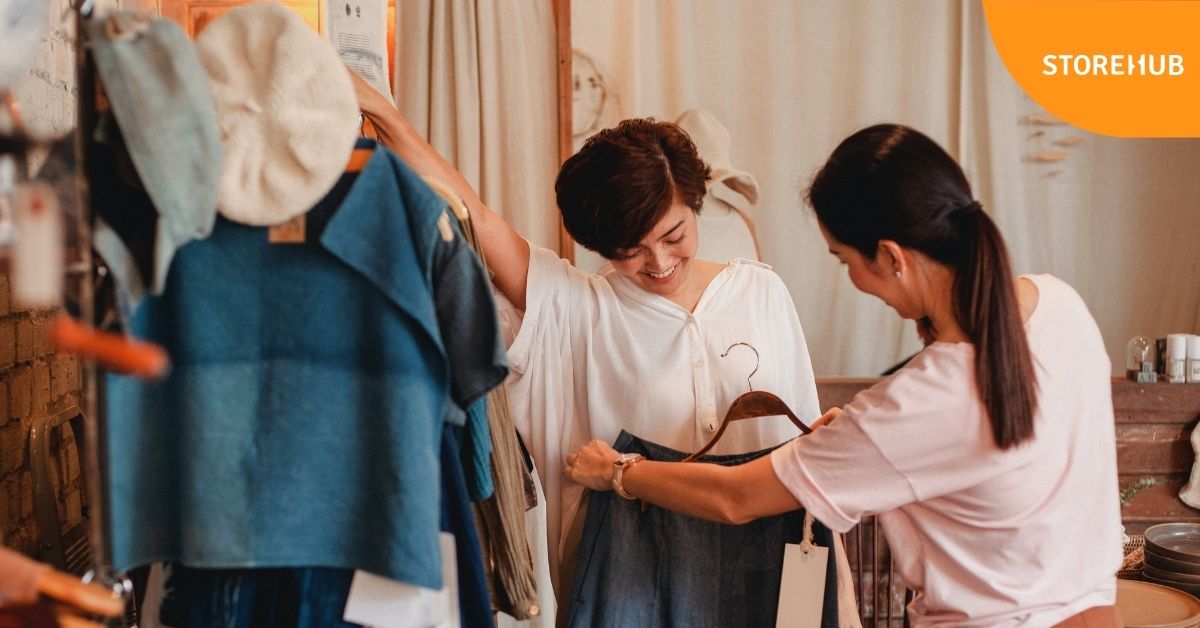 Having an effective CRM platform can also enable you to have a better understanding of customer behaviour. You'll be able to obtain information and trends about what they love, the sizes they're wearing, styles they prefer, and more. This means you'll be able to personalise your product and service offering based on their preferences.
Don't underestimate the power of data – small details matter in the overall customer experience as it helps them to feel like they're being heard and understood.
This data could even be leveraged to run promotions – personalised deals help drive better customer loyalty. Offering personalised deals increases the likelihood of repeat purchases and visits to your store, and this, in turn, could grow your sales in the long run.
8. Sell clothes on both online and offline channels
2021 is the year of smart shopping, and with consumer demands changing so frequently, it is critical for businesses to be present on both online and offline channels – especially as we enter the endemic phase.
This can help provide your customers with the safest shopping experience, especially since it's not completely safe to go out and try clothes on yet. Being able to cater to these needs also reaffirms your business' commitment to your customers' safety – and this could result in a growth in brand trust, and eventually, sales.
Having an online presence also means the doors to your business never close, so be sure to try out different digital platforms such as social media, online marketplaces, and even your very own ecommerce website for your clothing store.
Pro tip: You can now enable your online clothing store with StoreHub Ecommerce. All it takes for your business to go up online is just a few clicks!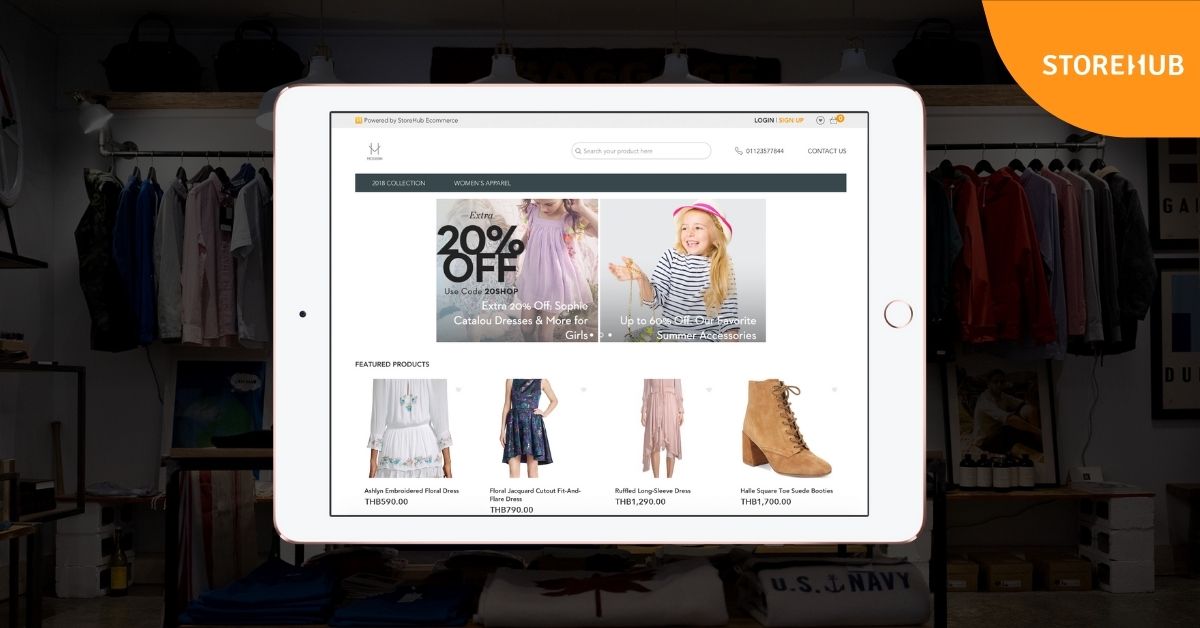 That's it!
It is important that you know your niche and audience before deciding on other factors such as location, product offering, as well as distribution channels when starting your own clothing business. Service orientation is also a crucial part of running any business in today's day and age.
This is where having an omnichannel platform to streamline and optimise business operations helps – and there's no better solution than the StoreHub Ecosystem to help take your business to the next level. 30+ features, 1 powerful platform, and at an affordable price. Success is not too far out of reach!
Power your F&B business with StoreHub's all-in-one restaurant management system now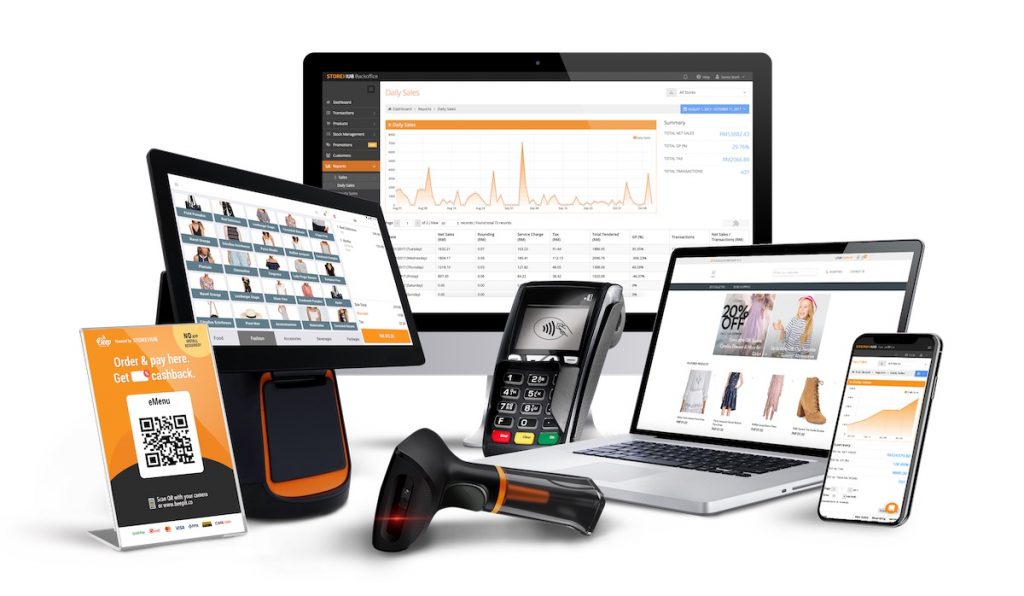 Click here to apply for your FREE StoreHub demo now