Reading Time:
5
minutes
A great retail store design = more money.
You'd think we're kidding, but we're not.
A retail store's interior design provides more values than just aesthetics. It helps customers navigate through your store with ease, and it can also influence the way they buy.
Consider these examples below.
Pharmacies and convenience stores are designed for quick navigation, so customers can quickly look for what they want and leave.
They can even afford to be as small as possible.
Malaysian-grown brands such as Caring Pharmacy and MyNews.com only needed to emulate layouts from their foreign counterparts that have been tried and tested.
So before you start designing the layout for your store, visit your competitors and start taking notes, such as:
How easy is it to find what you're looking for?

Is it comfortable to navigate around the aisles?

How likely are you to get stuff that's not on your list?

How would you improve it?
As you're starting to sketch your store's layout, here are some questions you need to consider:
1. How do I arrange the products in my store?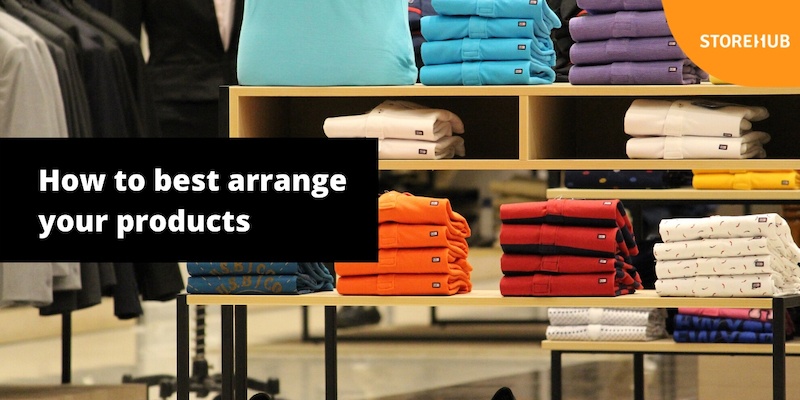 As we have mentioned before, a well-designed store doesn't just make your business look good, but can also increase sales.
Below are 5 area of opportunities that you can optimise to help users and encourage them to keep coming back to your store:
Retail store entrance
The entry gives out the first impression of your store. You want it to be neat, attractive and welcoming.
Most retail stores have a wide entrance to make customers feel invited. Transparent glasses are also used so customers can get a glimpse of the merchandise as they are passing by.
Arguably, some high-end retailers choose a more closed store design to give an air of exclusivity.
Visual merchandising
If you're running a boutique, visual merchandising is a core appeal that attracts customers to your store.
You might want to rotate it frequently and monitor if there are any changes in foot traffic with different variations of merchandise featured.
Transition area
After the entrance, there's the transition area where customers can stop and quickly look around.
Signages within the store will draw customers further.
While you always need your employees ready to offer assistance, most customers prefer to locate a department that meets their needs and head straight for it.
Alternatively, this area can also be used as the "prime real estate" where you can put your most valuable products.
Bookstores typically utilise this space to display the latest best-sellers in the market.
Seating area
Most bookstores offer some seating areas so customers can take their time and browse through books, increasing their likelihood to buy.
You can also arrange the chairs strategically according to the types of merchandise.
To use bookstores again as an example, seats are often placed near the fiction section, where customers can dig in through the early chapters for them to get invested in the story.
Sometimes, interior design doesn't only consider the customers who are going to make the purchase, but also the people who are going to accompany them.
In some retailers such as shoe stores, you can usually find an extra couch for people to sit in. This allows the companions (spouse, children) to relax and put less pressure for your customers to look around and try your merchandise. Eventually, this can lead to more sales.
Checkout area
The point-of-sale (POS) system area is almost universally located near the entrance.
You might have a different idea on where to put locate yours, but more often than not, customers will glance directly towards the entrance when they are about to pay for their items.
This is also an opportunity to put small pick-up items such as accessories or candy that customers can purchase as a last-minute addition.
2. How do I determine the design of my store?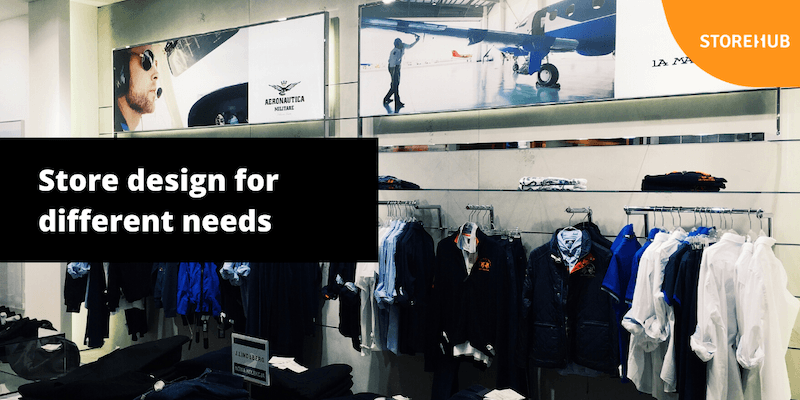 There are two important factors that can influence the design and layout of your store, namely service and price level.
Here's how it differs for each type:
Full-service, high-price retail
In retail stores that sell full-service and big-ticket items, customers tend to rely heavily on the assistance of your staff especially when the product is tailored to the individuals.
As such, you will need more employees to serve them, typically one staff for every three customers.
Examples of this type of stores are:
jewellery stores

optic shops

sneaker shops with JD Sports
Arrange furniture such as chairs and tables in a convenient spot so your staff can tend to the customers comfortably.
Self-service, low-price retail
In stores that sell low-price items (usually commodities) such as a grocery or a pet store, you would typically need your staff for operations including stocking the shelves, cleaning the store, and so on.
Customers are mostly independent as they navigate your stores, with the occasional help from your staff to help guide them to the right aisle.
3. What other interior store design elements should I pay attention to?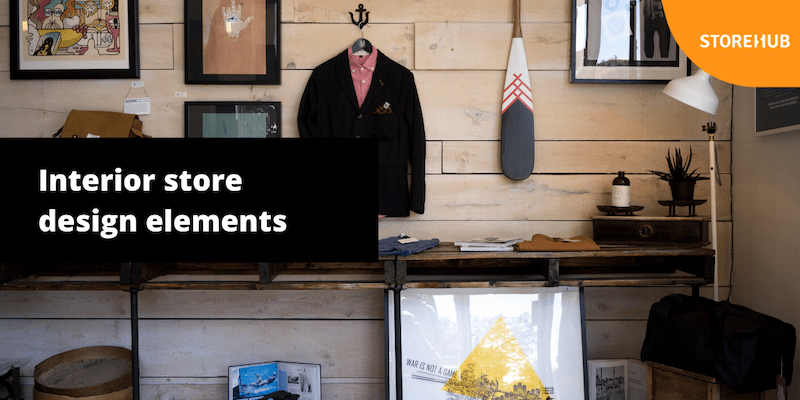 Make sure your store is well-lit
Lights, camera, action!
Besides cleanliness of the aisles and shelves, lighting is crucial in aspiring confidence in your customers as they walk through your store and view your merchandise.
In a boutique or an optic shop, lighting is also important to make sure customers can have a good look of themselves when trying out your products.
Even when your store is closed, keeping the lights on select items such as your featured merchandise can encourage after-hours windows shopping.
Design retail store to prevent shoplifters from stealing
Shoplifters tend to hide items in areas where the view is obstructed.
Retail store theft prevention tips:
Install CCTVs in your store and automatic door bells to indicate that you're aware of your customers' movements
Reduce blind spots by having more spaces in between aisles, avoid high fixtures, and placing mirrors in those corners.
Limit the number of items that customers can bring to the fitting room if you're running a boutique shop
Track the number of clothes a customer brings in to the fitting room with a simple signage to make sure they return the same amount of clothing as they walk out
Using colour psychology to choose the right colours for your store
The principles in choosing colours for your retail store is pretty much the same in any other areas of design, including:
Choosing only one or a few primary colours, having too many will create a clash

Secondary colours tend to be lighter shades of the primary colour, you can an online colour wheel online to get some ideas

Background colours tend to be soft to allow the products to stand out
Emotions and attributes associated to colours:
Yellow – Cheerfulness, friendliness, happiness, youth
Orange – Fun, liveliness, energetic, invigorating
Red – Speed, anger, passion, vigorous, urgency
Green – Growth, balance, nature, refreshing
Blue – Stable, security, trust, knowledge, tranquility
Purple – Royalty, wisdom, authority, spirituality
Pink – Warmth, friendliness, nurture, softness
Brown – Toughness, reliability, earthiness, seriousness
White – Purity, peace, virtue, cleanliness, simplicity
Grey – Maturity, compromise, composure, impartiality
Black – Luxury, glamour, secrecy, formality
Power Your Retail Business with StoreHub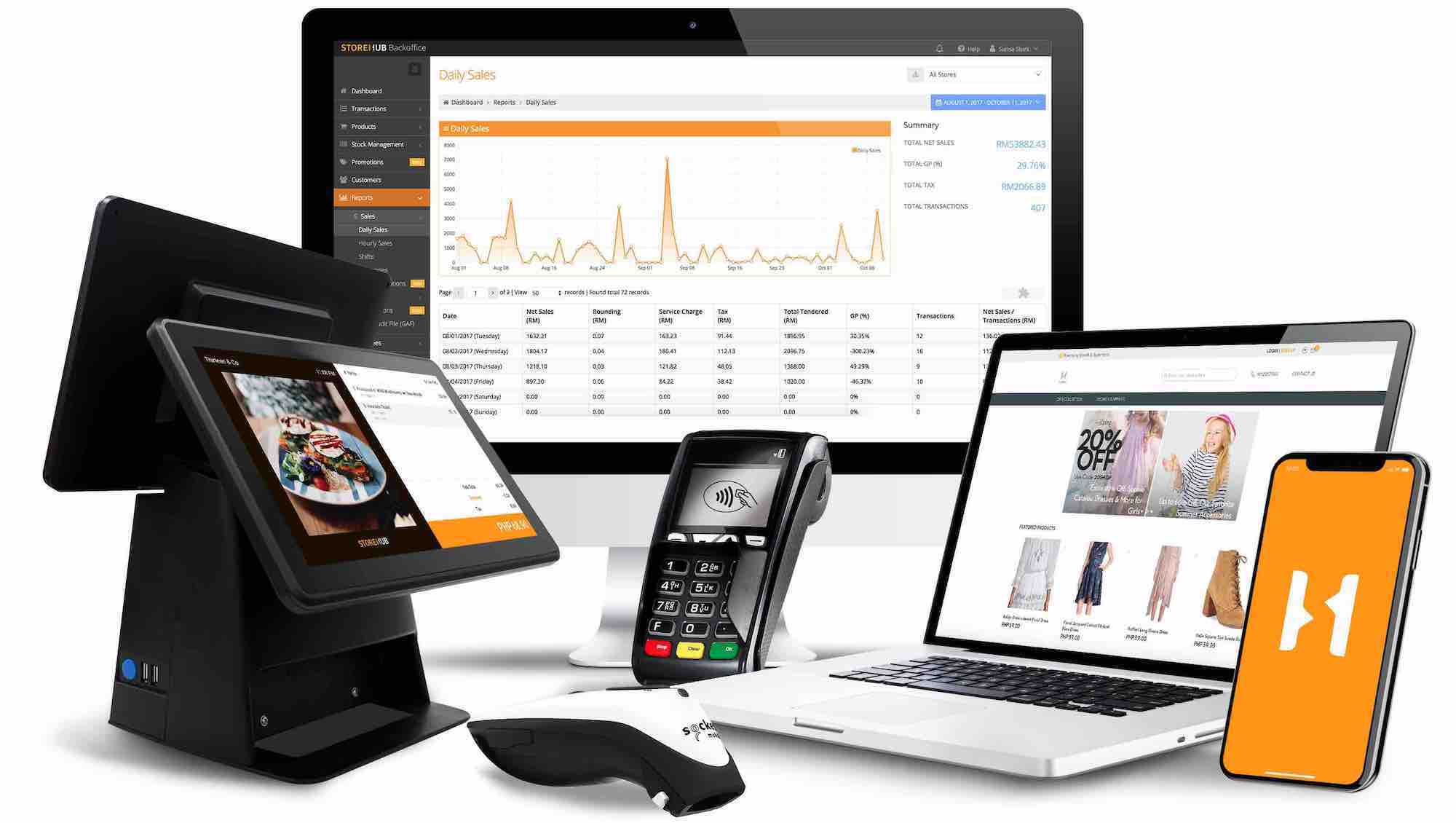 Book a free StoreHub demo now to learn how you can better manage and grow your retail business.