Reading Time:
6
minutes
Did you know that a good menu design is proven to increase profits by 10-15%?
Besides increasing profits, a well-designed menu can also improve the customer dining experience, stimulate your customer's appetite, influence customer buying decisions and boost the brand image of your restaurant.
How crazy is that?
Who would've thought that a menu could be more than just a way to present the dishes you have to offer!
If you're not sure where to start, worry not!
We've compiled this ultimate guide that shares our top 10 tips for restaurant menu design!
1. It's time to be materialistic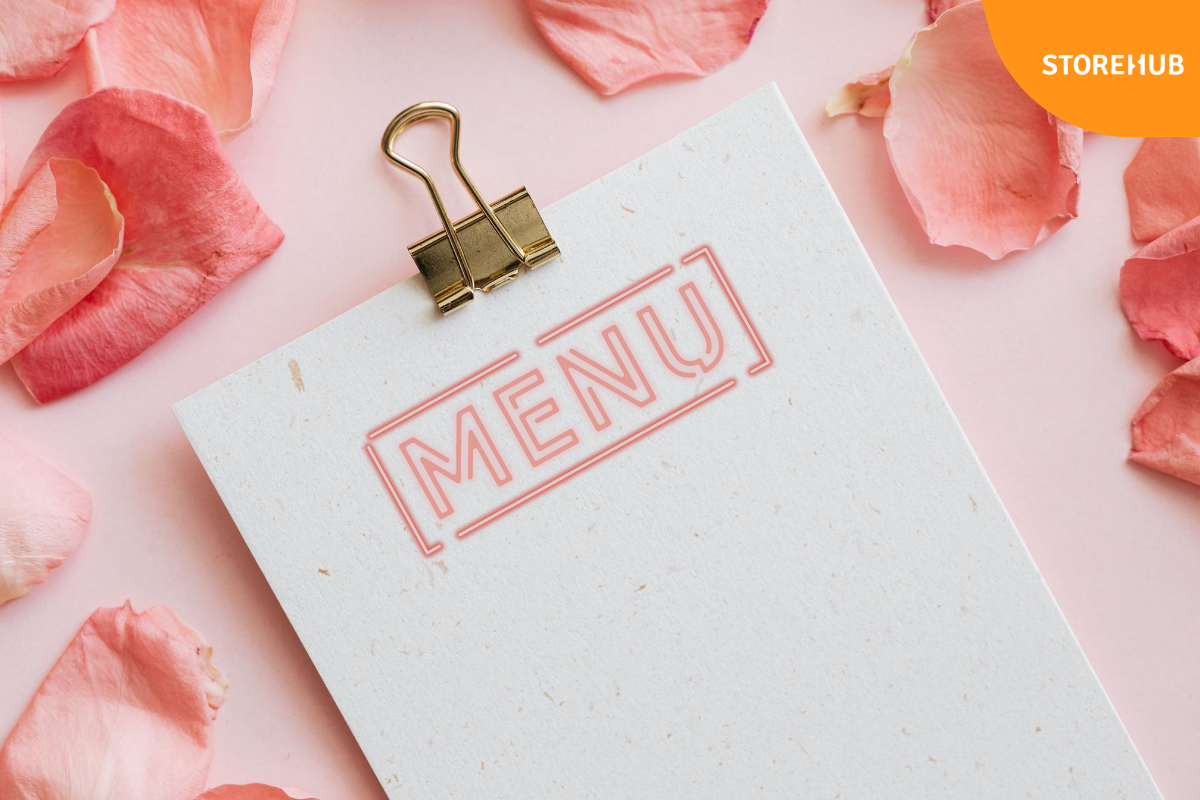 Remember that the material you choose for your restaurant's menu can reflect your brand's image.
When your customers pick up your menu, just by the overall look and feel of it, people will instantly have a different first impression of your restaurant.
For a classier and high-end feel – consider using hardcover menus or even a leather cover.
For a younger and more hipster feel – use vintage papers with a clipboard attached underneath.
Here are a few popular options available at your local print shop:
Hardcover booklets

Digital wire-o books

Saddle stitching

Adhesive binding

Simili paper

Art paper

Art card
2. Capture the menu's sweet spot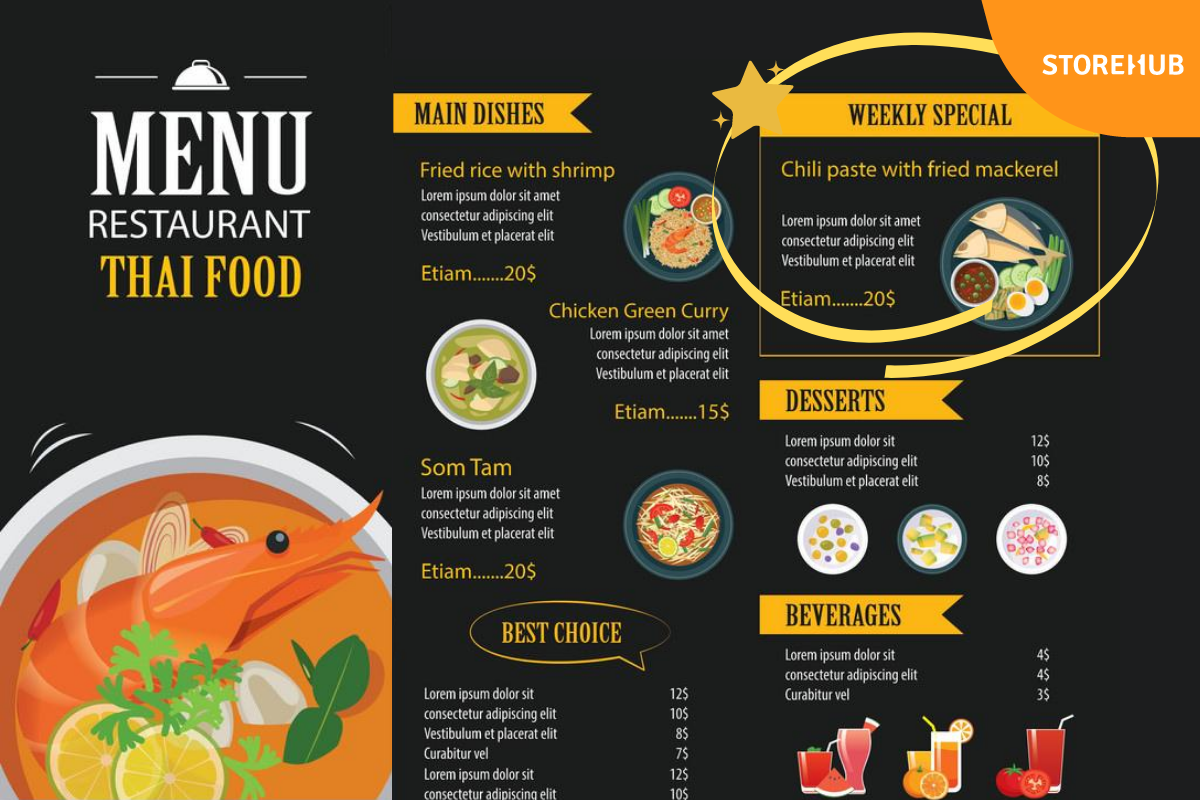 Did you know that customers' eyes are naturally drawn to one particular spot when they first look at a menu?
This "sweet spot" is the upper right-hand corner and it's the best place to place your higher profit items!
Many restaurants take advantage of this 'sweet spot' by placing the items they want to sell most (often the most expensive or popular dish) in that location. It's a guaranteed way to get that dish on your customer's mind while they scan the rest of your menu.
The overall layout of your menu is also extremely important.
Here are a few tips:
Avoid cramming it with too many words as it'll only turn customers away.

Choosing what to eat is already hard enough so no one wants to be reading an essay when they do so!

Categorise your menu items to make scanning easier

Use columns and margins to organise your items

Try to keep below a maximum of 7 categories as you don't want to overwhelm your customers with too many choices
3. Spice it up with fonts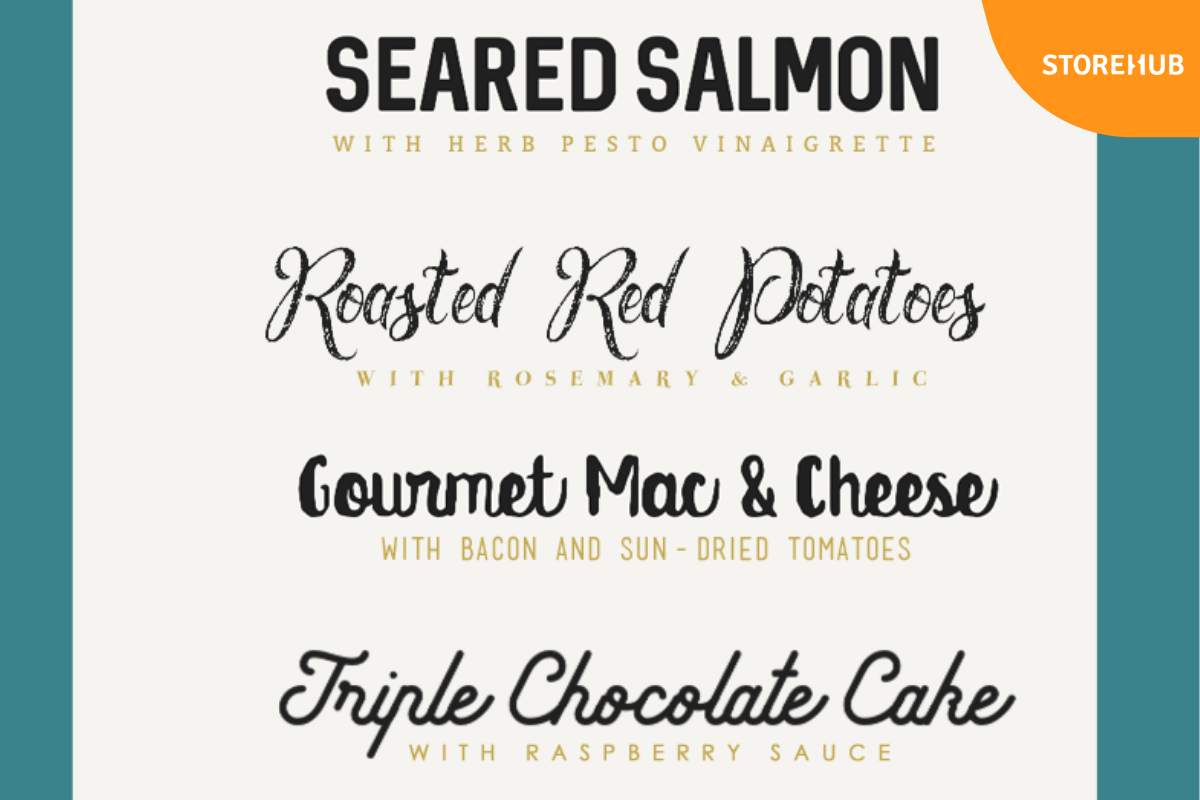 What makes up the bulk of your menu?
Words!
This is why typography (fonts) is a crucial part of menu design.
The most important tip to remember is to make sure your font is readable. Customers won't know what to order if they can't read an overly cursive font.
You should also make sure that your font matches the overall tone and feel of the entire menu.
Going for a fancy feel? Use cursive type fonts e.g. 'Bello' or 'Lavenda'
Going for a modern sleek look? Use clean fonts that are gentle on the eye e.g. 'Helvetica' or 'Montserrat'
Don't be afraid to mix and match different font types and sizes, but try to keep it to a maximum of three readable font types to avoid unnecessary chaos. You can also use spacing, bolding and italicisation to spice things up!
Check out dafont.com to look through 10,000 free fonts for you to use in your restaurant menu!
4. The price you pay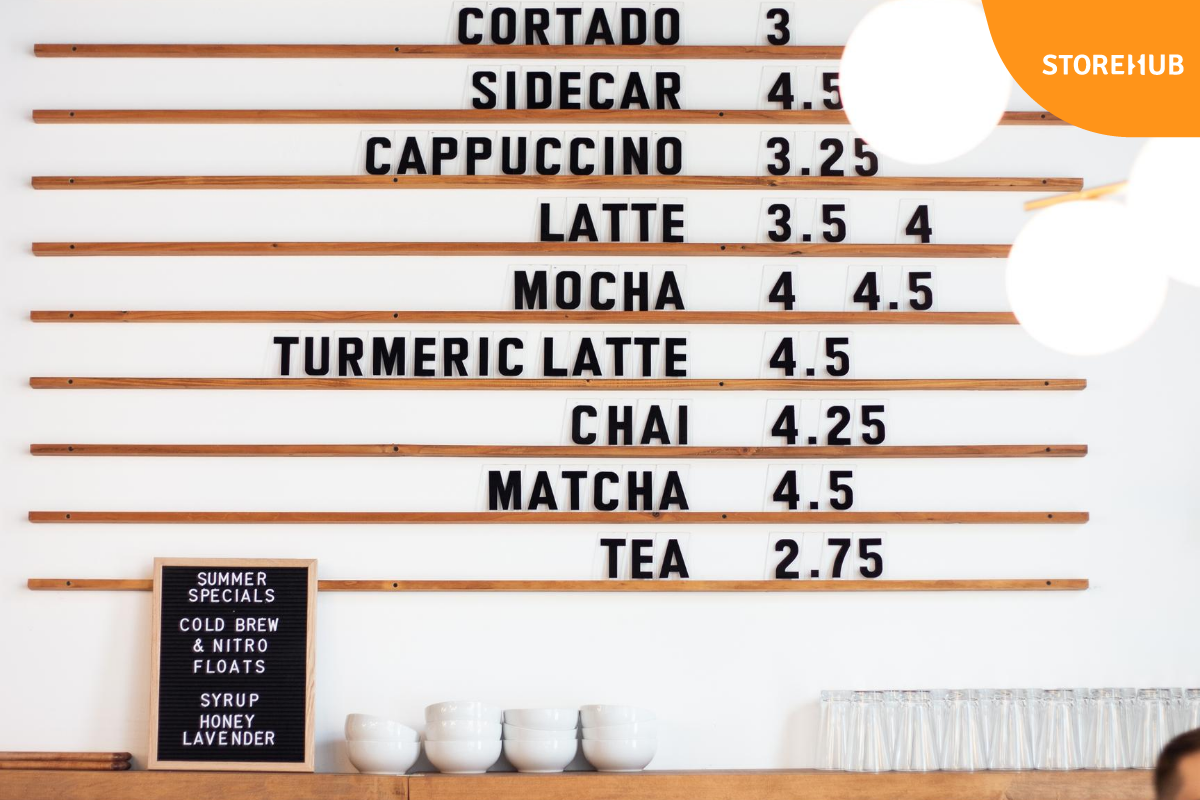 Getting the right pricing is the trickiest part of menu design.
How do you strike a balance between making profit but also not scaring customers away?
One top tip is getting rid of the currency symbol on your menu.
Research shows that people tend to spend more at restaurants whose menus do not include currency signs on their prices.
This is a good way to soften the "pain" associated with spending money as it subtly hides how much they're spending. Instead, they will focus their attention on the ingredients, photos available or the item descriptions.
When choosing the price to set your items at, use these number psychology tricks:
Another pricing tip is to use 'decoy items'.
These are highly-priced items that will act as distractions. You shouldn't expect to sell these items, but it's meant to make other menu items look more reasonable. However, this is a risky strategy and is usually used in high-end dining places.
5. Wording is key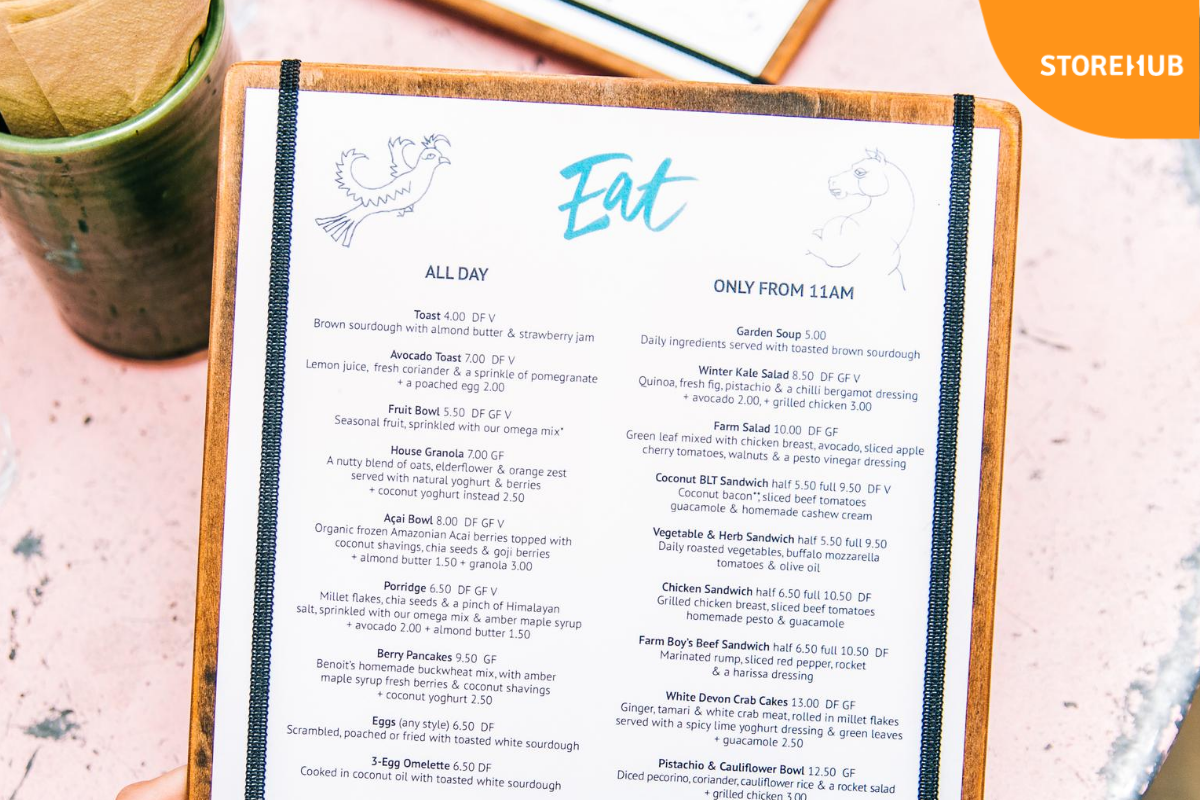 Item descriptions serve as an invitation to your dishes so it's important to spend more time choosing the correct words for that.
You'll want to tell a story in your description and use lots of adjectives to stimulate your customer's tastebuds and imagination. The goal is to tempt customers into ordering more whilst educating them about what's in the dish as well.
For example: "a house-cut, tenderised steak served in a homemade rich mushroom gravy."
Take note of the adjectives "house-cut", "tenderised", "homemade" and "rich". It creates a more inviting atmosphere and implies that there are talented chefs hard at work.
You can also use nostalgia as a way to name your menu items.
Combining the memories of food and family is a popular way to do this, for example, naming your dish "Ah Ma's Fried Noodle" vs. "Fried Noodles".
It creates a warm-fuzzy feeling when customers see the dish name on the menu, meaning they will be more likely to order.
6. Drool-worthy images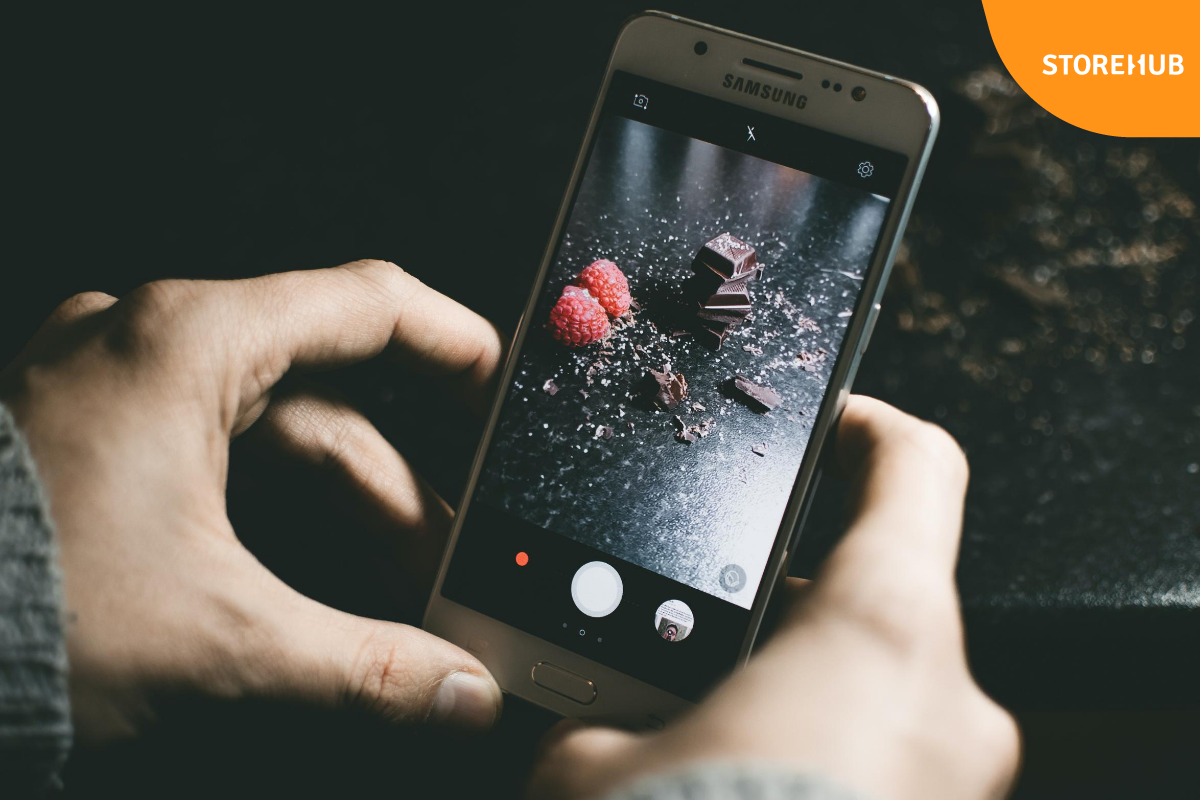 Did you know that a professionally-taken photo of a dish can boost your sales by 30%?
This means that in order to enhance your menu's attractiveness, you should be using high quality food images and graphics. The trick is to make the dish look as appetising as possible so people will want to order it.
However, be careful not to use too many images as it can make your menu look cheap and on the lower-end.
To learn more about food photography, check out our blog on how to take drool-worthy food images.
7. Chef's recommendation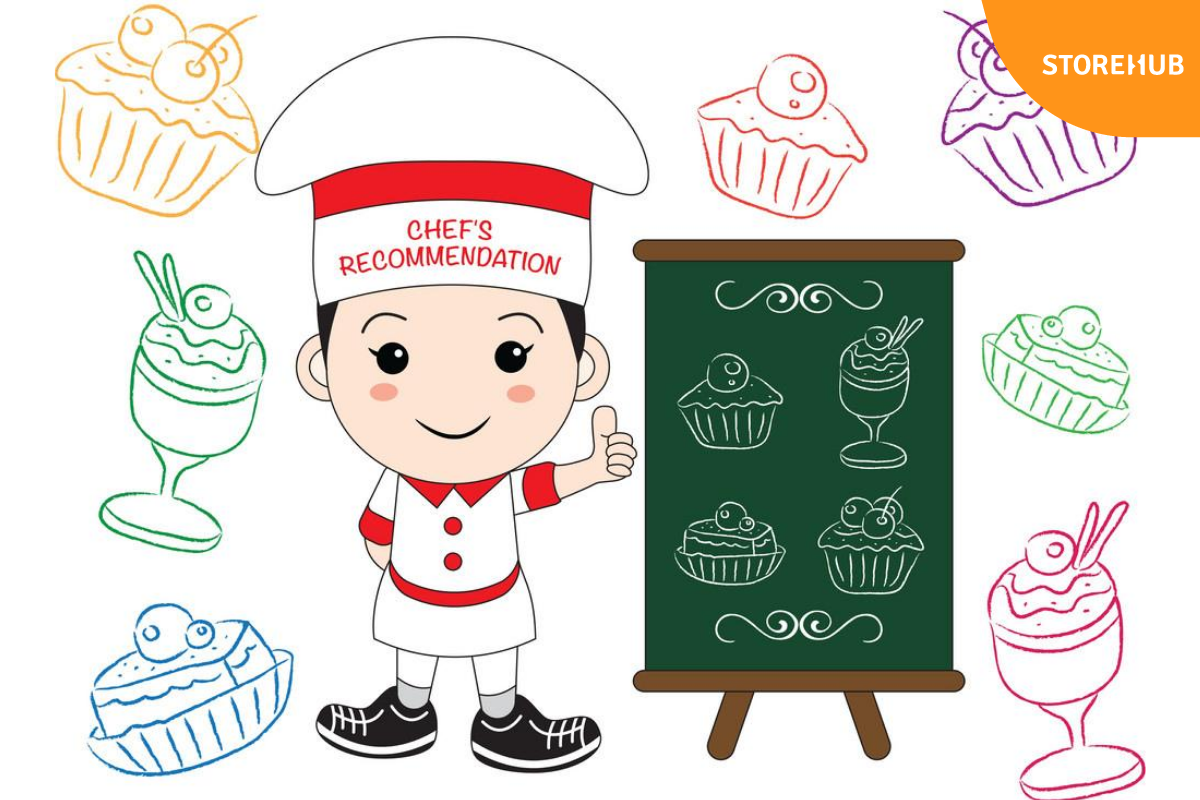 First things first, identify the most profitable items in your menu.
These are usually the dishes that use lower-priced ingredients, takes little to no time to prepare and the ones you can sell at a relatively high price.
As you want to sell these items the most, highlight them by adding a 'chef recommended' icon next to it.
Another way to highlight them is putting them as daily or weekly specials.
You can also place it under its own category named "Chef's Favourites or Customer's Favourites".
8. Customers are always first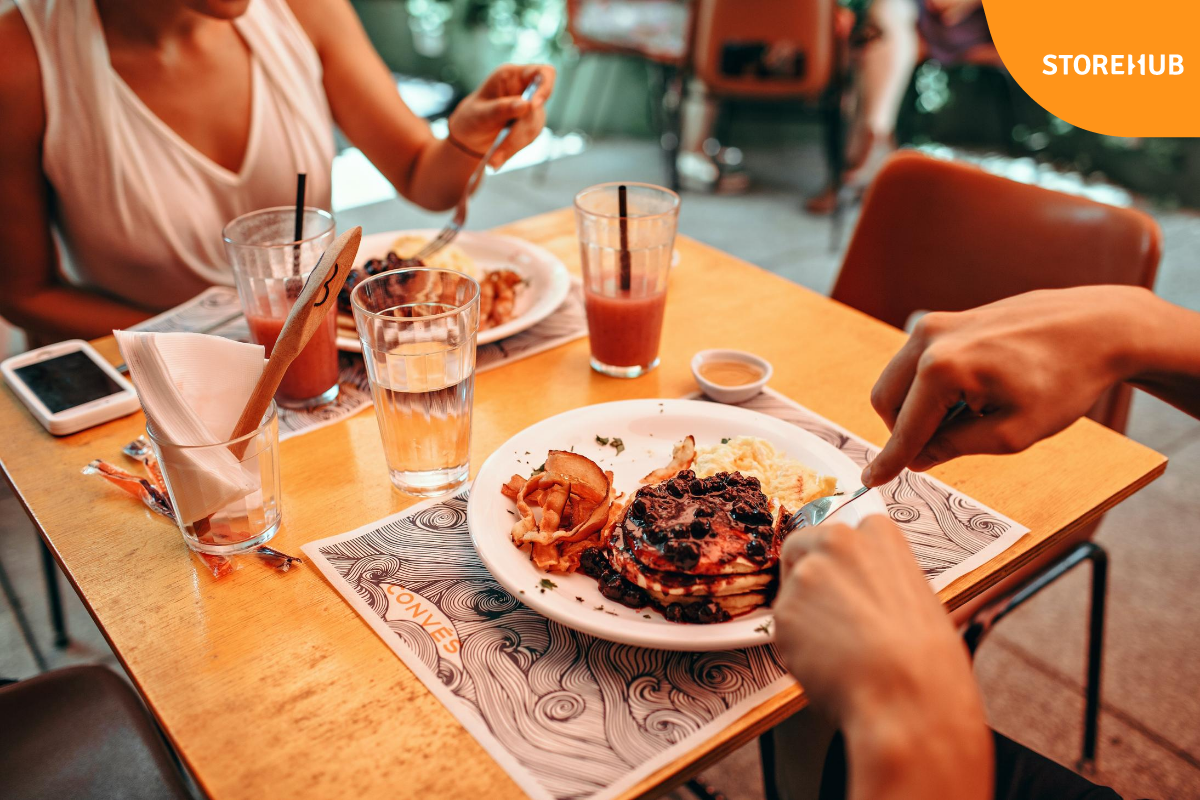 When designing your menu, one of the most important things to remember is keeping your target customer in mind.
If you know who you're serving, you will be able to make decisions regarding the designs, colours and/or pictures better!
For example, if your restaurant is aimed towards a younger group of customers, you can be more experimental with fonts, colours and wording.
Whereas, if you typically have an older customer group, you might want to keep your design clean, simple and easy to read.
9. Colour persuasion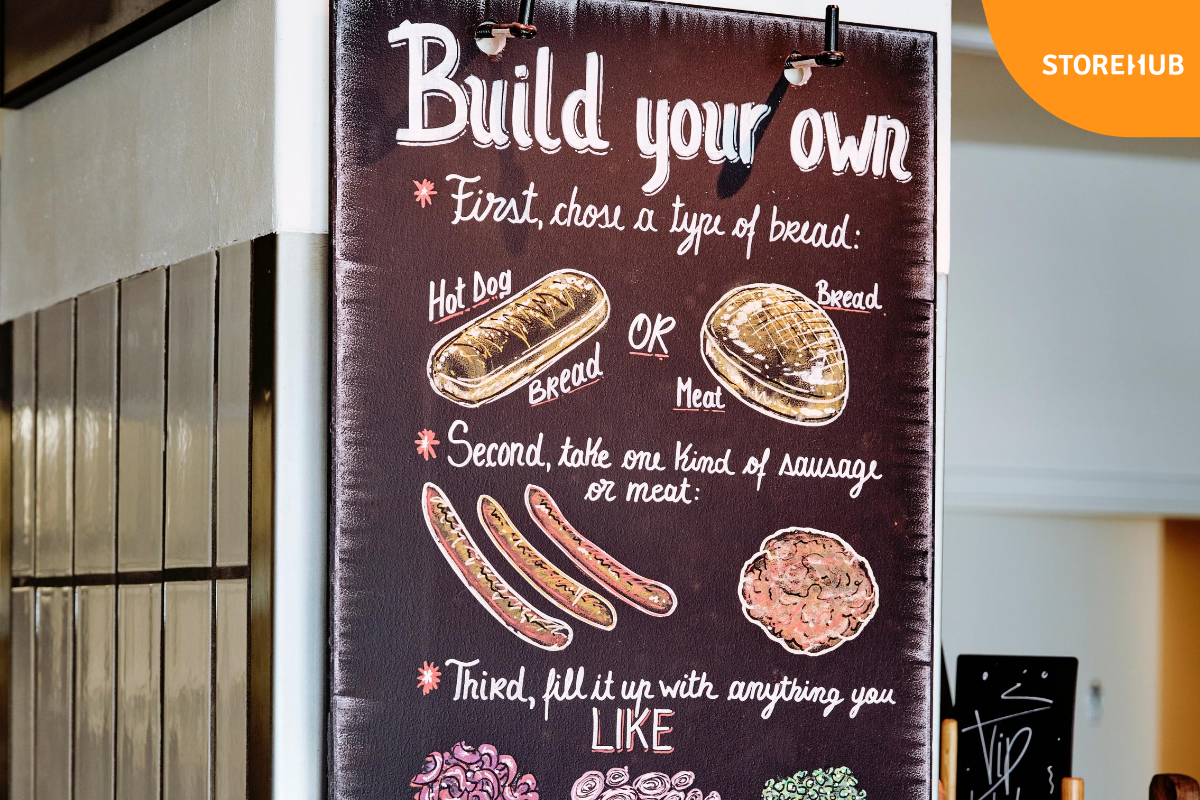 One of the hidden tips for menu design is to strategically use colour. Research shows that different colours can actually impact a customer's decision to buy something.
Green implies that the food is fresh and healthy
Orange stimulates the appetite by making people hungry
Yellow makes people happy and is often used to capture people's attention
Red is often used to highlight the most popular dish on the menu
Another tip is making use of different patterns and textures. If you're designing a menu for a Japanese, Korean or Thai restaurant, using cultural patterns in your menu design will make it pop a little more.
10. Proofread everything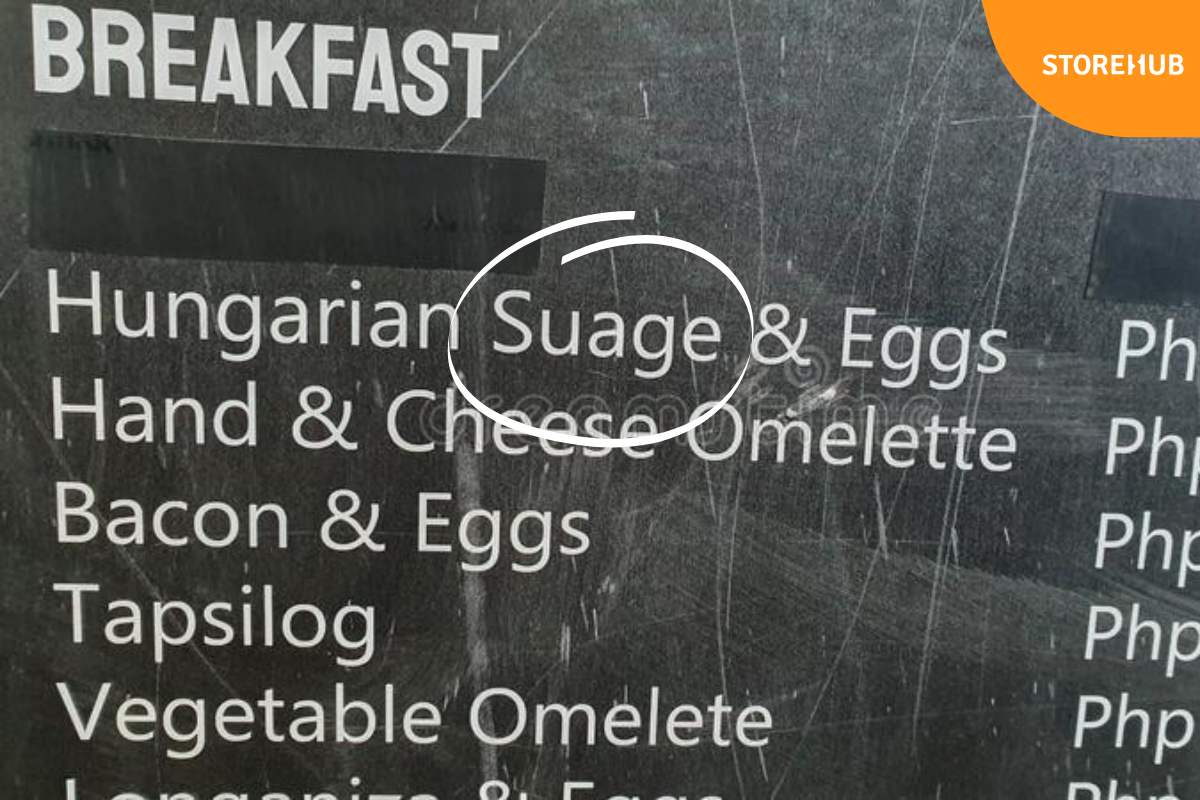 Last but not least, proofread everything!
This last tip cannot be stressed enough!
Imagine having a perfectly designed menu, but when a customer looks at it, they point out a spelling mistake.
It's such a simple error but it can make or break the customer's first impression of your restaurant.
When proofreading, we recommend looking out for these things:
Typos

Grammatical mistakes

Spacing issues

Formatting issues

Colour issues
Now it's up to you!
That's it for now!
All you've got to do now is follow these design tips and your restaurant menu is on it's way to boosting profits!
Power your business with StoreHub