Malaysia has been under lockdowns since 18 March 2020 in order to slow the rise of coronavirus (COVID-19) cases.
And during these times, all business premises except for essential services, will be closed.
While these Movement Control Orders is needed to control the rapid spread of the coronavirus (COVID-19) in Malaysia, its impact to small and medium businesses across the country is unprecedented, particularly on F&B businesses.
What do lockdowns mean for F&B businesses in Malaysia?
Malaysia has about 900,000 registered SMEs.
And almost 20% of them are F&B businesses.
In fact, half of the businesses who use StoreHub are cafes and restaurants.
With the 14-day partial lockdown in place to tackle the coronavirus (COVID-19) crisis in Malaysia in March 2020, these F&B businesses stand to lose billions of ringgit in revenue – potentially putting many of them out of business.
But, all is not lost.
We've learned that food delivery services will still be able to operate as usual during this time.
So an hour after the Prime Minister's address at 11PM, 16 March 2020, the team at StoreHub got to work immediately with a single goal – to #SaveOurStores.
Food delivery has been a major revenue channel since then. And it has been a crucial option for all F&B businesses in Malaysia up until 2021 due to continuous lockdowns.
Enabling F&B businesses to run a food delivery service on their own with Beep Delivery
StoreHub is partnering with some of Malaysia's top logistics providers like GoGet, Lalamove, Teleport, and more to enable F&B businesses to run food delivery services on their own.
It's called Beep Delivery.
Beep Delivery is a feature within StoreHub's ecosystem that will allow Malaysians to order food from their favorite cafes and restaurants during this coronavirus (COVID-19) partial lockdown.
This helps keep amazing F&B businesses running, and it allows Malaysians to access their favourite cafes or restaurants without having to leave their homes.
Our entire team is working around the clock to make this happen for F&B businesses immediately.
How does Beep Delivery work?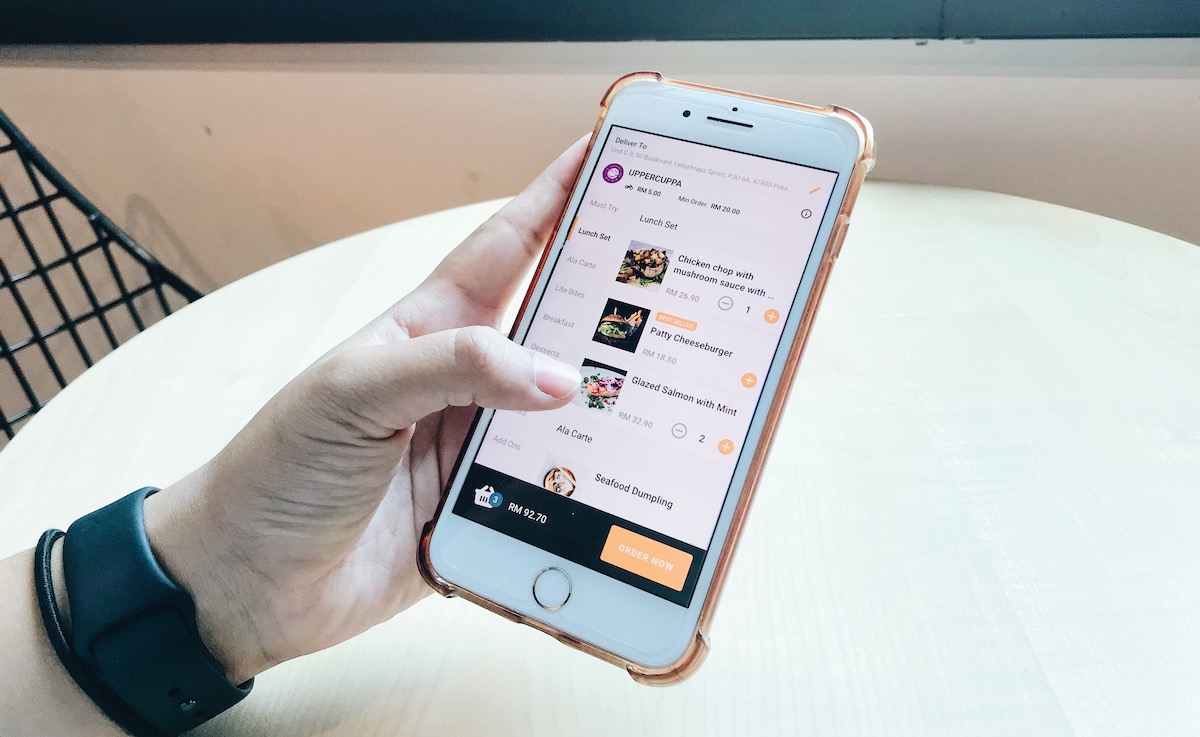 Beep Delivery is a food delivery service that both you and your customers will love! This feature will basically enable you to run food delivery on your own without depending on food delivery marketplaces.
Here's how it works…
When F&B businesses sign up for Beep Delivery, they'll be provided with their own website link that they can send to customers.
Their customers will then be able to use the link to:
Choose between delivery and self pickup

Browse the menu and order

Key in their delivery address and details

Pay via credit card, online banking, or ewallets

Receive their food & enjoy!
You can check out a quick demo video to see how it works here:
How can your F&B business get on Beep Delivery?
Not a StoreHub merchant?
Need to start delivering food to your hungry customers?
(function() { var qs,js,q,s,d=document, gi=d.getElementById, ce=d.createElement, gt=d.getElementsByTagName, id="typef_orm", b="https://embed.typeform.com/"; if(!gi.call(d,id)) { js=ce.call(d,"script"); js.id=id; js.src=b+"embed.js"; q=gt.call(d,"script")[0]; q.parentNode.insertBefore(js,q) } })()