Reading Time:
5
minutes
FOR IMMEDIATE RELEASE
Malaysian technology innovator officially opens new

27,000 sq ft

state-of-the-art HQ,

StoreHub Stadium,

powering its continued development of purpose-driven commercial solutions that already help more than

14,000

businesses across Southeast Asia

Focus on providing new revenue and loyalty options for business owners that use its cloud based solutions

Partnership with Facebook Malaysia introduces unique, expanded Loyalty and Rewards Program to the largest POS solutions platform in Southeast Asia
KUALA LUMPUR, 4 March 2020 – Malaysian technology leader StoreHub, today officially opened the doors to its new regional headquarters, the StoreHub Stadium. The 27,000 sq ft space is already home to 195 of their 340+ employees – dubbed Hubbers – and is expected to eventually house up to 500 members of the company's local and international teams.
The company also unveiled a partnership with Facebook Malaysia that allows businesses to easily offer seamless, accessible rewards and loyalty solutions that are integrated with Facebook Rewards.
StoreHub, founded in 2013, is a Malaysian technology innovator that offers cloud-based solutions in a variety of areas. Today, its solutions allow over 14,000 businesses regionally to focus on their sales and customers without worrying about technology.
These solutions include a cloud & tablet-based Point of Sale (POS) system, smart inventory management system, an ecommerce platform that helps bring offline inventory online easily, Customer Relationship Management (CRM) solution and a QR code-powered loyalty program. StoreHub began as a simple POS system provider focused on lowering the traditionally high costs of adopting modern technology at the point of sale. With an internal culture that emphasises a strong attention to detail, the company has since become the leading omnichannel operating system provider of its kind in Southeast Asia.
"We started with a guiding vision of a world where relationships are once again central to commerce. We see technology as a facilitator of communities that helps turn transactions into relationships. The work done to date has been about building that, piece by piece, helping businesses do more with what they already have such as data, knowledge and access to their customers," said Fong Wai Hong, CEO and Co-founder of StoreHub.
"Today, StoreHub Stadium is a flexible, functional space where inspired Hubbers will thrive in innovating and developing purpose-driven solutions that ultimately benefit thousands of businesses in Malaysia and across Southeast Asia. This space is also part of our long-term commitment to investing in our home country to help accelerate Malaysia's digital transformation as a country, and the digital empowerment of businesses here as they grow."
The company, which recently completed its latest round of funding to the tune of RM36.9 million, is expected to continue on a path of aggressive growth as it continues to expand its reach. This includes strengthening its presence in its core markets of Malaysia, Thailand and the Philippines.
"Regional functions that support this growth are part of the open job positions in Malaysia and we aim to develop local talent in the country to help us expand across the region," Wai Hong added.
Facebook integration for better relationships with customers
Also unveiled today was a partnership with Facebook that will see StoreHub customers gain immediate access to enhanced loyalty functionalities through an integration between StoreHub's Beep Cashback and Facebook Rewards.
"We have been working with Facebook to find new ways to help businesses make better use of their relationships with their customers through an integrated loyalty program here in Malaysia, and eventually across the region. This will result in greater revenue opportunities for these businesses as well as a better retail experience for consumers. The solution enables anyone with the Facebook App on their smartphone to easily sign up to a store's loyalty program by scanning a QR code that's integrated with StoreHub's Beep Cashback system and Facebook Rewards" said Wai Hong.
Beep Cashback is StoreHub's cashback-based customer loyalty program powered by QR codes. Beep Cashback is fully integrated with the StoreHub ecosystem and was designed to help retailers and F&B operators easily build their own customer database, engage with their customers, and grow their reach by attracting new customers; thus encouraging their customers to return and spend their earned cashback.
The integration with Facebook Rewards will enable Beep Cashback users to join a store's loyalty program and access their cashback on the Facebook app. This is done through a personalised QR code that is printed on receipts and can be scanned with a smartphone at participating shops. With the integration through StoreHub's POS solutions, this functionality is now able to power quick and easy self-management of rewards programs for both consumers and businesses.
StoreHub identified that one of the major challenges to common loyalty programs was that users and businesses alike had trouble using the systems, or managing their rewards. What was needed was a common platform – like Facebook. Building on this, the new program provides businesses with an immediate way to offer personalised loyalty experiences for their customers directly from the StoreHub POS system at no additional cost. Using common QR code functionality already available in most smartphones, customers will be able to scan their receipts from purchases at participating StoreHub Beep-enabled locations to receive, manage and use their rewards through Facebook Rewards.
Building a better Hub
The importance of relationships is central to both StoreHub and its solutions – making it a natural extension of the brand in designing its new headquarters. The 27,000 sq ft space took 6 months to design and build, reflecting the brand's demanding standards and also its drive to get things done quickly and efficiently.
"StoreHub Stadium was designed with an emphasis that began with one of the most important and yet underlooked elements of what makes a space great – natural light," explained Wai Hong.
Using the space's natural lighting to increase the well-being of employees by making them feel more connected to nature was core to how the space was laid out. Artificial lighting enhanced this, as does the generous space allowances between areas and the various special purpose corners and private areas that allow Hubbers to do their best work, comfortably.
Common sense also took centre stage as StoreHub's new space ensures that everyone had ease of access to power outlets, strong and stable WiFi, and finding just the right temperature for every employee to feel comfortable.
"It sounds simple but many spaces overlook the little details which eventually become a constant, nagging discomfort. We wanted to address these upfront to make sure the StoreHub Stadium remains a comfortable, creative and productive space for all of us for years to come," added Wai Hong.
This expansion mindset is partly why the StoreHub Stadium includes a variety of spaces that cater to every need. These include large formal meeting rooms for up to 14 people, small huddle rooms for 5 people, 1-on-1 meeting rooms, call booths and open collaborative spaces. But the StoreHub Stadium is more than just a space for Hubbers – it's a home away from home for the company's customers as well. This is seen in the flexible design that allows the space to quickly be configured for open events and training activities as well. At its core, StoreHub's culture is inspired by sports and that has been incorporated into the office space with mobility & monkey bars, a ping pong area, and a fully functional rock climbing wall built into the space.
The opening of the StoreHub Stadium was attended by over 100 people and saw break out sessions for discussions with investors, users, customers and media. To learn more about the brand, its promise and how it can help businesses do more, check out www.storehub.com.
– End –
About StoreHub
StoreHub is the operating system of successful omnichannel businesses. Our platform enables more than 14,000 restaurant and retail entrepreneurs across Southeast Asia to automate the growth of their revenue and customer base, as well as the entire process of running their operations.
StoreHub was founded in 2013, starting off as an all-in-one tablet-based Point of Sale (POS) system that helps business owners manage and grow their store from a single platform. Since then, it has expanded its cloud-based offering to include a powerful QR loyalty cashback program, QR table ordering system for restaurants and cafes, and an easy-to-adopt ecommerce platform.
More at https://www.storehub.com
For more information on StoreHub, please contact:
Nurul Atiqah Mustapa
Account Executive
Arcis Communications
Office: 03-7859 6738
Mobile: 019-234 1115
Email: atiqah[@]arciscommunicationscom
Power Your Retail Or Restaurant Business with StoreHub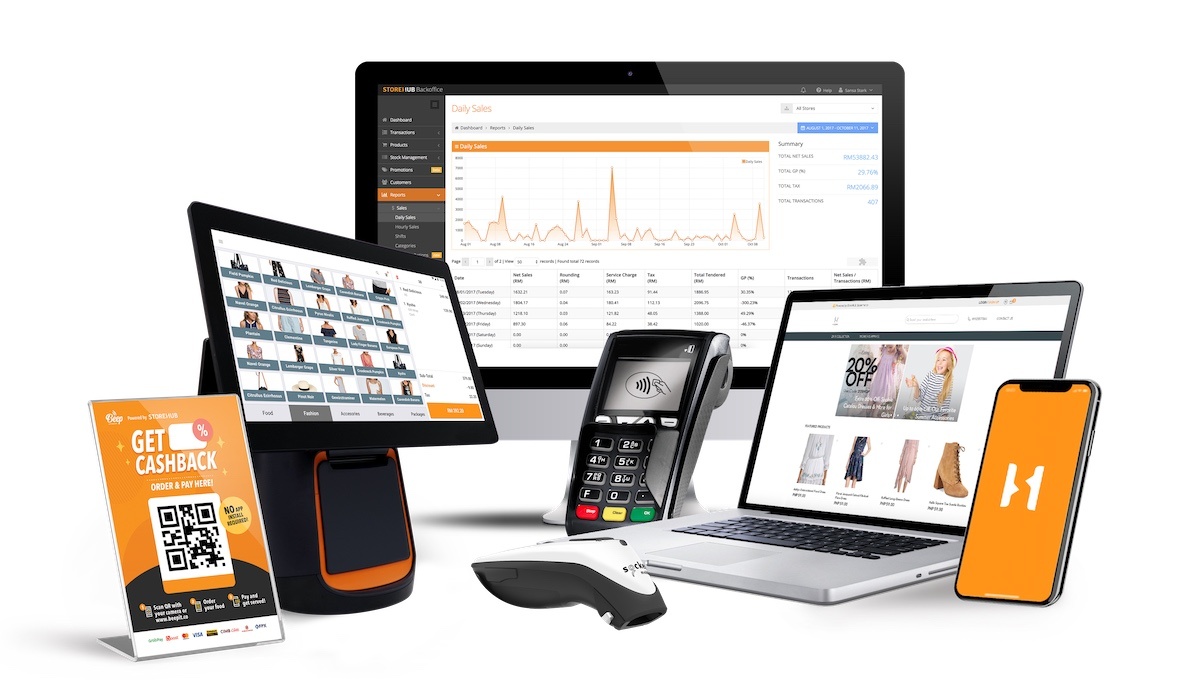 Apply here now for your free and personalised StoreHub consultation