Reading Time:
2
minutes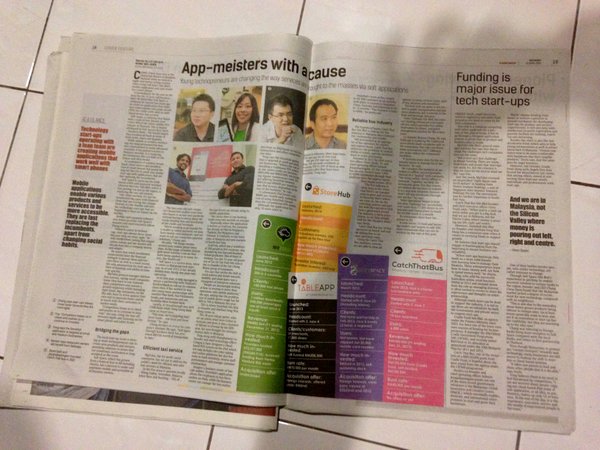 StoreHub Featured in The Star Newspaper

StoreHub was recently featured in The Star Newspaper on Saturday the 12th of April 2014 for changing how services are being brought to the masses. Did you get a chance to read about it? Do let us know!
Here's the section on StoreHub:
App-meisters with a cause
This is where StoreHub Sdn Bhd co-founder and chieftain Fong Wai Hong comes in.

The 28-year-old go-getter, who set up online retail store OzHut in Australia and grew it into a business of A$5mil in revenue by the fifth year, has now brought his entrepreneurial skills to Malaysia.

Fong along with Shanghainese co-founder and chief technology officer Congyu Li have designed a cloud-based POS system on the iPad which not only includes the order-taking and cashier platforms but also features to track inventory, review staff performances and manage customer relationships.

Imagine a business owner of two cafe outlets: StoreHub's application allows the employees to run these outlets on iPads, while the business owner can manage the two outlets also from an iPad based on real-time transactions and other comprehensive data.

Fong says the StoreHub application is targeted at small and medium businesses. "Where the cost of installing a traditional POS system at one outlet could cost between RM5,000 and RM20,000, not including regular maintenance costs. We are offering StoreHub between RM120 and RM449 per month for one iPad licence, depending on the size of the business," he says.

A subsequent iPad licence costs RM89 per month each, making the cost of using StoreHub cheaper than the conventional POS system.

Although the application has only 10 users since its launch in February, there have been 250 sign-ups for its free trial.

"We got 250 sign-ups in four days. We are quite confident of securing 10% to 20% of them as new customers after they have tried StoreHub," Fong says.

StoreHub's team of five, targets to hit 200 customers in six months, with plans to expand to Singapore, China, Australia and Indonesia in six to 12 months. "This business is fairly scalable," he points out.
 Read the full article here.