Typhoon Ulysses (internationally known as Typhoon Vamco) hit the Philippines on November 11th 2020.
Known as the deadliest typhoon in the Philippines this year, Ulysses tore through the main island of Luzon leaving 67 dead and 22 missing.
The extensive flooding from the typhoon also destroyed thousands of homes, leaving numerous communities homeless and vulnerable amidst the ongoing COVID-19 pandemic.
Typhoon Ulysses hit the Philippines just as the country was reeling from Typhoon Rolly (internationally known as Typhoon Goni), the world's strongest typhoon this year which hit the Philippines on November 1st 2020.
Both of these deadly typhoons have affected more than 1.6 million people in the Philippines.
They have also come at an unfortunate time when the Philippines is already suffering from a large surge in COVID-19 infections.
If you're looking to help those affected by Typhoon Ulysses and Rolly, here is a guide to important resources for relief efforts, donation drives and emergency hotlines.
Emergency hotlines for Typhoon Ulysses
Those who would need rescue or immediate help amid the threat of Typhoon Ulysses, please contact these emergency hotlines in your respective areas: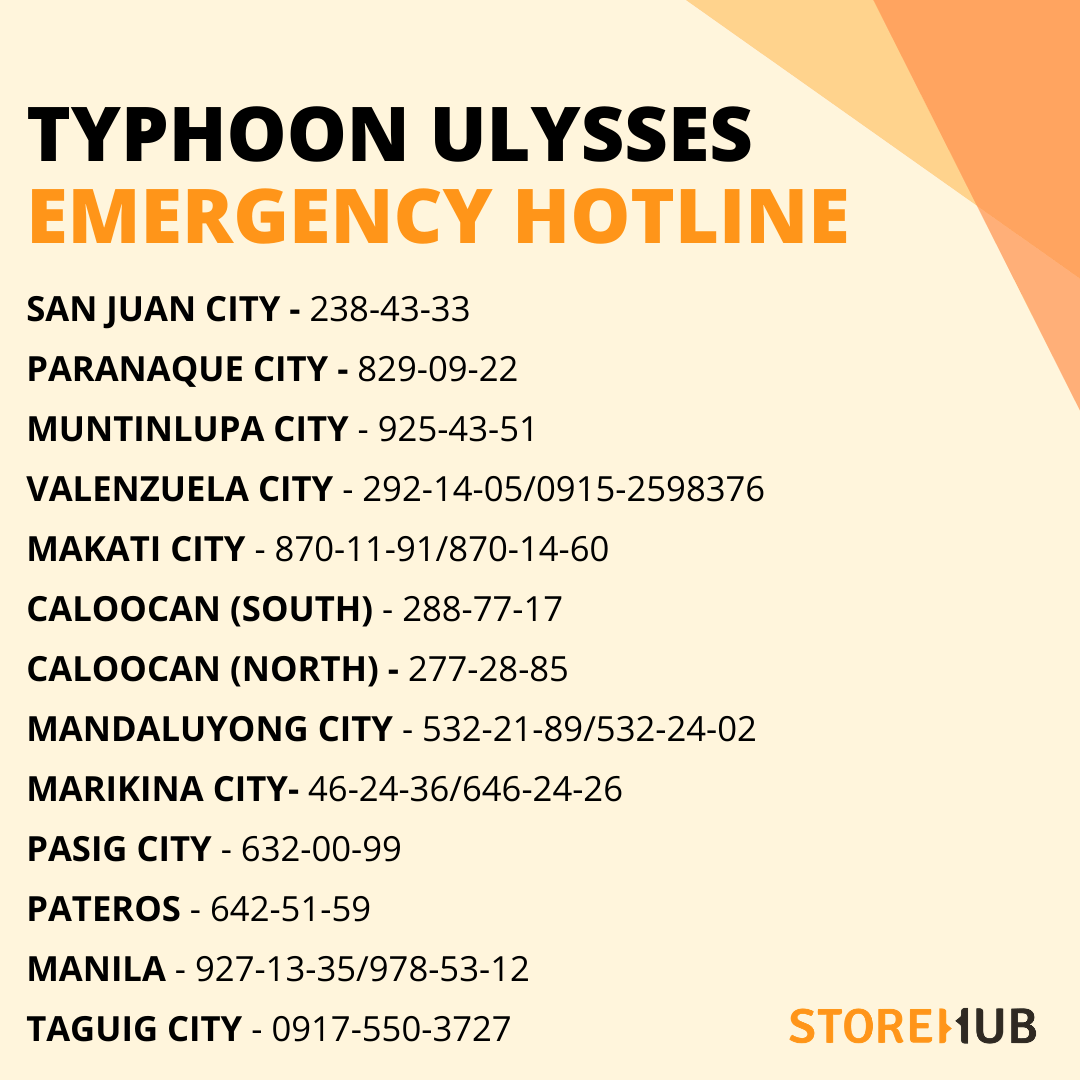 National Emergency Hotline in the Philippines: 911
Philippine National Police Hotline: 117 or (02) 8722-0650
Philippine Red Cross: 143 or (02) 8527-8385 to 95
Bureau of Fire Protection: (02) 8426-0219 or (02) 8426-3812
What can you do to help the victims of Typhoon Ulysses (Vamco)?
Many Filipino families and businesses are desperately needing your help after Typhoon Ulysses destroyed their homes and communities.
Any donations can aid the immediate needs of the affected victims.
PHP 500 can help provide a hygiene kit for a family
PHP 5,000 can provide immediate cash for families to buy their basic urgent needs like medicine, and food
PHP 15,000 can go towards helping a family restore their livelihood
PHP 50,000 can go towards rebuilding a family home
Where to donate for Ulysses PH relief: (MONETARY DONATIONS)
1. Philippine Red Cross
The Philippine Red Cross (PRC) continues in its mission to aid Typhoon Ulysses victims. Hundreds of personnel, staff, volunteers and 143 PRC volunteers have been mobilised to help secure the areas and provide assistance.
Those who wish to help can provide in-kind or monetary donations in order to immediately address the needs in the evacuation centres and in affected areas.
Bank Account Name: PHILIPPINE RED CROSS
Banco De Oro:
PESO Savings: 00-453-0190938

DOLLAR Savings: 10-453-0039482

Swift Code: BNORPHMM
Metrobank:
PESO Savings: 151-7-151524342

DOLLAR Savings: 151-2-151002182

Swift Code: MBTCPHMM
Bank of Philippine Island:
PESO Savings: 4991-0036-52

Swift Code: BOPIPHMM

Reference Code: Name of Donor / Contact No.
Security Bank:
Peso Savings: 0132-0624-6400-3

Dollar Savings: 0132-0624-6400-4
NOTE: Please send a copy of your deposit slip to: emergencyappeal@redcross.org.ph
More information available on their website.
2. Caritas Manila
Caritas Manila has recently put out an urgent call for donations towards helping victims of both Typhoon Rolly and Typhoon Ulysses.
As of 13 November, more than 150 families in Tondo have already received assistance.
Saving account name: Caritas Manila, Inc.
Banco De Oro:
0005-6004-5905
Bank of the Philippine Islands:
Peso account no: 3063-5357-01
Dollar account no: 3064-0033-55
Swift code: BOPIPHMM
Metrobank:
1753-1750-6954-3
RCBC:
000-300-090-2216
UShare by UnionBank
caritasmanila.org.ph/caritamanila → Choose "Damayan – Typhoon Ulysses"
Give2Asia
For overseas donation → bit.ly/Give2CaritasManila
Paypal:
cartiasmanila.org.ph/donate-1
3. Kaya Natin! Movement
The Kaya Natin! Movement is spearheading the Bangon Luzon drive, which is done in partnership with the Office of the Vice President.
They have already previously been distributing food items to communities hit by Typhoon Rolly, but are now also accepting cash donations for areas hit by Typhoon Ulysses.
Saving account name:
KN Movement for Good Governance and Ethical Leadership, Inc.
Bank of Philippine Island:
3081-1173-72
Send deposit slip to kayanatinmovement@gmail.com
Paypal: kayanatin.ph/donate
JustPayTo: justpay.to/knmovement
4. Inquirer Foundation
Inquirer Foundation organises social initiatives with the meaningful goal of making a difference in the everyday lives of Filipinos. This non-profit organisation is now extending its relief to the families affected by Typhoon Rolly and Ulysses.
Banco De Oro
Account name: The Inquirer Foundation Corp.
Account number: 0079-6001-8860
For inquiries, please email foundation@inquirer.com.ph
5. Rise Against Hunger Philippines
Rise Against Hunger (formerly known as Stop Hunger Now) is an international hunger relief organisation that coordinates the distribution of food and other life-saving aids around the world.
Rise Against Hunger Philippines is now appealing to individuals, groups and corporations for support in order to respond to the crises brought about by consecutive natural disasters that displaced hundreds of thousands of Filipino families this month.
Account name: Rise Against Hunger Philippines, Inc.
Banco De Oro:
Peso account no.
0043-1801-0970
Bank of the Philippine Island:
Peso account no – 3601-0010-46
Dollar account no – 0036-0401-5323
Swift code- BOPIPHMM
6. Tanging Yaman Foundation Inc.
Tanging Yaman Foundation is a Filipino non-profit organisation that aims to help other Filipino in need.
They are now extending calls for donations to the typhoon evacuees of Ulysses and Rolly.
Account name: Tanging Yaman Foundation, Inc
Metrobank account:
448-7-44800988-9
Tanong Marikina Branch
Bank of the Philippine Island:
9601-0002-42
Loyola Heights Branch
GCash
Herold Pelonio
09475659544
For proper acknowledgement and tracking, kindly notify and send a photo/screenshot of your transaction/deposit slip to tangingyaman777@gmail.com or viber 0947569544
Non-monetary donations for Ulysses PH relief
1. Red Cross Philippines
Red Cross Philippines is also accepting in-kind donations of:
Canned goods

Instant noodles

Bottled water

Rice

Hygiene kits

Sanitary napkins
You may send in-kind donations to:
PHILIPPINE RED CROSS TOWER
37 EDSA corner Boni Avenue
Mandaluyong City
For further details, please contact the following:
Mia Dominique Chua
(02) 8790-2414 loc. 983
(0918) 800 0908
m.chua@redcross.org.ph
Shervi Mae R. Corpuz
(02) 8790 2413
(0917) 834 8378
shervi.corpuz@redcross.org.ph
2. For The Future PH
For the Future is opening a drop-off point for in-kind donations for those affected in Taytay, Rizal.
Their donation channels will also remain open to continue supporting on ground teams in devastated areas with immediate relief and long-term aid.
For in-kind donations, please fill up this form: tinyurl.com/FTFxKFKDonations
Accepting essential goods, water, canned goods, blankets, sanitary products and UNUSED/NEW sanitised clothing.
Delivery through third party couriers (Lalamove, Grab etc) allowed.
For further inquires, please contact Isabella 09175407215
3. Pagasa PH
Pagasa is organising a clean-up of the homes ruined by the flood.
What to bring:
Panglinis! The homes are filled with mud, so it's been very difficult for them to do this clean-up on their own

Bring pails, brushes and sponges

Wear shoes you can walk on mud with (or better yet, wear boots!) and bring gloves for cleaning

Don't forget your masks and face shields!
Address:
Batibot Learning Center
17 Azucena St., IVC
Olandes Marikina
Contact: Teacher Lita Malundras
Mobile: 09338101106
Please make sure to get in touch with Teacher Lita before going!
Stay safe Philippines!
We've also seen many other groups and businesses collecting donations to help our kababayans affected by the tragic destruction from the recent typhoons.
Please do share the resources from this post with your network as it'll help raise awareness.
Any kind of help you can offer will be greatly appreciated!
While we continue to pray for the protection and safety of the thousands of families affected, let's pool our resources and share it with those who need it most! ❤️
BANGON PILIPINAS!
Power your business with StoreHub