Reading Time:
5
minutes
UPDATE:
From 5th March onwards, MCO 2.0 has been lifted and replaced with Conditional Movement Control Order (CMCO) in KL, Selangor, Penang and Johor.
This means that from 5th – 18th March 2021, these states will be under CMCO (PKPB) regulations:
Kuala Lumpur

Selangor

Penang

Johor

Perak

Negeri Sembilan

Kedah

Kelantan

Sarawak
Under CMCO states, inter-state travel remains prohibited but inter-district travel will be allowed (except in Sabah).
States under RMCO (PKPP) are Sabah, Melaka, Pahang, Terengganu, Putrajaya, Labuan and Perlis.
Malaysia Prime Minister, Tan Sri Muhyiddin Yassin, announced that almost all economic sectors and business activities can resume operations under a CMCO (Conditional Movement Control Order), starting 5th March 2021.
What does the CMCO mean for F&B businesses in Malaysia?
Simple.
It means that your cafe/restaurant can operate on a conditional basis, provided that you abide by guidelines set by the Malaysian government.
Se sure to follow the CMCO SOP (Standard Operating Procedure) for cafes and restaurants :
Table distancing – 1 meter between tables
Social distancing – no restriction to the number of patrons per table, but must adhere to social distancing SOP
MySejahtera or Customer/guest name and contact number collection – for contact tracing
Face masks for workers and customers must be worn at all times (except when eating)

Body temperature scanning

– staff and customers with temperatures above 37.5 celsius should not be allowed to enter your outlet

Disinfection and cleaning of outlet – 3 times a day
Hand sanitiser and soap must be provided at payment counters and sinks
Operating hours – 6am – 12am daily
Food delivery – 6am – 12am daily
And does this mean that things will go back to normal after this?
Definitely not.
Consumer behaviour has changed.
And the government has made these recommendations for F&B businesses in 2021:
contactless ordering
contactless payment
delivery and takeaway instead of dine-in
social distancing
The MCO, CMCO, RMCO SOP in Malaysia will continue to change and evolve depending on the number of COVID-19 cases, so it's best that you stay prepared at all times.
Running a contactless F&B business in 2021
Not everyone will be comfortable with going out or coming into close contact with people so soon.
Touching things that other people outside have touched will also be a big no-no.
So here are two things that every F&B business should offer:
Contactless payment and ordering for walk-in/dine-customers
Food delivery
Why offer both?
Coronavirus (COVID-19) cases are still being reported.
So health and safety come first.
And when you can offer both food delivery and contactless payment and ordering options, you give your customers more safe choices to buy from you.
This helps increase your chance of getting more sales during this time so your business can survive.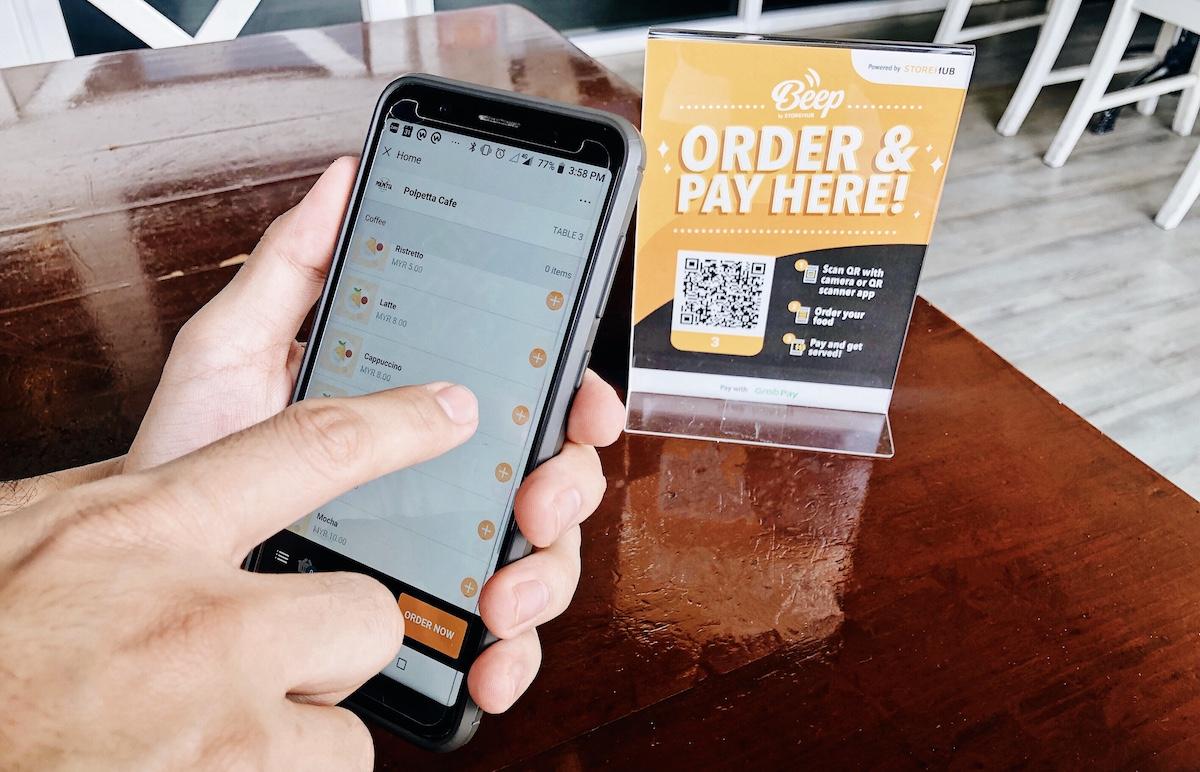 Contactless payment and ordering can be done via a QR order and pay system.
Benefits of QR order and pay:
Customers and staff can avoid touching menus, bills, and receipts
Shorten waiting time

which results in a better customer dining experience since customers don't have to wait in line or wait for staff to take their orders/give them the bill

Automated and easier way of collecting and tracking customer names and phone numbers for contact tracing and customer loyalty program
Cashless and contactless payment
Minimise human error from taking wrong orders
Serve more customers without having additional manpower
Increase turnover with more sales
Reduced contact

between customer and staff

Faster and smoother ordering and payment process
And let's not forget about food delivery.
Benefits of food delivery:
Customers can order from the comfort of their home
Reduced human activity in your outlet
Ability to serve customers that can't travel to your outlet
Put these two together, and you get to maintain the safety of your customers and staff AND generate sales for your cafe or restaurant.
People will definitely appreciate your efforts and show you the support you need in these challenging times.
How to run food delivery AND QR order and pay from the same platform
So now you've decided to quickly implement food delivery AND a QR ordering system.
What about the cost?
And the setup?
If done separately, they're not cheap and will take double the time and work to set up as well.
BUT, this isn't the case, IF you have a fully integrated POS system that lets you do everything in one platform, like StoreHub, for example.
The StoreHub business operating system gives you everything you need for your F&B business:
POS software

inventory/employee/customer/supplier management

real-time data and sales reports

Beep QR Order – QR order and pay
Beep Cashback – QR cashback loyalty program
Beep Delivery – food delivery feature
So with the right system, you can run both food delivery and a QR ordering system at an affordable price and with less hassle.
How StoreHub helps your F&B business during the CMCO (conditional MCO):
Walk-in/dine-in customers can view your menu, order and pay by scanning a QR code – all CONTACTLESS
Helps you automatically collect dine-in customer name and contact number during the QR order and pay process (for your own customer data collection and the government's COVID-19 contact tracing efforts)
Gives you an e-menu so customers can order and pay online and pick up food from your restaurant
Lets you enable your own food delivery service at a heavily subsidised commission fee vs. other major food delivery partner commission fees of up to 35%
Be fully integrated with the Beep Cashback customer loyalty program,

so customers can easily sign up to earn cashback by keying in their phone numbers right after they pay
Use Beep QR Order by StoreHub to power QR order and pay
Beep QR Order is a QR order and pay feature in the StoreHub system for F&B businesses.
When you enable Beep Order in your StoreHub BackOffice, you will get a QR code that you can print and put in any collateral.
Your customer can then:
Scan your Beep Order QR code on the table/standee/counter

Browse your menu and select items to order

Review their order and make payment using their preferred payment method (online banking, credit/debit card, ewallet)
Easy right?
Orders will be instantly sent to your StoreHub POS system once they have been successfully made and paid for – yay for reduced order errors and human contact!
Using Beep Order during this CMCO will help your F&B business:
Collect customer names and phone numbers (this happens during the payment process – SMS OTP)
Safely take orders through contactless means
Go 100% cashless as recommended by the government
Already a StoreHub merchant?
To get started on Beep QR Order, just go to your StoreHub BackOffice > Online Store > Collections.
Not a StoreHub merchant?
Want to enable Beep QR Order to serve your customers safely?
Run your own food delivery service with Beep Delivery by StoreHub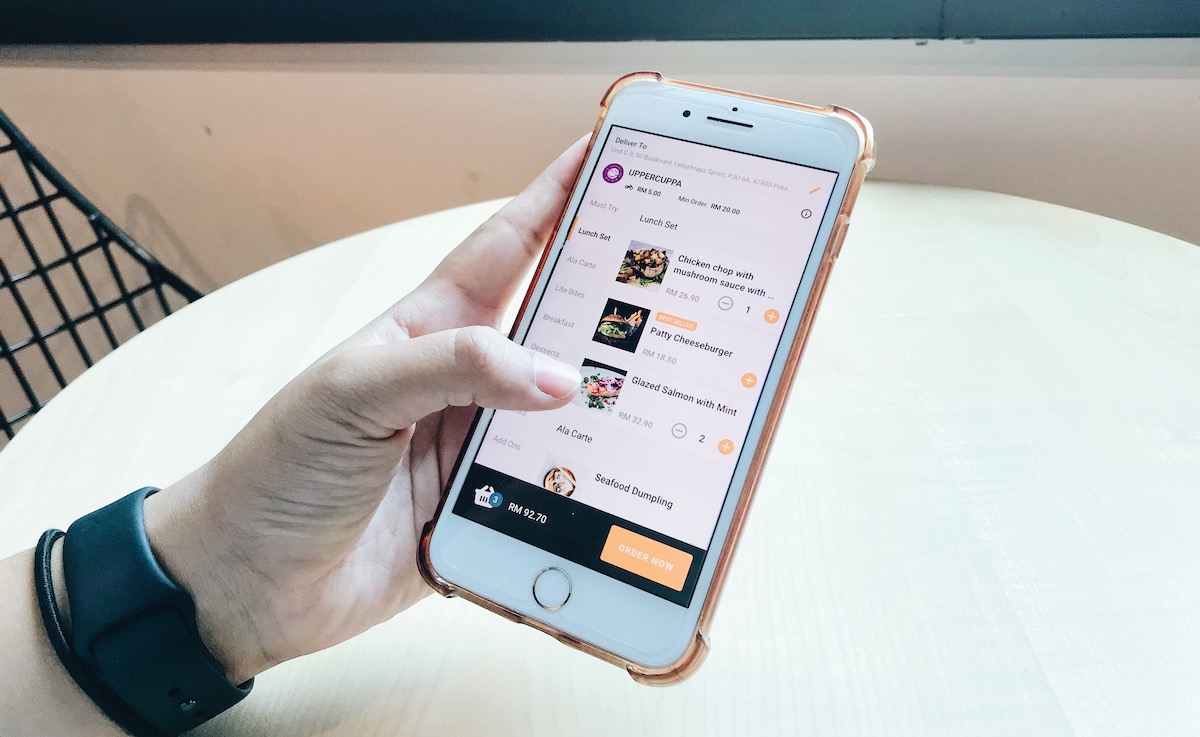 Beep Delivery is a food delivery service that both you and your customers will love!
This feature will basically enable you to run food delivery on your own via a network of logistics partners – all without depending on food delivery marketplaces and their high commission fees.
Here's how it works…
When F&B businesses sign up for Beep Delivery, they'll be provided with their own website link that they can send to customers.
Customers will then be able to use the link to:
Choose between delivery and self-pickup

Browse the online menu and order

Key in their delivery address and details

Pay via credit card, online banking, or ewallet

Receive their food & enjoy!
You can check out a quick demo video to see how it works here:
So, is your F&B business ready to thrive in 2021?
Not every F&B business will thrive.
It will all come down to how fast you can adapt to the new normal.
So be sure to prepare your cafe/restaurant as best you can and never stop evolving.
Stay safe out there!