Reading Time:
5
minutes
Recently, Malaysia's Finance Minister Tengky Zafrul Abdul Aziz tabled the highly anticipated Budget 2021.
This budget details the series of initiatives the government will undertake to support rakyat's welfare, business continuity and revive the nation's economy.
What are these key proposals?
Here's a summary of the key highlights in Budget 2021 for small and medium enterprises (SMEs), business owners and entrepreneurs: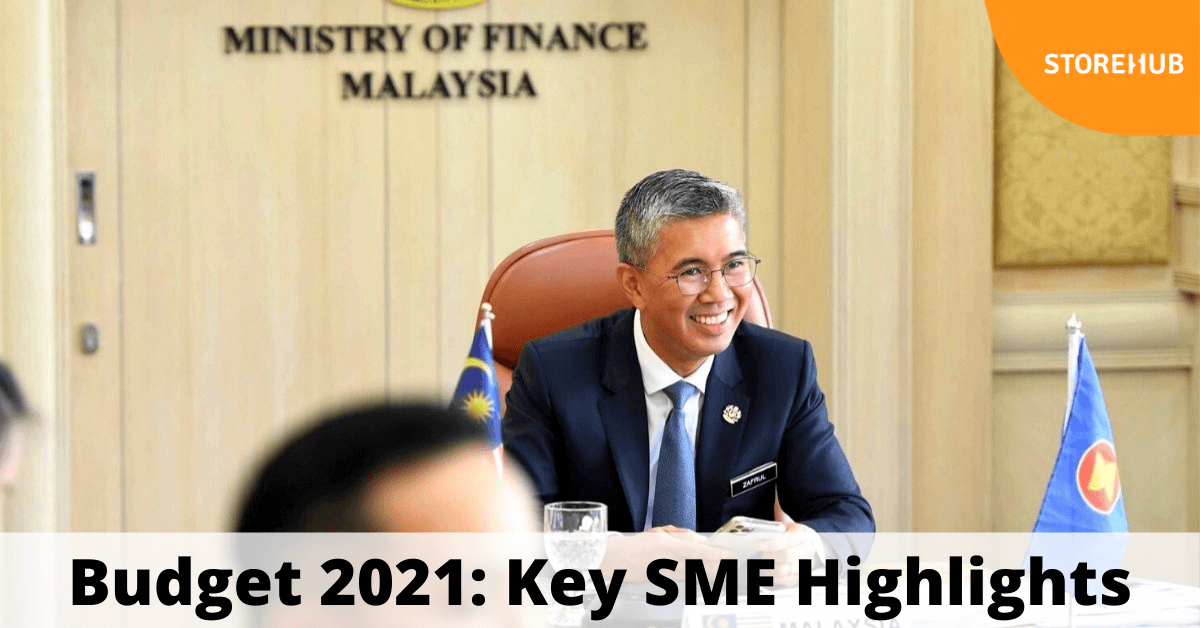 Photo by Vulcanpost
1. Initiatives to contain COVID-19
On top of the RM1.8 billion allocated this year, an additional RM1 billion will be allocated in 2021 to contain the third wave of COVID-19.
100,000 front liners will also receive a one-off payment of RM500 as a token of appreciation for their hard work this year.
2. EPF initiatives
There will be 3 main EPF initiatives:
Employees' minimum EPF contribution will be reduced to 9% starting in January 2021.
EPF contributors will also be allowed to withdraw RM500 per month from their Account 1 (up to a total of RM6000 a year).
Withdrawals from Account 2 will also be allowed but only for the purchase of life insurance, takaful protection products or for critical illnesses.
3. Tax exemption and tax rate reduction
There will be a 1% decrease in income tax for those earning between RM50,000 – RM70,000 per year.
To help taxpayers who have lost their jobs due to the COVID-19 pandemic, the income tax exemption limit for compensation for loss of employment will be increased from RM10,000 to RM20,000 for each full year of service.
Additionally, to encourage more individual investors to participate in equity crowdfunding (ECF) platforms, start-ups and businesses will be entitled to an income tax exemption of 50% from the invested amount (capped at RM50,000).
RM30 million will also be allocated to a matching grant that will be invested into ECF platforms under the supervision of the Securities Commission Malaysia.
4. Wage subsidies
The government will allocate RM1.5 billion to extend the wage subsidy programme for another 3 months.
An estimated 70,000 employers and 900,000 workers are expected to benefit from this, particularly those in the tourism sector.
5. Creating more job opportunities
The government is allocating the following funds for creating more job opportunities in Malaysia:
RM3.5 billion to the JanaKerja Scheme to provide 500,000 new job opportunities.
RM2 billion will be set aside for PenjanaKerjaya, where employers will be given additional incentives for hiring local workers, people with disabilities, those who have been unemployed long-term and workers who have been terminated.
Relocation assistance and training will be provided for 8000 airline employees who have lost their job due to the ongoing pandemic.
RM250 million assigned into an apprenticeship hiring incentive. Employers will receive RM1000 per month (for 3 months) if they hire fresh graduates for an apprenticeship programme.
6. Enhanced loan repayment assistance
Small businesses with loans up to RM150,000 will have access to an enhanced targeted repayment assistance programme.
From December 2020 onwards, there will be 2 new options available:
Option 1: Postponement of repayment for 3 months
Option 2: 50% reduction in monthly instalment for 6 months
According to the finance minister, this enhanced assistance will also cover loan facilities that were approved before 1st October 2020.
7. Incentives to boost consumption of local products
To help revitalise the Malaysian economy, the government aims to launch multiple incentives to boost the consumption of local products.
RM 25 million to be allocated to the 'Buy Made In Malaysia' programme and the launch of The Micro Franchise Development programme and the Affordable Franchise Scheme. This will be introduced to help entrepreneurs venture into the local franchising industry.
RM150 million will also be allocated to re-implement the 'Shop Malaysia Online' initiative. This re-introduction is expected to benefit 500,000 local sellers.
RM150 million for the ecommerce SME and Micro SME campaign. This aims to providing training programmes, sales assistance and digital equipment to encourage 100,000 local entrepreneurs to venture into an ecommerce business.
RM35 million allocated under the Trade and Investment Mission effort to promote Malaysian-made local products and services in foreign countries.
8. Women entrepreneurs will get financial and training assistance
RM95 million will be allocated for a special micro-credit financing facility specifically for women entrepreneurs.
On top of that, more than 2,000 women entrepreneurs will also be able to benefit from guidance courses via the Micro Entrepreneur Business Development Programme (BizMe).
This programme includes training in marketing and technical strategies of businesses.
9. Additional financial aid for Bumiputera entrepreneurs
A total of RM4.6 billion will be allocated to assist Bumiputera entrepreneurs.
This budget will provide them with financing options which include:
RM510 million to finance Bumiputera SMEs and MSMEs – TEKUN Nasional and Perbadanan Usahawan Nasional Berhad (PUNB)
RM800 million for capacity enhancing programmes e.g. employee up-skilling and tool upgrades – Bank Pembangunan Malaysia and SME Bank
RM2 billion to finance Bumiputera SMEs – Syarikat Jaminan Pembiayaan Perniagaan (SJPP)

RM1.3 billion for other various capacity building programmes e.g. Dana Kemakmuran, professional development and other projects specifically for Bumiputeras.
Additionally, the government is also allocated RM20 million for Skim Pembangunan Usahawan Masyarakat India (SPUMI) and RM5 million for entrepreneurship development for other minority communities.
10. Improved financial aid for digitising businesses
The government has highlighted that it aims to focus on introducing new technology to boost long-term productivity and to accelerate the country's transformation towards a high-income nation.
This means, more grants and loans will be available to encourage SMEs and businesses to digitalise their operations.
Until 31st December 2023, RM1 billion will be provided in the Industrial Digitalisation Transformation Scheme via Bank Pembangunan Malaysia Berhad (BPMB).
A High Technology Fund of RM500 million will be provided by Bank Negara to support high-tech and innovative sector companies.
RM150 million will be allocated to the existing SME Digitalisation Grant Scheme and Smart Automation Grant.
The government also plans to relax eligibility requirements for MSMEs and start-ups applying for these grants.
11. Better access to financial aid
The government aims to continue helping entrepreneurs facing difficulties in accessing financial aid by introducing different avenues for micro-credit financing.
RM1.9 billion will be provided via the PRIHATIN and PENJANA packages to help SMEs and MSMEs access financial aid.
SME Bank will provide the Lestari Bumi financing facility scheme with funds amounting to RM300 million.
RM300 million will be allocated to the introduction of a National Supply Chain Finance Platform (Jana Niaga). This platform aims to assist SMEs that supply directly to the government or government-linked companies (GLCs).
RM50 million will be allocated to enhancing the peer-to-peer (P2P) financing facility.
RM1.2 billion of micro-credit financing aid will be disbursed through TEKUN, PUNB, Agrobank, Bank Simpanan Nasional and other financial institutions.
RM230 million will be allocated through PUNB as financing for SMEs. Businesses can use this for working capital, upgrading their automation system and equipment or expenses related to the implementation of COVID-19 standard operating procedures (SOP).
Let us know what you think!
The full Budget 2021 speech can be downloaded on the Ministry Of Finance's official website here.
What do you think of these initiatives as a Malaysian SME entrepreneur?
Let us know in the comment section below!