Reading Time:
7
minutes
With more cafes and restaurants popping up everyday, people have plenty of possible options to satisfy their food cravings.
Whether it be curry, hot pot or insta-worthy desserts, it is no longer enough for F&B businesses to only have great tasting food.
As the food and beverage industry becomes more competitive, you'll need stronger marketing strategies to stay relevant and keep up with your competition.
Thankfully, there are many ways to boost sales for your cafe or restaurant. Most of the marketing strategies for restaurants comes down to building strong relationships with your customers online and offline.
Whilst the world is going digital, it is easy to focus on online marketing and forget about offline marketing strategies but it is still highly important and recommended for your restaurant's success.
Luckily for you, we have compiled 7 easy ways guaranteed to boost sales for your F&B business!
1. Packaging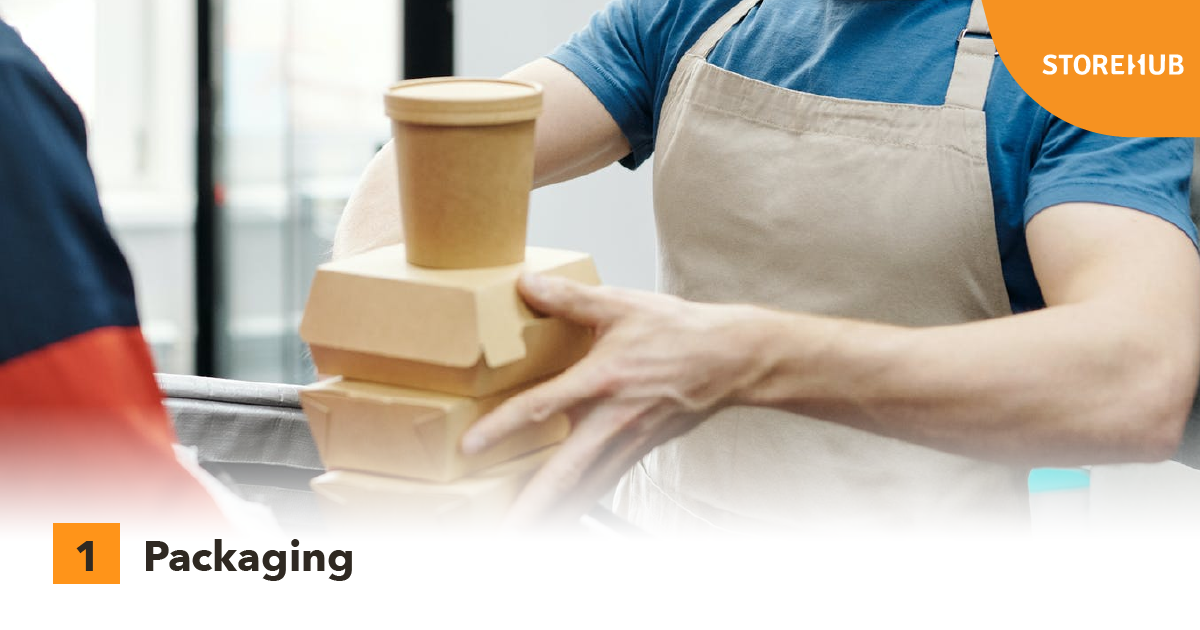 Never underestimate the power of design!
Research shows that packaging drives 36% of purchase decisions.
Packaging is a critical component of your F&B business's brand image and identity. Everything from logo design, type of font and packaging material will be judged by customers before making the decision to buy.
The nicer the packaging, the more likely customers will want to buy your products as it's more eye-catching and looks more trustworthy.
After all, the camera eats first right?
This is especially relevant if your F&B store does takeaway or delivery. Even if not, subtle packaging in dine-in restaurants can still make a huge difference, for example:
The design and packaging of cups

Napkins

Takeaway bags
Niko Neko Matcha is a great example of a modern minimalist design where their logo is featured on all the packaging, napkins and takeaway bags. It's simple contemporary aesthetic puts across an impression that their products are high-quality and special, which is exactly the brand image they wanted to portray.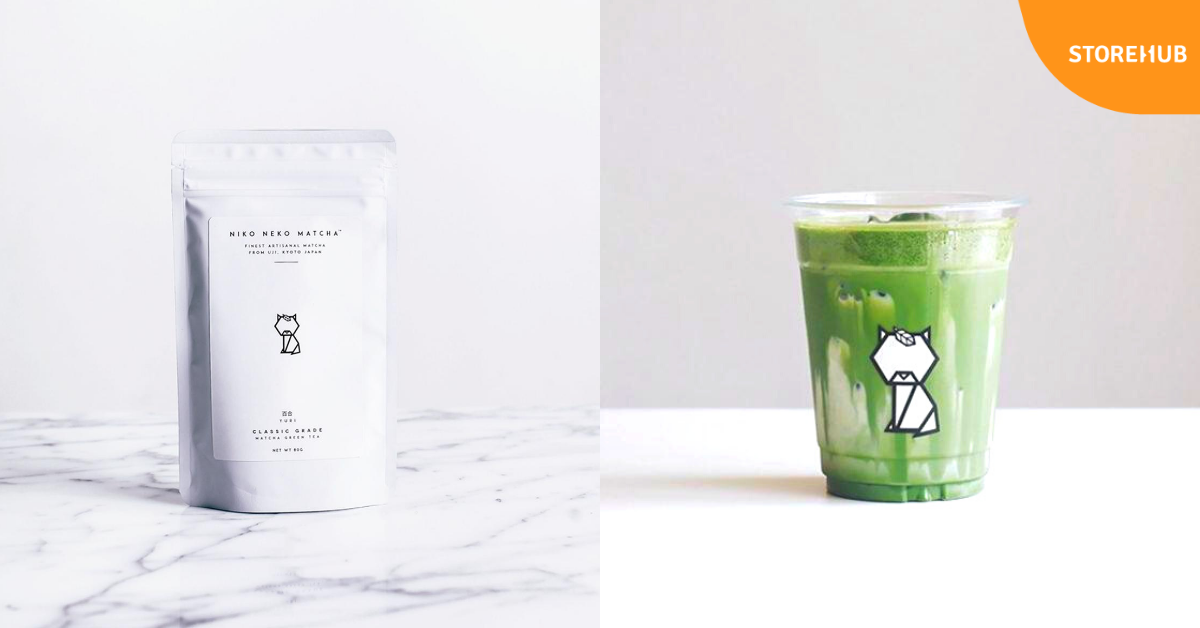 One of the easiest and most powerful ways to incorporate strong design into food packaging is to use 'storytelling'. This can be about the journey of how the meal goes from farm to table, a memorable story about how your F&B restaurant started or the business's values and goals.
Remember to make sure your designs are functional (no leaks or spillage), colourful and fits with your overall brand image.
2. Providing offers and happy hour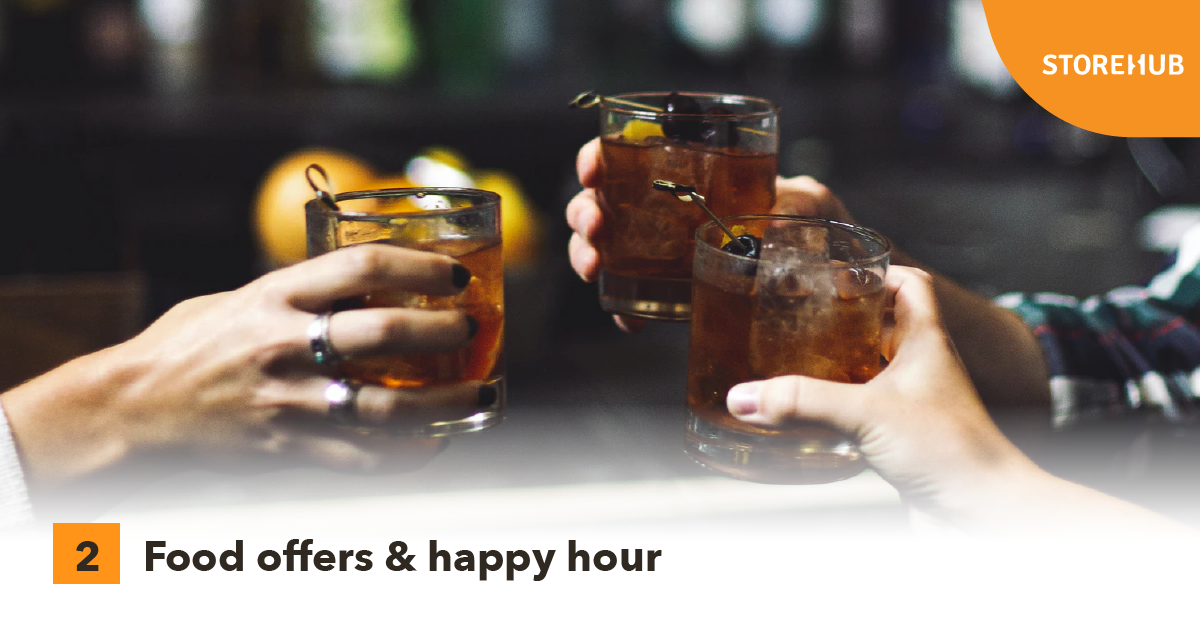 One of the most popular offline methods of promotion, to attract existing and new customers, is by offering offers on special occasions.
This could be offering special discounts, limited edition menu items or complimentary gifts during festive seasons.
However, you don't have to wait until a festive holiday to do so!
Over the past 2 years, happy hour has been blowing up in the F&B industry. Happy hour means having discounts or offers during a set time of the day.
This promotion strategy is a win-win situation for both you and your customers. Customers love it because they can save money on going out and socialising, and it also benefits your F&B business by boosting sales, bringing in an additional source of income during non-peak hours and generating more buzz about your business to attract new customers.
We've compiled a list of a few happy hour ideas to help you get started:
Provide value-priced food and drinks options that customers are easily drawn to. Make sure these food or drink specials are only available during your 'happy hour'. This creates a sense of exclusivity and will bring guests to your restaurant at that specific time.
Offer shareable dishes. Many happy hour customers will come in groups, whether this be a group of co-workers grabbing a bite/drinks after work or a group of friends looking to catch up. You can help make the decision of what to eat easier by providing shareable options of popular menu items for people to easily order and share amongst themselves.
Offer new or special menu items. Happy hour is a great way for your business to try out new dishes and gauge interest before adding it to your official menu. You could even offer limited edition or off-menu items to attract customers in.
Create mini versions of your menu options. This way, customers can order multiple small plates and share with the table. It will also entice them to come back at a later time for a full meal if they enjoy the food. It's also an excellent option if your happy hour is during the afternoon or late evenings, as customers may be looking to have a small bite instead of a full meal.
Have a theme with your happy hours. For example, Fishy Fridays where all fish items on the menu are discounted.
Be generous and offer complimentary side dishes, small desserts or drink samples. These small acts of kindness will help create loyalty from customers who had an enjoyable experience at your restaurant.
3. Hosting events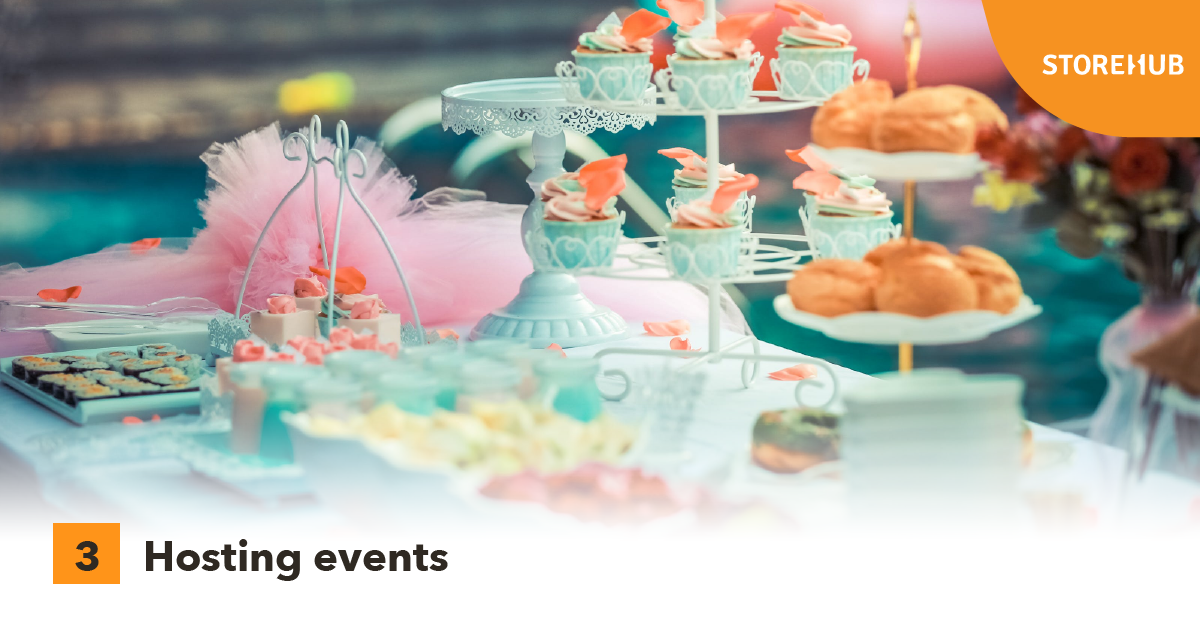 Customers are always looking for a new and exciting dining experience.
Organising weekly or monthly events is a great way to give customers a reason to visit your restaurant and give you an edge over your competitors. This could be through:
Karaoke nights

Inviting a live band to perform

Celebrating special events such as world taco day, your restaurant's birthday etc.
Having an event that gets customers involved and participating will create a lively atmosphere, drawing more positive attention towards your restaurant.
Hosting these events will not only bring in your regulars but also introduce your business to many new potential customers. This will pay off with an increase in sales for the night itself, and most importantly, in the long run as well.
4. Distributing pamphlets and posters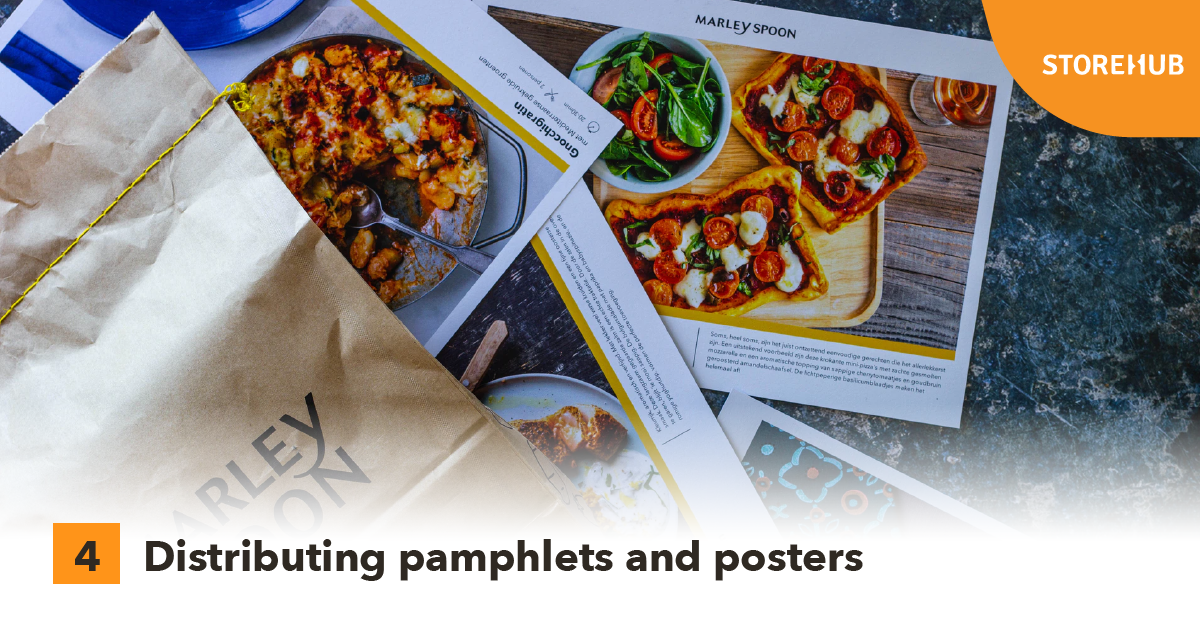 Whilst online marketing strategies are a great way to boost sales, we mustn't forget about the group of people who are not tech-savvy and who still prefer the traditional method of reading newspapers and pamphlets to find out about new restaurants.
Distributing pamphlets and flyers is one of the most cost-effective offline strategies for restaurants.
They're cheap to print out and easy to hand out to potential customers. The design of the pamphlets and flyers must be prioritised and designed carefully to attract customers.
Just remember to include these key elements:
Brand name and logo

Brand colours

Location address

Any special dishes or deals that you are offering

A clear 'Call-to-Action' such as 'Order Now' or 'Book Now' with a phone number attached
5. Creating combo meals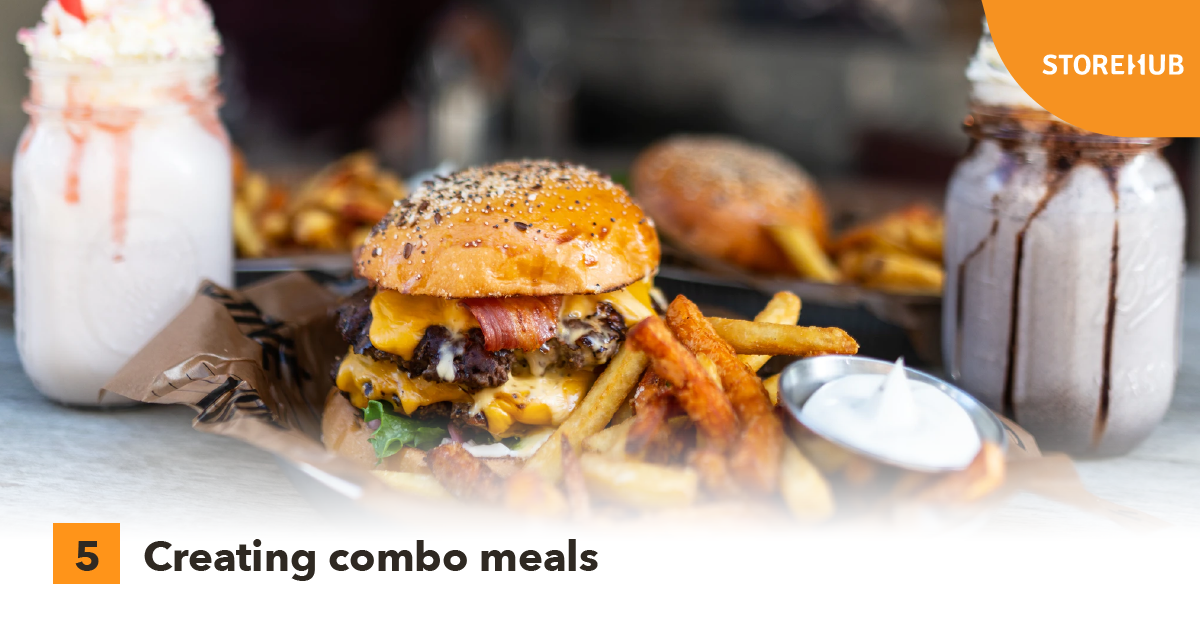 Combo meals are a quick and easy way to attract customers, I mean, who doesn't love a good deal?
To do this effectively, try selecting your top-selling menu items and pair them with a popular side dish and/or beverage.
Customers love having a pre-made set readily available instead of having to individually select each item.
This is also a great way to boost profits by selling low-profit side dishes or beverages with top-selling dishes!
6. Food blogger outreach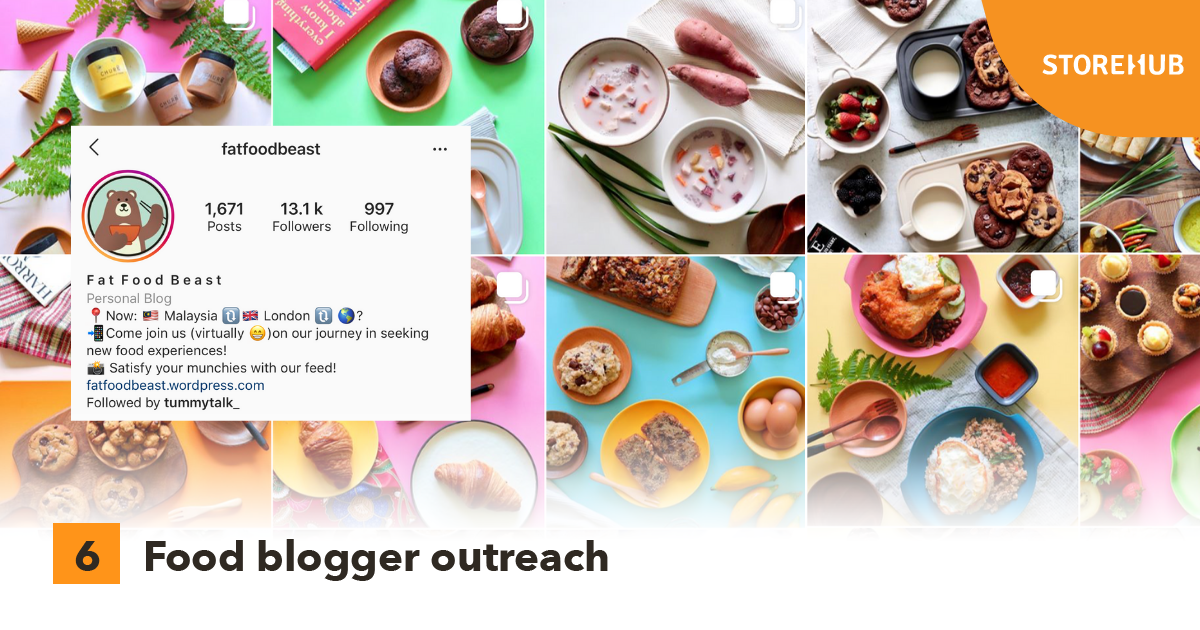 Everyone prefers dining at places that have a good reputation.
You could always rely on your customers' reviews but what if we told you there's a better way that will generate more traffic and buzz about your restaurant?
Influencer marketing is a popular marketing trend used by many F&B businesses over the last few years.
It consists of partnering with a large social media account that has a large following with the aim of bringing awareness to your brand.
For F&B businesses, the aim is to invite food bloggers to your restaurant and ask if they're willing to review your restaurant or share their dining experience on their platform. This could be a full social media post or even just multiple stories tagging your business. You can consider offering a free meal or appetiser to get them to come by.
Research shows that 63% of customers tend to trust influencer reviews more than brand messages.
Some food bloggers have a huge following so if you manage to get their attention, even just one review or mention can have a huge impact and positive influence on your restaurant's sales.
Here are our top tips on influencer marketing:
Decide on the type of compensation you can afford. Think about what you can offer them in exchange for their time: a free meal, upfront payment etc.
Choose the best influencers that best fits your brand. There are many different types of food bloggers out there so reach out to the ones with the brand message that best aligns with your own brand.
Remember that not all influencers are open to exchange partnerships. If they're asking for payment, without providing anything in return, respect their decision and continue looking on.
7. Food delivery options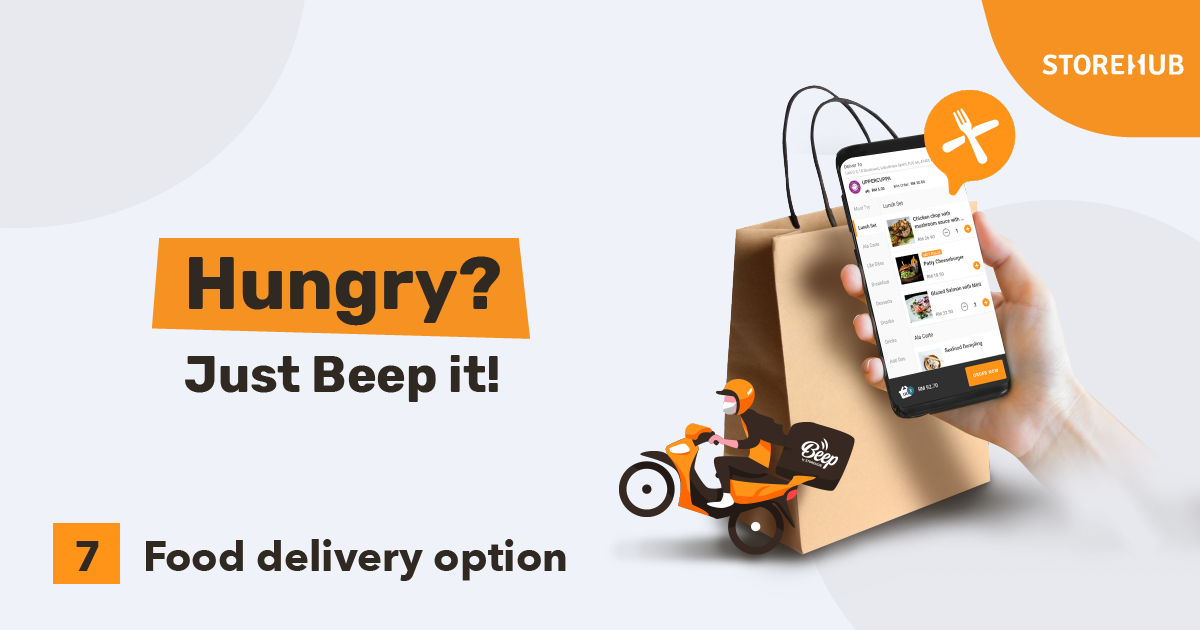 Customers love the convenience of getting food delivered to their doorstep.
However, now more than ever, having a food delivery option is vital.
With the current COVID-19 situation, there is a newfound appreciation for food delivery as it became the only way for F&B businesses to survive during the lockdown.
If you haven't already, list your F&B business on online directories such as fooddelivery.com.my.
It is free to all F&B serving businesses. Being listed on this platform will make yourself readily discoverable to customers and help boost brand awareness.
The hardest part of going into food delivery is looking for a food delivery platform that doesn't charge a high commission fee.
But look no further!
Unlike other food delivery platforms that charge up to 35% commission fees, Beep Delivery supports local cafes and restaurants by enabling you to run food delivery on your own without depending on external food delivery marketplaces.
Beep Delivery is THE food delivery service that both you and your customers will love!
Here's how it works…
When F&B businesses sign up for Beep Delivery, they'll be provided with their own website link that they can send to customers.
Their customers will then be able to use the link to:
Choose between delivery and self pickup

Browse the menu and order

Key in their delivery address and details

Pay via credit card, online banking, or e wallets

Receive their food & enjoy!
Easy and simple right?
What are you waiting for!