Reading Time:
6
minutes
Dine-ins are now allowed for those who are fully vaccinated in phase 1. That means F&B businesses like restaurants and cafes need to be ready to welcome customers back AND make more SALES!
That's why we've elaborated 5 key factors and even added step-by-step guides on how you can sustain your business and succeed with this F&B new normal.
1. Know your customers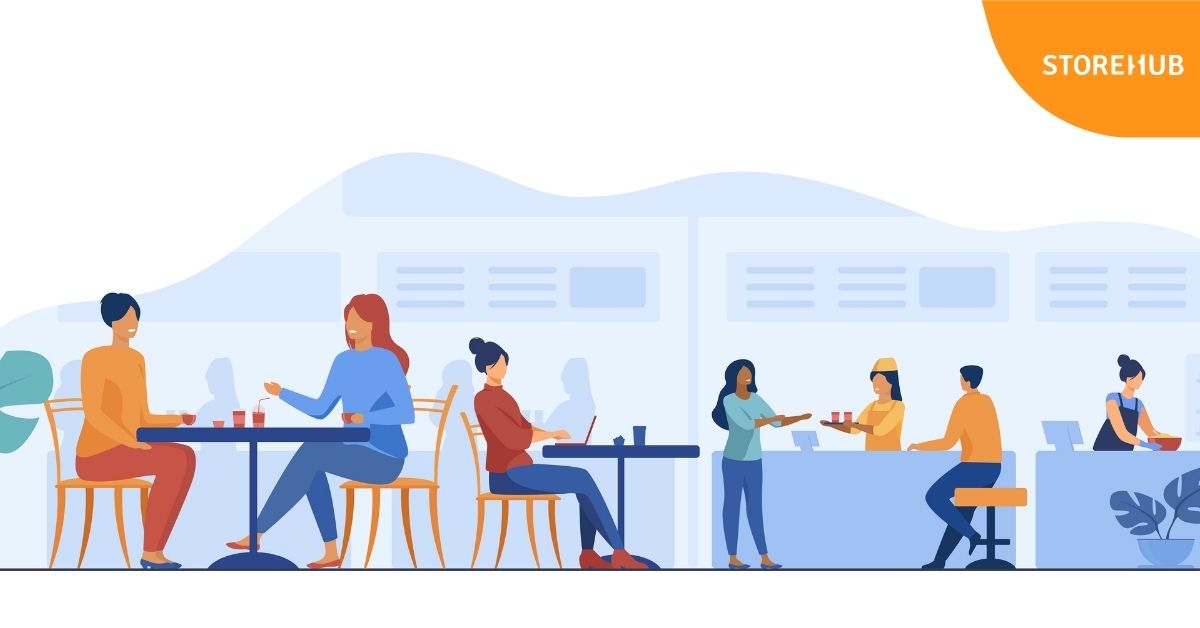 Food vector created by pch.vector – www.freepik.com
This is the foundation of a successful F&B business in the new normal.
After all, it's 5 – 25x more expensive to get a new customer than to keep your existing customers.
So knowing who your customers are and keeping them coming back, is very important.
It goes like this…
Know and understand your customers → sell better / build stronger relationships → grow a good reputation → increase sales and repeat customers / get free word of mouth marketing!
If you're on a budget and can't afford a sophisticated CRM system, no worries.
Just start collecting these basic customer data points:
Name
Phone number
Email address
You can then use these details to send simple SMS or WhatsApp messages to your customers on new promotions or products.
Collect as much information as you can on your customers so you know:
who your most loyal customers are (reward them to keep them coming back)

who your new customers are (get them to come back with promos)

what your customers like to buy

what your customers don't like to buy

what price points your customers are comfortable with

and so on.
All this information will help you make better data-driven decisions for your F&B business. And most importantly, it helps you to focus on the right customer group!
TIP: Use a POS system like StoreHub which helps you collect your customer data and send SMSes to your customers.
2. Digital marketing
Whoa… Digital marketing? That's right! F&B new normal needs to rely on digial marketing too!
This may seem intimidating at first, but it's a very cost-effective way for you to increase sales and brand awareness for your cafe or restaurant even when dine-ins are allowed or restricted.
Here are 3 digital marketing ideas that any F&B business owner can run:
Claim your Google My Business profile
Be active on social media
Run a Facebook remarketing ad campaign
Claim your Google My Business profile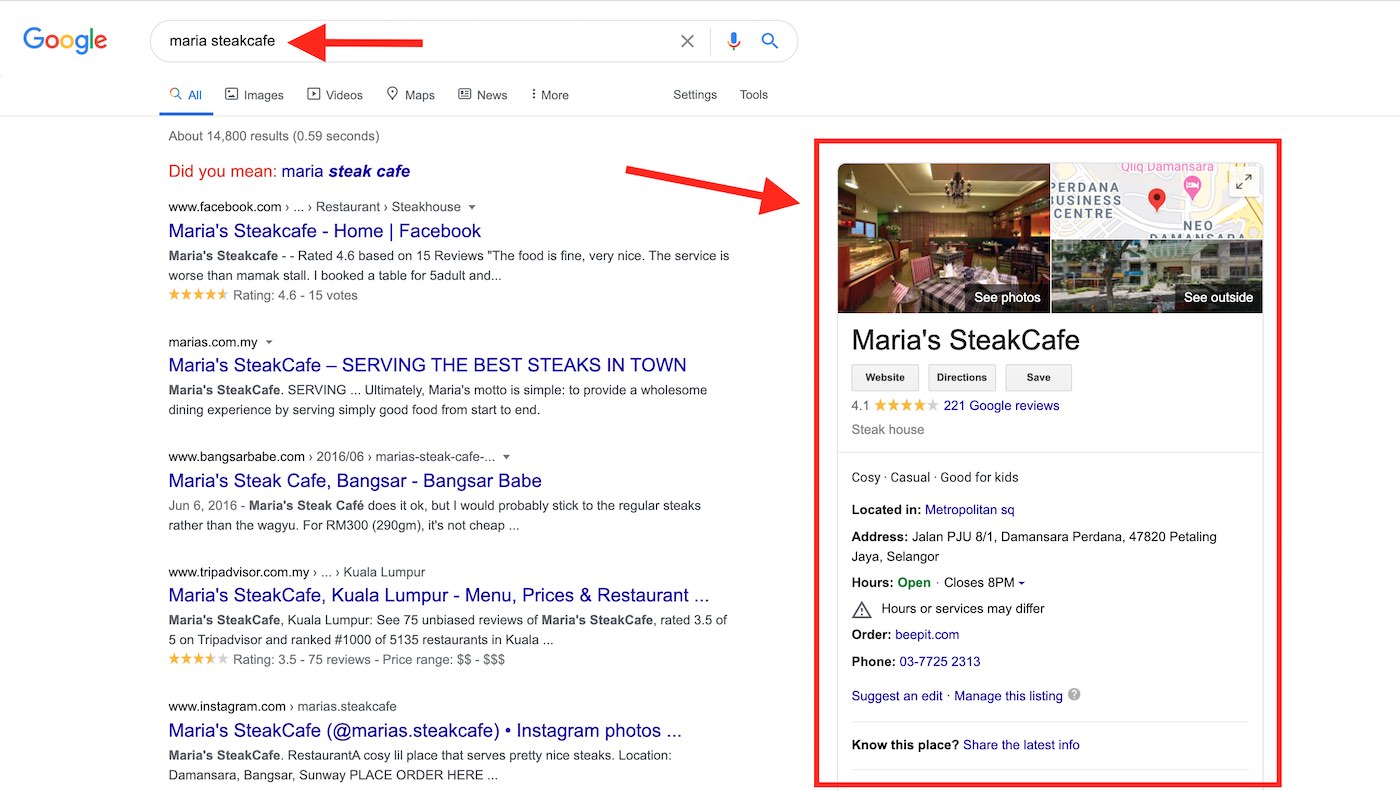 Google My Business is a free and easy tool that lets businesses manage their presence on Google – including Google Search and Google Maps.
You can claim, verify, and edit your Google My Business profile like the example above so customers can easily find out more about your business and they can even get directions or book a table directly from there. That's why you should never overlook this platform.
And since it's free, your cafe/restaurant should definitely take advantage of this and get your listing set up on Google properly.
Be active on social media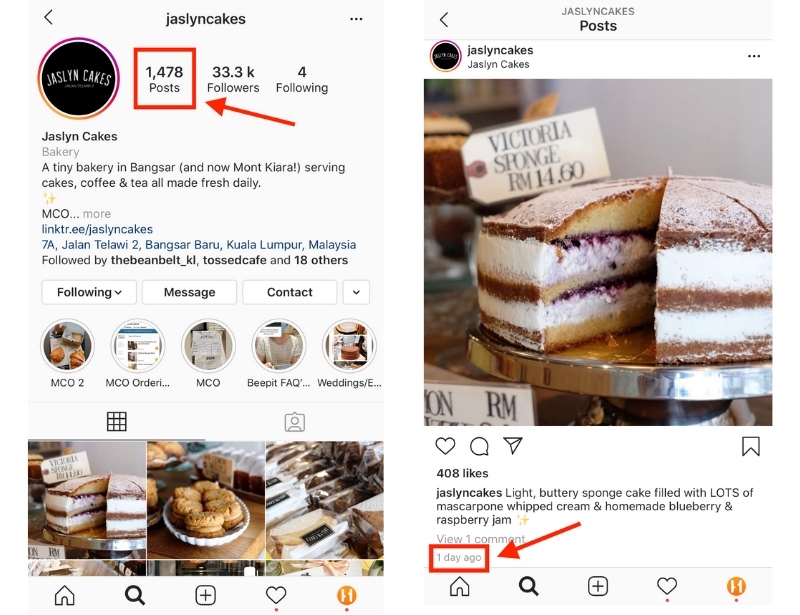 You might have noticed that social media game has been so competitive lately, especially since the COVID-19 pandemic started. If you don't have a nice feed, you'll have less chance of grabbing your customer's attention.
Having a strong social media presence helps your cafe/restaurant:
build trust and loyalty
connect and engage with customers
increase sales
If you say you're not really a social media person, then get over it.
In this day and age, you need to have at least a Facebook and Instagram profile for your business.
This is because most people will definitely do a search on you first before buying your products.
What do you want them to find or see online?
So it's up to you to actively post on social media to show people that your business is operating well and that your products are worth buying.
Run a Facebook remarketing ad campaign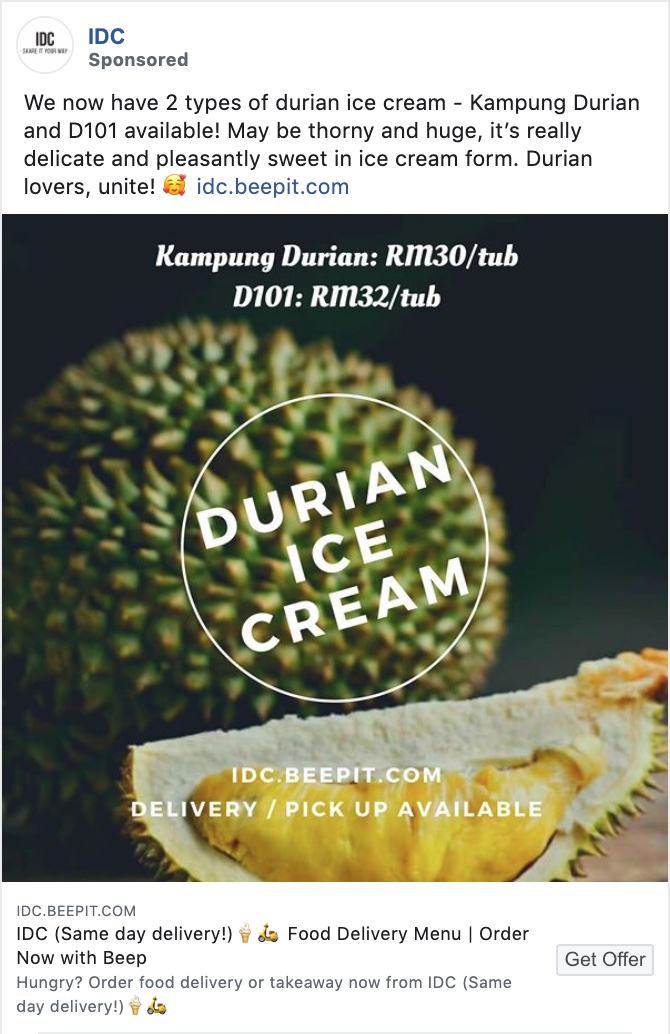 Did you know about 86% of Malaysian pupulation were active on social media in January 2021?
Unfortunately, there's only so small number of people that you can organically reach via social media.
Typically with Facebook, your posts only reach about 3 – 5% of your total followers.
So you need pay to show your post to more people.
But is it worth it?
Will you get sales from doing this?
Well, there's one Facebook ad campaign that you can run, which requires minimum effort at maximum impact.
And that's a Facebook remarketing ad campaign!
This campaign shows your ad to people who have interacted with any of your Facebook posts. Thus, you'll be more likely to be able to sell!
Benefits of running a Facebook remarketing ad campaign include:
improved conversion rate (meaning more sales)

higher brand recall

(means people remember your cafe/restaurant better)

cheaper than most advertising avenues
Not sure how to set it up? Read our ad specialist's how-to guide on running a Facebook remarketing ad campaign!
Then you'll be all set to leverage sales during this new normal for your business!
3. Automated ordering
Cash flow and conservation are obviously key right now for any F&B business's survival.
And one thing that can cause a cash leak is manual ordering because of:
human resource requirement

potential human order error
And this brings me to my next point…
Automated ordering.
Yes, taking orders via social media or messaging apps like WhatsApp is free and easy.
BUT, managing this on the backend (or your kitchen) will be a nightmare.
This is why automating your ordering system is important in order for you to safe time and money.
StoreHub merchants for example have enabled their own food delivery service via the Beep Delivery service, which allows them to easily get, manage, and keep track of food delivery orders (e.g. idc.beepit.com / mariassteakcafe.beepit.com).
And other merchants who allow takeaway or dine-in have also enabled Beep QR Order, a QR order and pay system to provide customers with a contactless and cashless dining experience.
4. Going contactless and cashless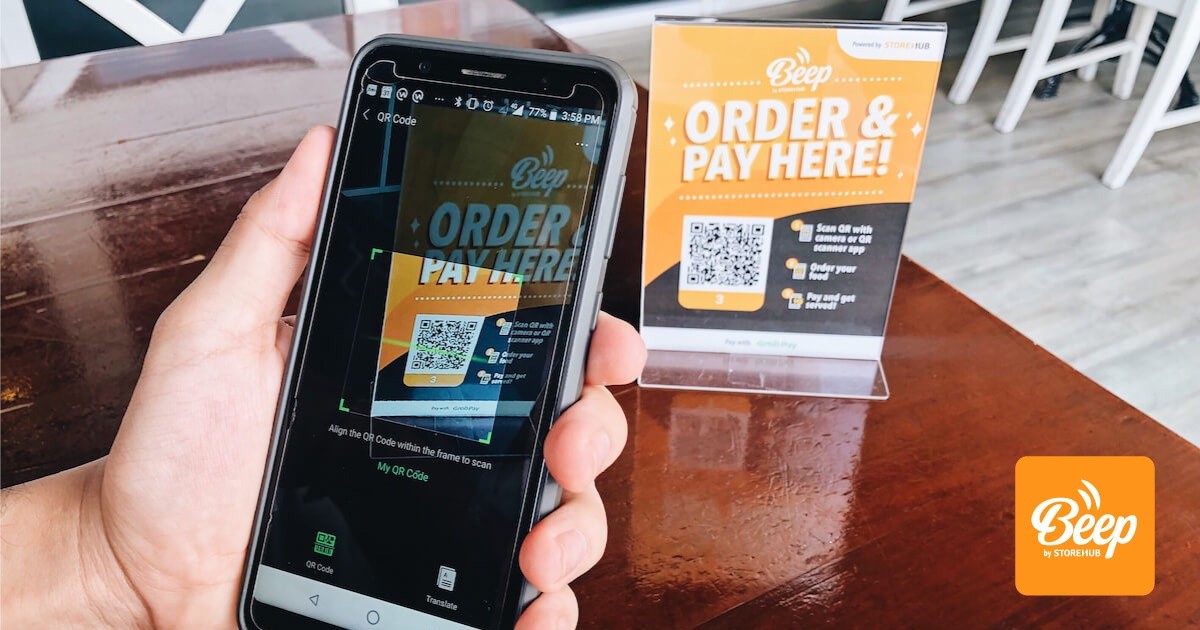 The ongoing coronavirus (COVID-19) pandemic has been the catalyst for a new normal for many industries, not just the F&B industry.
Instead of dine-in, the new normal for F&B now includes:
pre-order
takeaway/drive-thru pickup
food delivery
online ordering
contactless ordering
contactless payment
If you notice, a lot of these things require some sort of automation and technology, something which has not been the norm before for many cafes and restaurants.
To enable F&B merchants to go contactless and cashless, StoreHub offers Beep QR Order, a QR ordering system which lets your customer:
scan your QR code
view the menu, order and pay via their smartphones
automatically give you their information (name, phone number, temperature for contact tracing)
This means that you can now:
reduce human contact (touching menu/cash)
reduce waiting time
reduce human error
improve work flow
Learn more about going contactless and cashless for your cafe/restaurant.
5. Omnichannel management
Using technology to go digital is great for your cafe/restaurant!
But it also means using many different systems to handling different aspects of your business such as sales transactions, customer loyalty management, inventory management, etc..
This is why it's important for your business to use omnichannel management to:
reduce the hassle of managing multiple separate systems
improve business operations
cut down time needed to consolidate all the data that you collect
In short, everything in one system.
StoreHub's ecosytem POS will help you manage your business more seamlessly and even build customer databsed where you can engage with them and drive more sales! This is THE one system you need for your F&B new normal's success!
Get your F&B business ready for the future of dining with StoreHub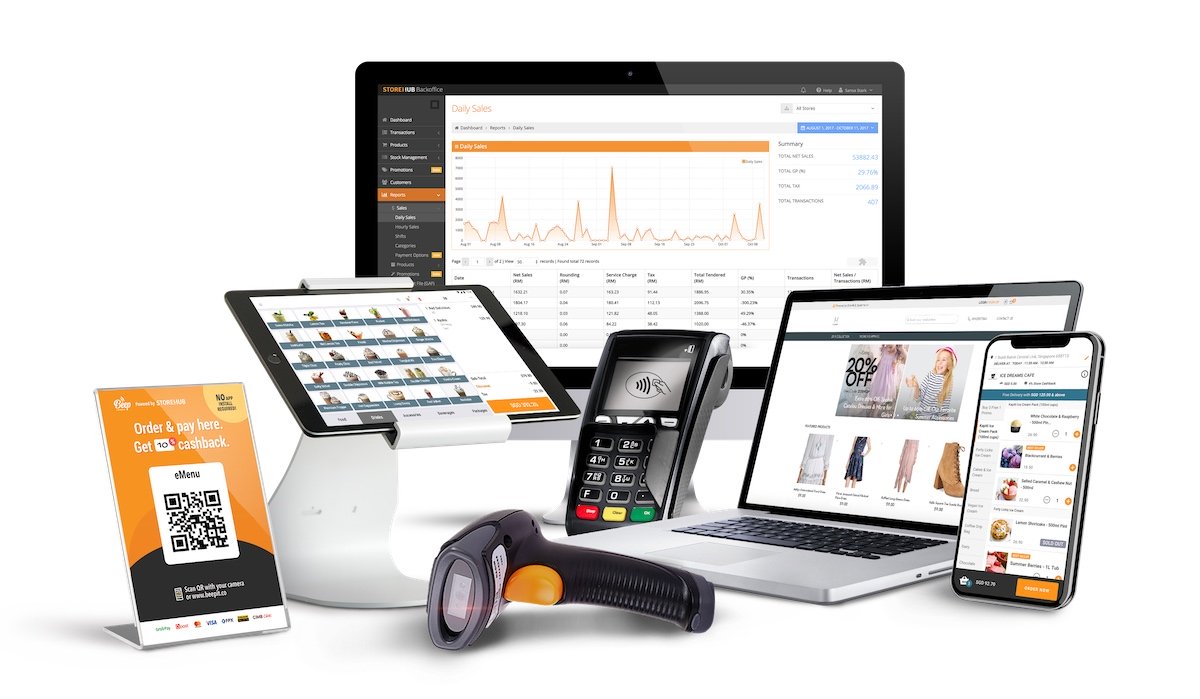 Click here

to apply for your free StoreHub demo now