Reading Time:
7
minutes
This is the ONE Facebook campaign that every cafe/restaurant business should plan and execute first before planning for any other Facebook campaigns or marketing funnel.
It requires minimum effort but will give you maximum impact.
It's the…
REMARKETING campaign!
Why?
Because it's actually up to 10x cheaper to get repeat sales than to acquire a new customer.
"But why should I listen to you?"
Fair point.
I'm Yong Sheng, the Online Ads Specialist at StoreHub.
I manage everything ad-related, Facebook, Google, YouTube, media buy, etc..
If you're seeing this, there's a high chance that you've interacted with one of our posts and our remarketing ads have reached you.
If you're a StoreHub merchant, there's an 80% chance that you've clicked on one of my ads and signed up on our landing page.
You won't find my name or post anywhere else from StoreHub's blog, because this is my first blog.
Why am I writing now?
Because I want your business and you to survive during a MCO/lockdown.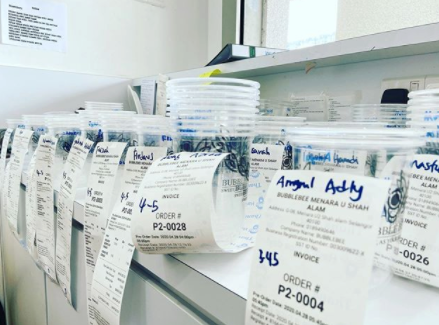 I've noticed that most of our merchants are still trying very hard to survive.
They do takeaway, they do online delivery, they post every day on Facebook for awareness, they do Live videos, and the list goes on.
I respect all these hustlers and I want to help you too!
If you're still wasting time taking orders using WhatsApp or via social media chat, and you're worried that your customers might cancel their orders or not show up after ordering, then you should definitely check out StoreHub's Beep Delivery.
While this product helps you save time managing orders, let us focus on how to get you MORE online sales.
3 reasons why you need a remarketing campaign
1. Because you don't want to waste your effort posting on social media every day
Neil Patel, the Digital Marketing guru, did some research and found out that 98% of consumers will not buy on their first interaction.
Without a remarketing campaign, you can't "force" the second or third interaction to happen.
And most of the time, we want that to happen FAST.
2. Minimum effort, maximum Impact
It's always easier to sell to someone who has purchased from you or somebody who already know you.
This explains why our first few sales are always contributed by friends and family…
Because they know you and they trust you.
3. It's cheap, like really cheap
When it comes to Facebook ads, everyone thinks that they're expensive.
I always get asked the same question: "How much should I spend?"
My default reply is always the same: "Depends on your own budget and how comfortable you are to spend."
With Facebook Ads, you have total control of how much you want to spend.
You can even start with just RM4.30/$1 daily.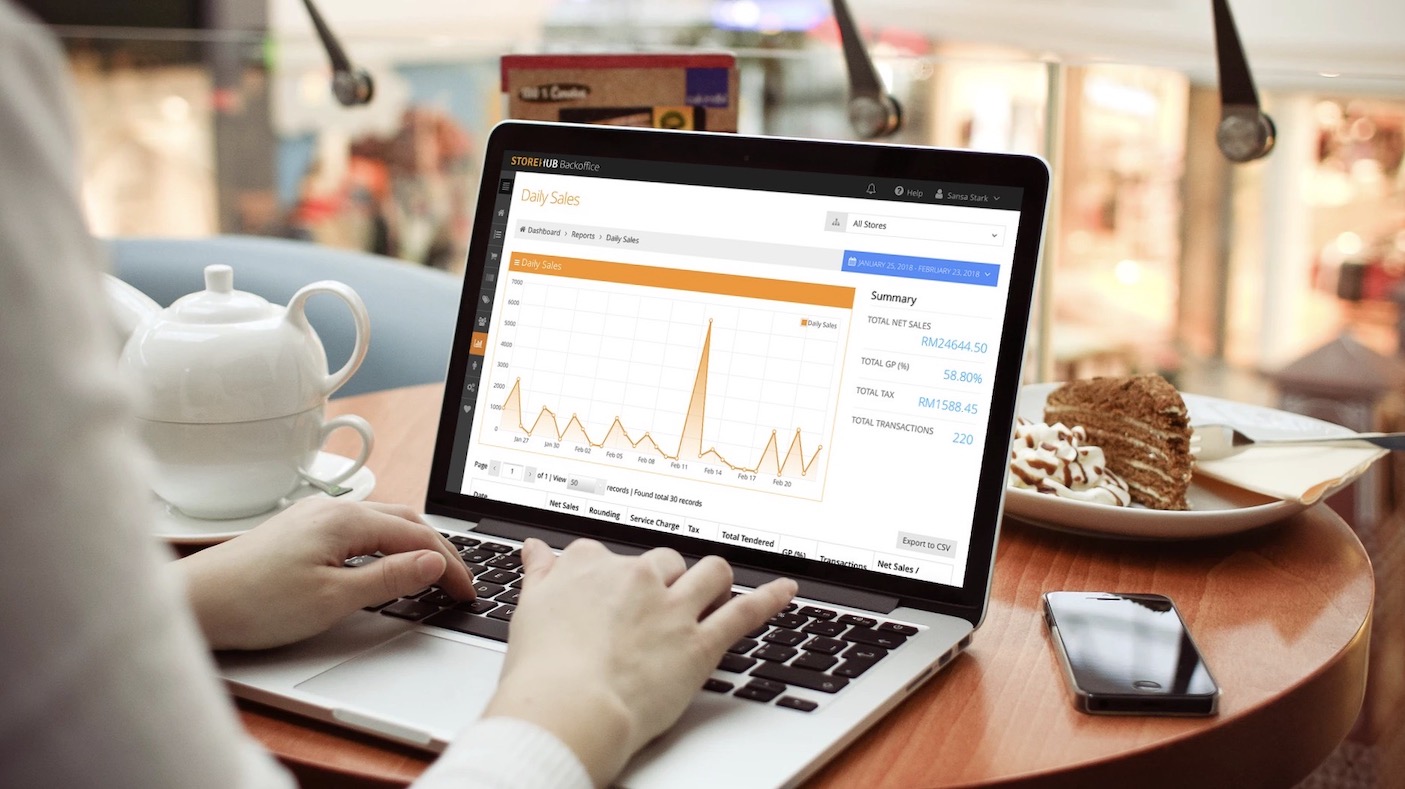 So if you're ready to spend at least RM4.30/$1 a day, let's begin!
First things first, who should you target in your remarketing campaign?
Well, there are 5 audiences to start with…
But before going into that, you need to know how to create your audience list.
1. Go to your Business Manager or Ad Manager
If you don't have one, you can simply create one at business.facebook.com/overview.
2. On the Top Left Menu, select 'Audiences'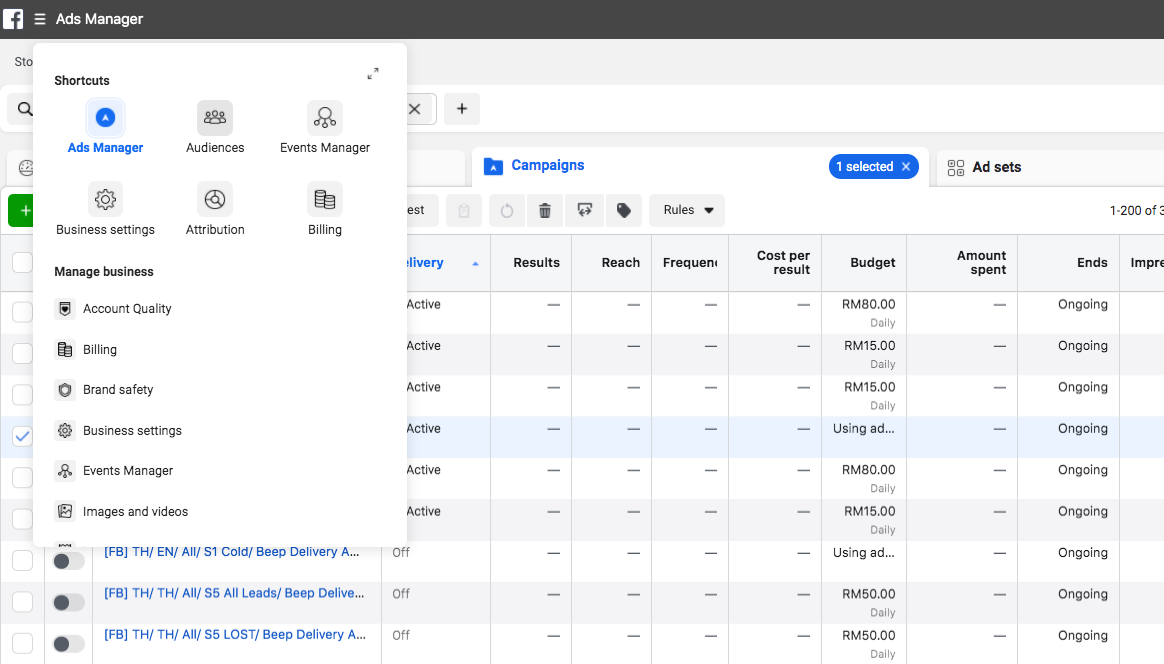 3. Click the 'Create Audience' button on the Left and Select 'Custom Audience'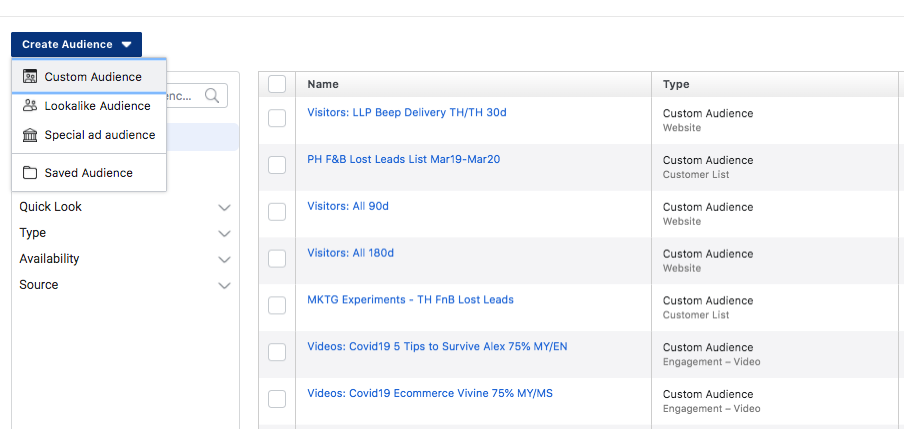 Now let's talk about the 5 Facebook Audience you should include in your remarketing campaign
Here are the 5 Facebook Audiences that you can create for your remarketing campaign:
Everyone who engaged with your Page

Everyone who engaged with our Instagram Business page

People who've watched your videos

Your existing customer list

Your website visitors
1. Everyone who engaged with your Page
You've posted on Facebook for the past few days or even today.
People have seen your ad.
They gave you a Like, but didn't click on your link.
But it's OK. You can still retarget them with ads by creating a Facebook Audience.
For the audience duration, it really depends on how Active your audience are.
Please note that if the audience size is too small, e.g. a few hundred, Facebook will likely not deliver your ad.
To be safe, go with 30 days. If it's still too small, experiment between 60 to 90 days.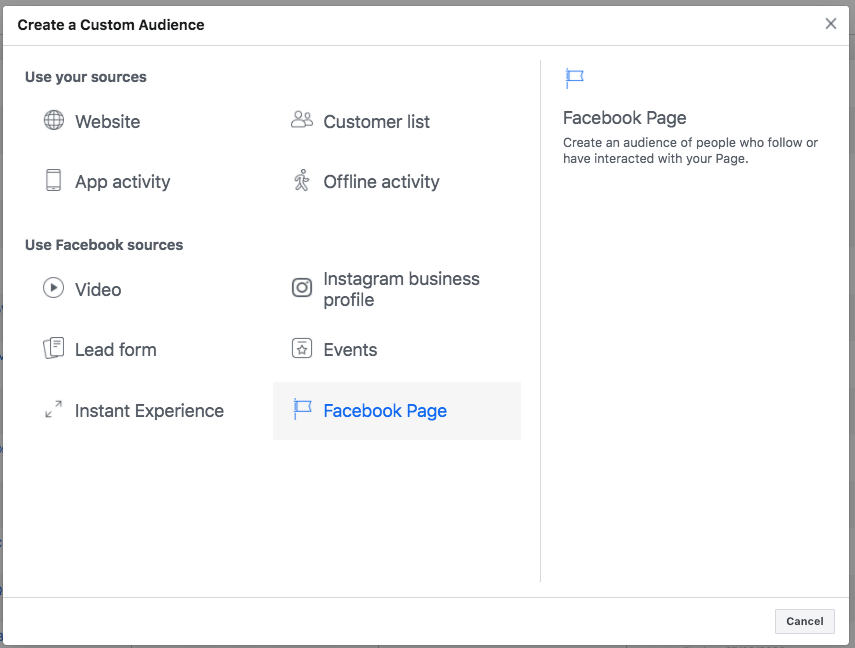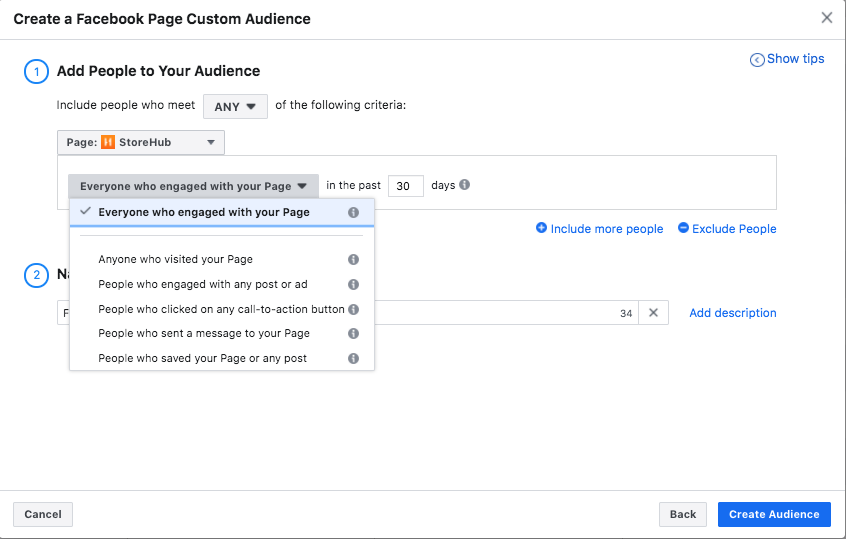 2. Everyone who engaged with your Instagram Business page
Those who have Liked your Instagram posts or commented without clicking on your link or purchasing from you, will be included in this audience list.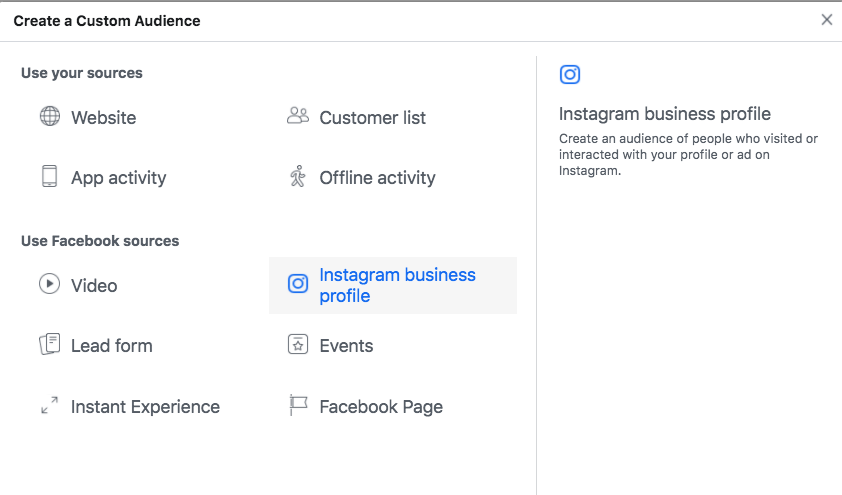 3. People who've watched your videos
You can group the top viewed videos into one Audience.
Depending on average your video length, you can segment your Audience to those who've watched between 50%, 75% or 95% of your videos.
For example:
Video A – 1 minute, 50% is 30 seconds
Video B – 3 minutes, 50% is 90 seconds
So 50% of both videos do not have the same perceived value
You can also segment your audience based on types of video you produced. For example:
Group A – Promo related video
Group B – Testimonial video
People react based on different emotions and motivation.
If you've produced or posted different types of videos, it makes sense to group them according to the type or theme.
If you can't group them, just start with all your videos with the most views.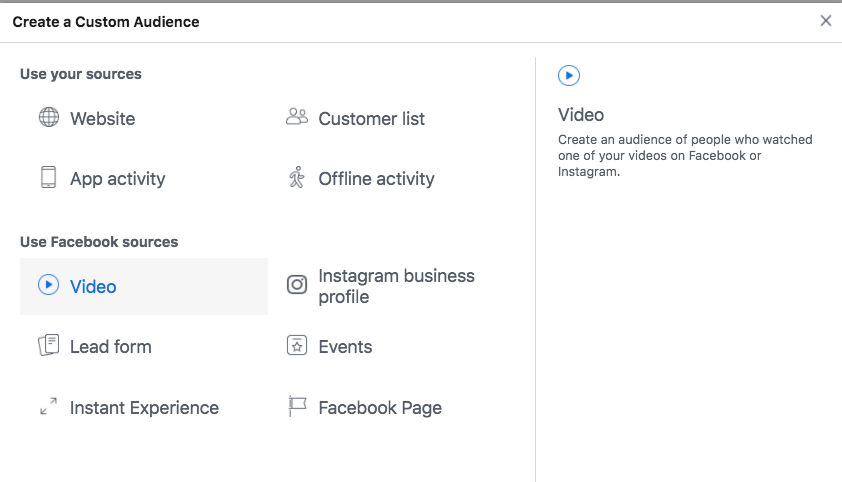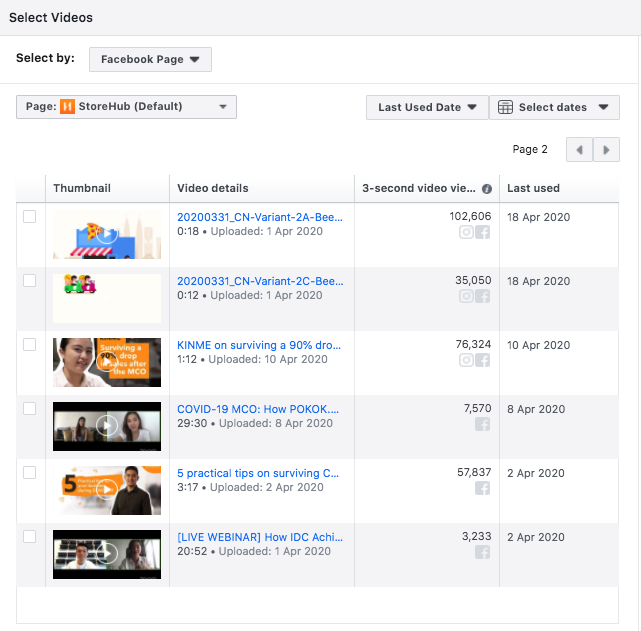 4. Your existing customer list
If you've been collecting customer data, here's where you can import their data into Facebook and send them ads.
Facebook advises us to provide at least 3 data points so that they can match the users accurately.
The 3 data points that I always use are:
First/Last Name
Phone Number
Email Address
You have to import these data by using Facebook's format. Refer to their guide here.
Note: If you're not confident with only 3 data points and you don't have other data from your customers, what I usually do is to add a Country column and input MY (for businesses in Malaysia) as the data point.
If you're still not collecting customer data, you NEED to start now.
Get a CRM software or a POS system that has CRM feature for customer data collection like StoreHub.
5. Your website visitors
If you have a website and you're actively using it to take customers' orders, please please please make sure you have added your Facebook Pixel ID to your website.
For StoreHub or Beep Delivery merchants, we're releasing this feature soon so you can add your Facebook Pixel ID from the StoreHub BackOffice without any technical or coding knowledge.
With a website, you can create multiple Events such as:
View Product
Add to Cart
Purchase
I can share about targeting using these events in the future if you're interested. Comment below!
Even without any events, you can still start with targeting All Website Visitors.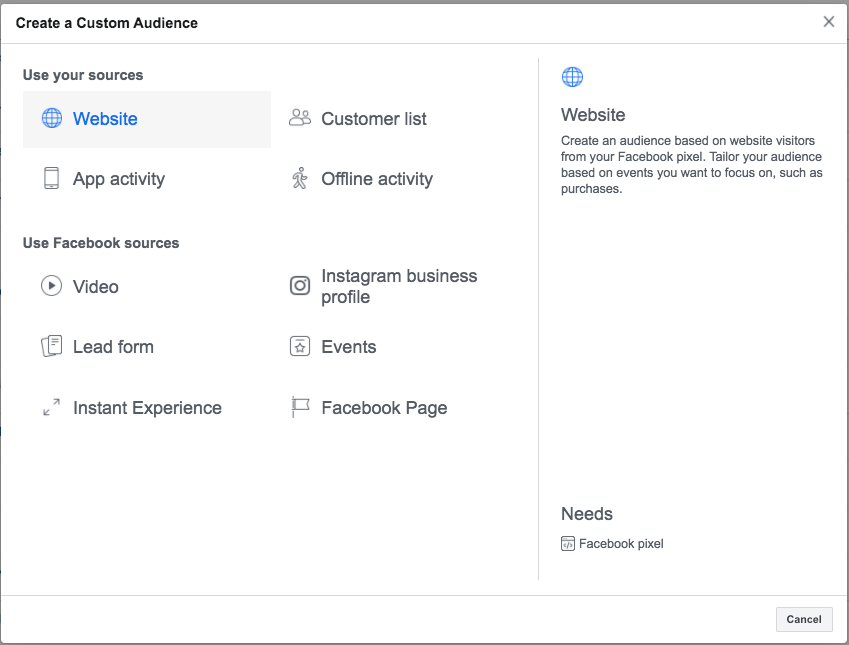 If you want to filter and target only visitors with high intention, you can target those who have visited your site more than 2 times in past X days.
This means that this visitor has more interest in your product than those who have only visited once.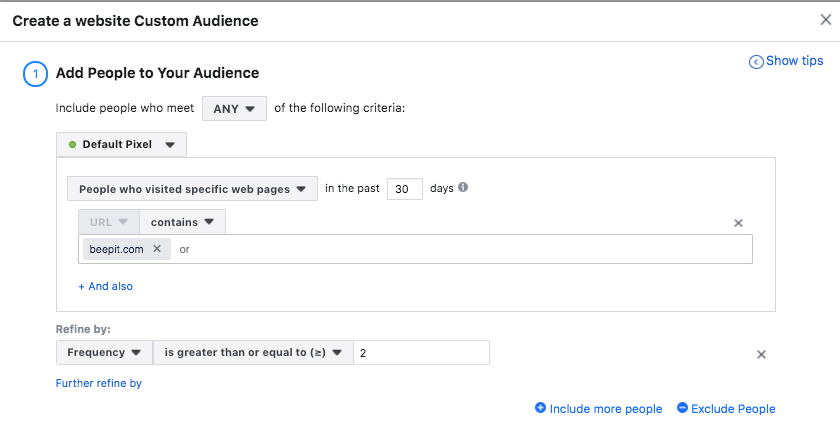 That's it, move these audiences into your Facebook Ad campaign
With these 5 Facebook Audiences, you're now ready to launch your remarketing campaign!
When you write ad copy or produce content for these audiences, please remember that somehow they've already engaged with your brand or consumed your contents.
You need to speak differently to different people.
New friends, you introduce yourself; old friends, you're more comfortable talking to them.
The same goes to your ads!
I hope that with a proper remarketing campaign set up, this can help your business generate more sales and survive this MCO/lockdown.
Remember!
If you're not running a remarketing campaign, you're:
1. Wasting your time and effort posting on Facebook and Instagram
2. Losing your chance to generate more income and serve your existing customers
3. Not running Facebook campaign which can give you maximum impact with minimum effort
Your turn!
Let me know if this is helpful.
If you have other questions about Facebook ads, drop your questions in the comment section or email me at yongsheng.yapstorehubcom.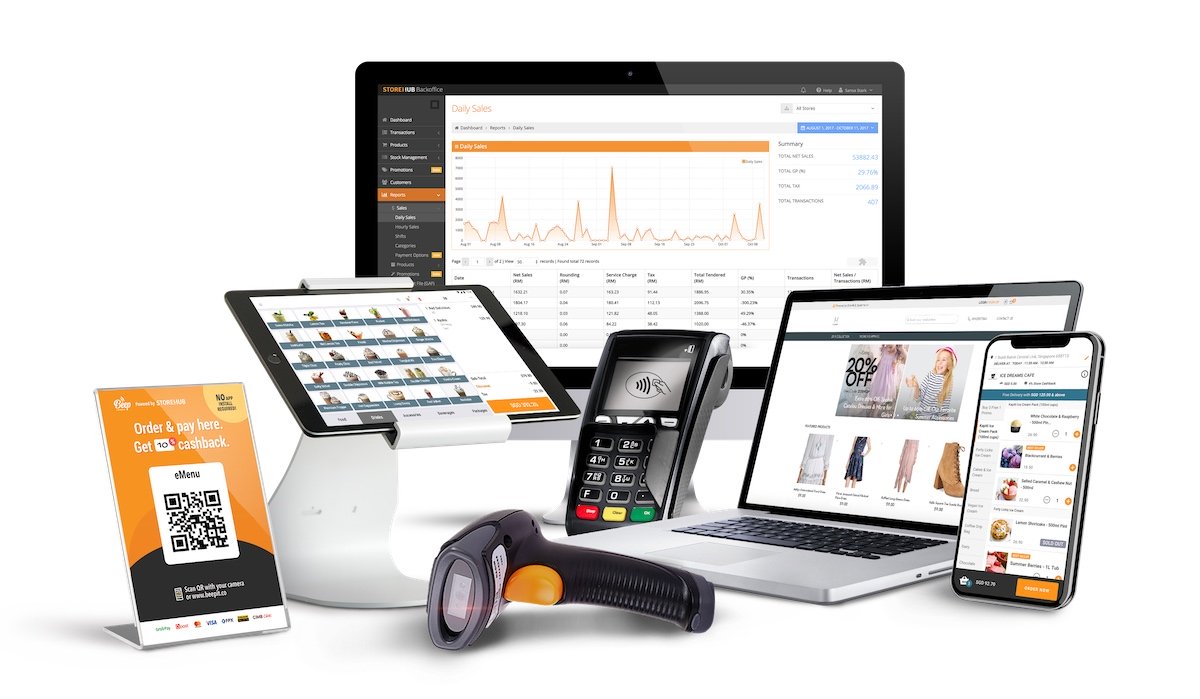 Click here to learn how StoreHub can help you manage and grow your business.