Reading Time:
7
minutes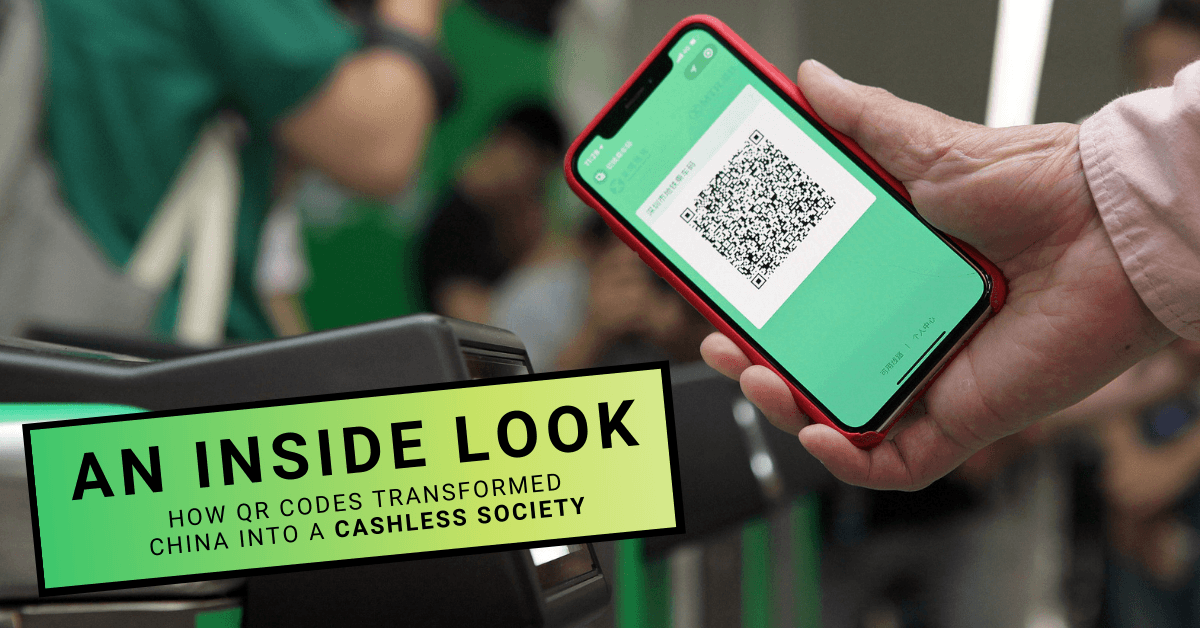 China: The Cashless Society That Loves QR 
Cash has now become a thing of the past in China.
After having lived there for 8 years, I was surprised, when I went back to visit last year , that I couldn't even buy a 'Jian Bing' (Chinese pancake) at a road corner shop with cash.The small shop owner refused my cash payment and said she only accepted WeChat pay. I was shocked to see everyone else around me scan the QR code that was displayed on the window and walk away with a pancake within 10 seconds. 
With just a QR code display, people can scan and pay using the money in their WeChat wallet. What's even more amazing is there are zero transaction fees! WeChat payments have become so popular in China that barely anyone pays with cash anymore and if you do, you receive a strange stare back like I did. 
When you visit China now, you will be surprised with how QR codes have taken over the country.
Everywhere you go, from restaurants to attractions and even local markets, you'll see these barcode patterns. It's a crazy experience to walk around and see even a grandma at the local market selling fruits and vegetables using QR codes to collect payment. 
All you have to do when you go out is bring your phone along.
Need to pay for food?  Scan a QR code!
Taking a taxi?  Scan the code!
Want to tip a street performer or give money to a beggar? Scan the code! 
I'm not kidding!
Photo by Timmy Shen at TechNode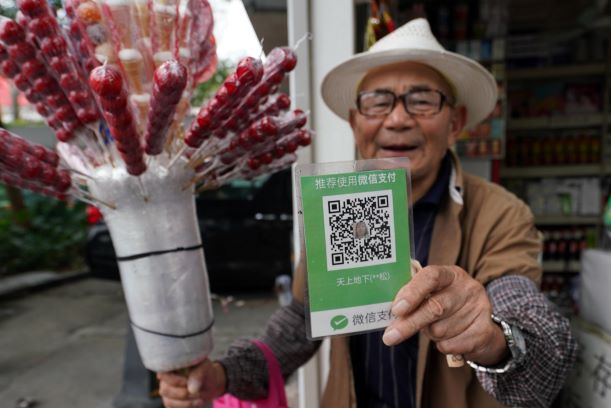 Photo by VCG
Photo by Jianxin Wen from The Medium 
Photo by Roy Liu from China Daily 
One step further: QR ordering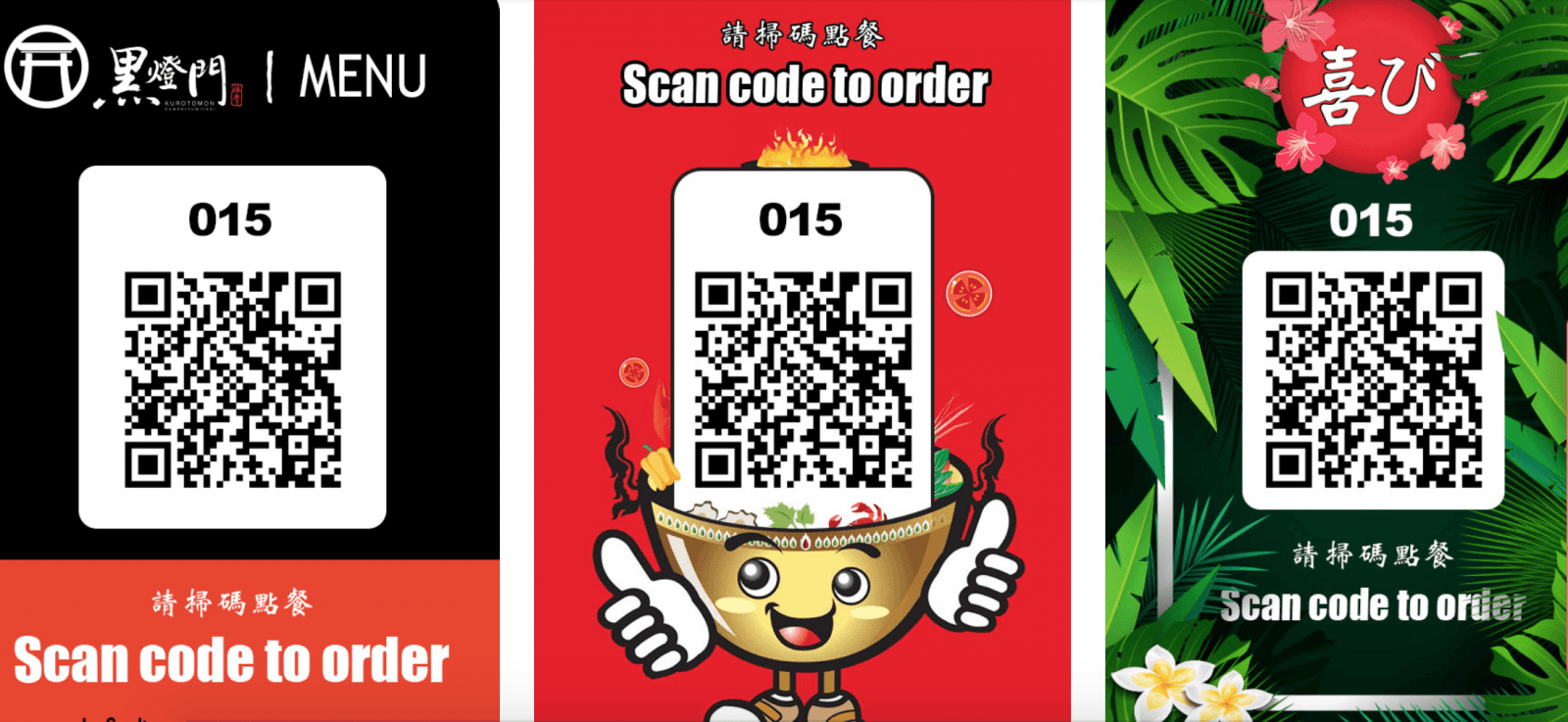 Literally, everything can be paid with QR codes! 
But QR codes also goes beyond being a payment method. 
A popular trend among restaurants in China is the concept of QR ordering. Most restaurants have gotten rid of the classic paper menu and moved on to digital ways of ordering. To place an order, all customers have to do is scan a QR code that leads them to an online menu. After picking their dish, they can pay with their e-wallet and the food will arrive within minutes! 
Isn't that crazy?
Ride around the city with QR 
Photo by fyxation
Besides paying for public transportation, such as taxi, bus or subway rides, you can also get shared bike rides! Bike-sharing has become a huge trend in China. There are around 10 million shared bikes placed on along streets for anyone to use! All you have to do is scan the QR code on the bicycle to unlock it, and you're ready to hop on! 
Each bicycle even has its own unique code to track online payments and where it was last dropped off.
Super clever and convenient!
Have you seen my dog?
Photo by Xiaomi 
The 'lost and found' dog signs do not exist anymore in China! How do they identify a lost pet then? QR codes of course! Pets have QR codes attached to their collar tag now! 
When scanning the code, it will reveal the dog owner's contact information. But it goes one step further! Once scanned, the dog owner will also be notified and the owner will be able to see where the code was scanned! 
The days of worrying about where your little fur babies have wandered off to are no more! 
Identity in a code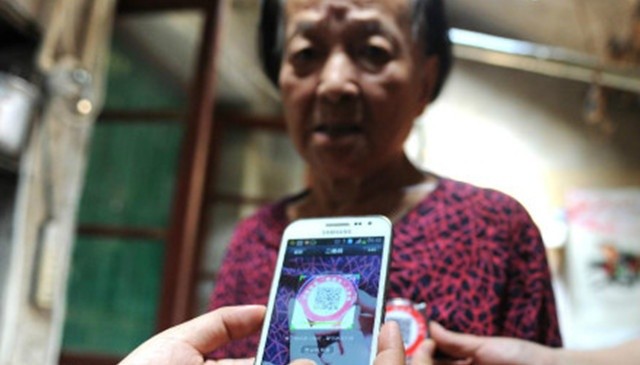 Photo by China.New
In Beijing, hospitals are encouraging the use of digital profiles for senior citizens. With a QR code badge, the profiles and medical history of the patient can be accessed if they are brought to the hospital unconscious. 
With senior citizens being more vulnerable, this is a great way for doctors to save time by identifying the patients quickly and giving them the correct treatment based on their past medical records.
Scan to find a job: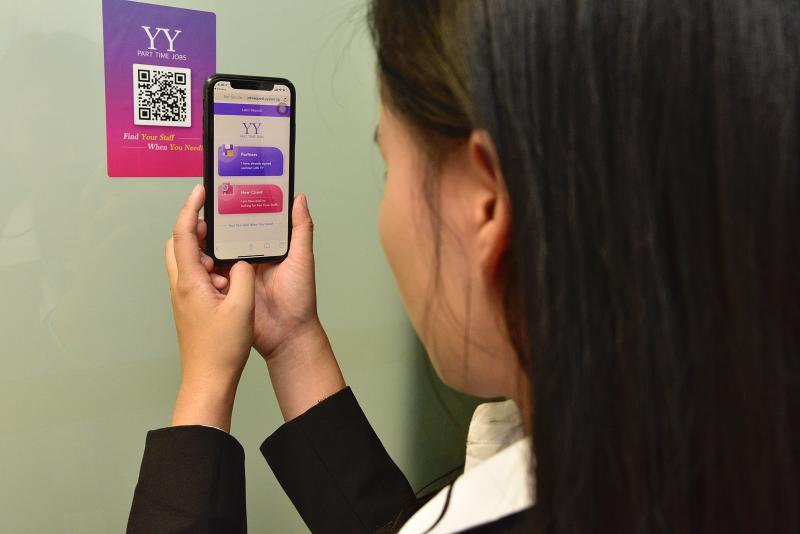 Photo by Business Insider
What else has QR codes taken over? The job search market! 
Universities in China have started a new initiative to help their students find jobs easily after graduation. Businesses have started placing QR codes around university campuses for students to scan and find out more about the job opportunities and requirements needed. 
There is now no need to waste paper on posters with tear-out slips!
It's not the gift, but the money that counts: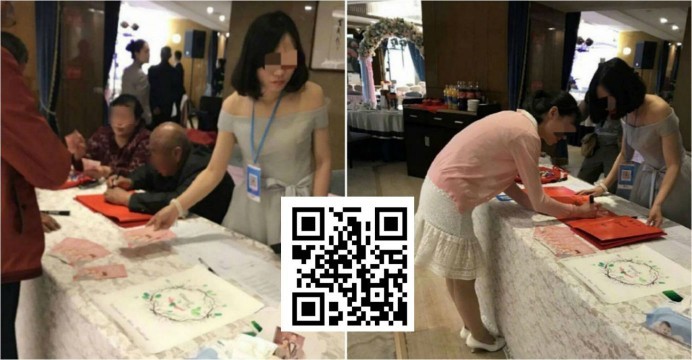 Photo by WeChat
In many Asian cultures, when you go to any celebatory event, such as birthday parties, weddings or baby showers, you can't show up empty handed. This saying has taken a different meaning in China, where gift items are no longer accepted and the only socially acceptable gift is money. 
That's right! In China, you can either give an ang pow (red envelope) or if you forget to bring one, you will see people wearing a QR code necklace to collect digital money from the guests.
QR marketing: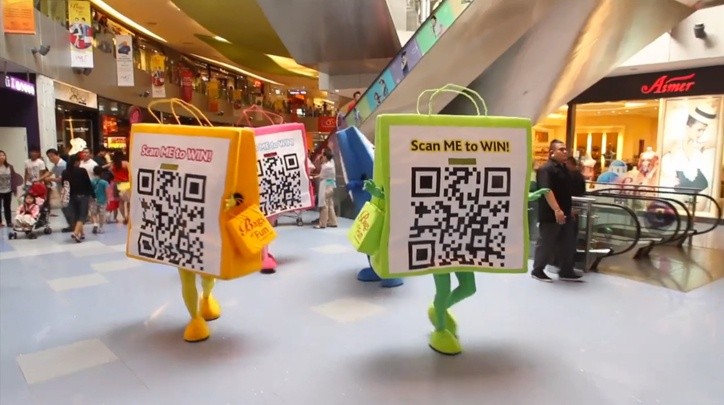 Photo by Tech in Asia 
Another creative use for QR codes is to encourage engagement with marketing material. By getting people to scan codes to win prizes or get discounts/promotions, businesses will instantly have access to people's contact information to send them targeted marketing material in the future. 
Scan for safety
Photo by Xiangxu
There's now no need to google or memorise your local police's contact information anymore! In Nanjing, street signs have QR codes on them that provides the name and contact information for the local police when scanned. 
What's even crazier? The QR codes also provide sightseeing guidance with directions!  Bye bye google maps! 
As you can see, QR codes have really taken over the lives of people in China!
So how did this old barcode takeover China?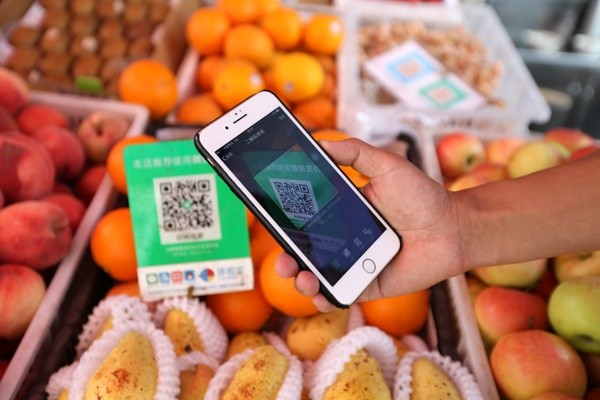 Photo by Feng Yongbin from China Daily 
So the big question here is WHY. WHY and HOW have QR codes taken over China?
This all began with smartphones. 
The growth of smartphone usage has grown tremendously in China, with over 65% of the population using it by the end of 2017. 
Because smartphones were spreading so quickly, it only made sense that mobile payments would too.
However, the main problem with mobile payments is that it requires expensive terminals and technology that are not ideal for small shops and restaurants. Knowing this was an issue, Alibaba and WeChat built their own mobile payment apps using QR codes. Instead of making merchants buy expensive equipment to set up mobile payments, all they have to do now is print a sign with their personal QR code that is linked directly to their bank account. It requires minimal effort and is super cheap to set up! 
So you're telling me that all you need to set up mobile payments is a phone with a camera and a QR banner?
Sounds too good to be true! 
This simple re-invention of QR codes brought China into its current cashless state. With this new quick and convenient way to do transactions, it is unsurprising that many retailers, street vendors and even taxi drivers signed up. 
QR codes became so popular that Apple developed a feature on their iPhones to allow it to recognise codes if you just point the camera at it. There's no need to go through the hassle of downloading a separate app anymore! 
The amount of mobile payments in China is now 50 times greater than in the US. China has become a cashless economy faster than any leading world power and no one would have guessed this would all be due to the viral spread of an old barcode. 
The next big thing for South East Asia?
Photo by Financial Times
This phenomenon has already started making its way throughout the rest of Southeast Asia because of how cheap and easy it is to adopt. According to the Global Payments Report, e-wallets will become the top payment method worldwide with a usage rate of 51% in the Asia Pacific region by 2021. 
India now has it's own QR code payment method in the South.  
Japan and South Korea have also introduced QR code payment systems through social media apps such as LINE or have collaborated with Alipay for mobile payments. 
WeChat Pay has even started making its way into the Singaporean market. 
But not to fear! Beep is here! 
Beep Order takes the first step into QR code payment for Malaysia and Thailand! With Beep, you can now order at your favourite restaurants by simply scanning the QR code displayed, pay from your preferred e-wallet and voila! Your food should be on the way! 
What's even better? Beep Cashback allows you to claim cash back from your receipts at your nearest restaurant or retail store. So now you get money back every time you spend? AMAZING! 
All this by just using your phone camera! Count me in!