Reading Time:
6
minutes
Word of mouth is great, but let's face it – marketing is essential to get people through your store's doors. And if you think you only need to focus on marketing when business is slow, think again. Consistent marketing is key to building your brand and attracting new customers.
But as a small business owner, you know that marketing can be a scary task. With so much competition out there, it can be hard to make your brand stand out. And with limited resources, it's tough to know where to invest your time and energy.
But don't worry, ChatGPT can help. You can automate your marketing channels and have this AI technology generate your marketing strategies like:
Creating various content for digital marketing campaigns
Preparing posts for social media
Generating personalized emails for email marketing
Are you ready to take your marketing to the next level? Let ChatGPT show you the way!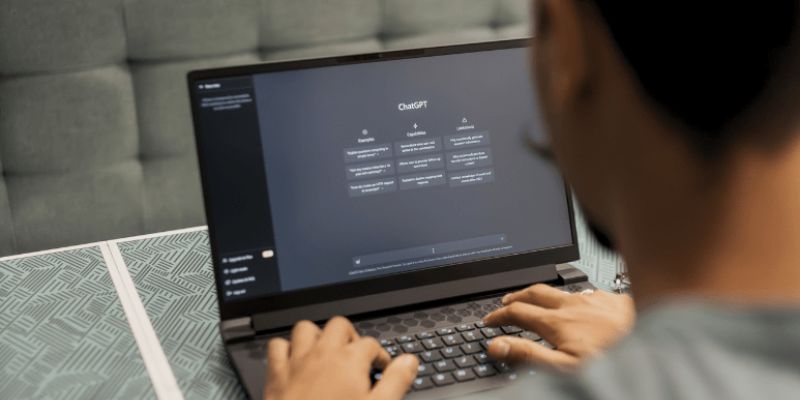 Benefits of using ChatGPT for your business
More time for you – ChatGPT can summarize content or pull reports that might take you a long time to complete, freeing up your time to work on other aspects of your business
Idea generation – Running out of ideas? Or ways to market your business? Ask ChatGPT for some inspiration to get a flow of ideas.
Improve engagement – ChatGPT can now be incorporated into your chatbot to answer customer questions
Strategic planning – ChatGPT can analyze your social platforms' data and help you optimize your post for your audiences like posting time and hashtag suggestions.
Let's explore some ways to use ChatGPT in your retail business.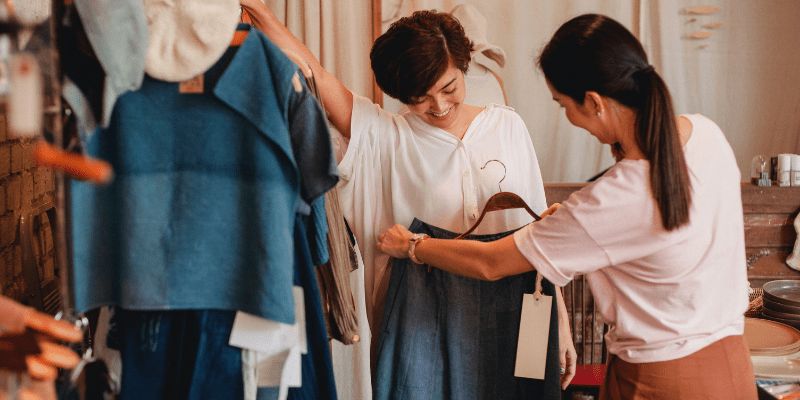 Customer service
Besides offering great products, good customer service is your way into the hearts and pockets of your customers.
ChatGPT is a great resource for providing 24/7 customer service so that your customers' queries will be responded to no matter their language preference and time zone. Integrate ChatGPT as a chatbot as a way to assist with more customers, especially during peak shopping seasons like Deepavali or Christmas.
It can also help save money and free up time for human employees to focus on customers with more complex needs. While this might not be a form of marketing, nurturing customer relationships will help create a positive experience with your brand.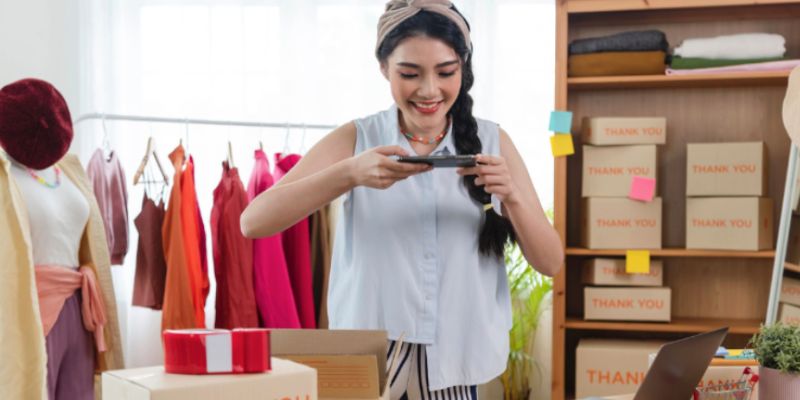 Content creation
Social media is no longer optional. It's essential. You can now automate your social media management with ChatGPT to handle tasks like scheduling and advertising by providing some basic information about your business and target audience.
It can help write product descriptions, headlines, blog posts, call-to-actions, and other written content. And the best part: it can make it sound just like a human. This allows you to create compelling content in a fraction of the time while you focus your efforts on other parts of your business.
Before you start using ChatGPT to create engaging and shareable social media content, here are some best practices to keep in mind:
Have a clear topic in mind
Have a clear idea of what you want to communicate to your audience. This will help you input relevant prompts and get you the best results.
For example, we found out that the hashtag #SHRMZB (Selamat Hari Raya; maaf zahir batin) was trending on social media in the months leading up to Hari Raya Aidilfitri.
By entering relevant prompts on ChatGPT, and combining its AI input with our own human insights, we wrote a TikTok video script that will connect with merchants like yourself, who were busy preparing their businesses for the Raya shopping season.
We produced and posted this video at the right time, and many viewers found this post entertaining and meaningful.
Use specific prompts
The more specific your prompt, the more relevant and coherent your response will be. For example, if you want to generate a post for holidays or events, just provide a prompt using keywords and phrases that are directly related to your topic. This will make the post more festive, relevant, and engaging.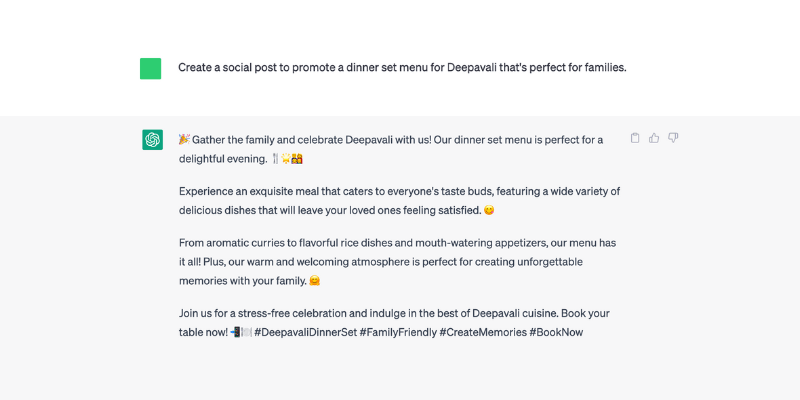 Provide context
It's important to help ChatGPT understand what you're looking for. This can include providing background information, outlining the scope of the project or even specifying any requirements or constraints.
Play with different tones
ChatGPT is capable of generating texts in a range of tones, from serious and informative to playful and humorous. Experiment with different tones to find the one that works best for your brand and audience.
Use a CTA
A call-to-action encourages your audience to take action, whether it's to share your content or to save a post. Use ChatGPT to generate persuasive calls-to-action to encourage engagement.
Edit and refine
While ChatGPT can generate high-quality content, it's still important to edit and refine the output to ensure it meets your needs. Take the time to review and revise the content generated by ChatGPT to make sure it's accurate, engaging and appropriate for your audience.
Repurpose content
Use ChatGPT to generate new content from existing blog posts, articles, or videos. This can help you save time and reach a wider audience when you link back to the original content from the generated social post.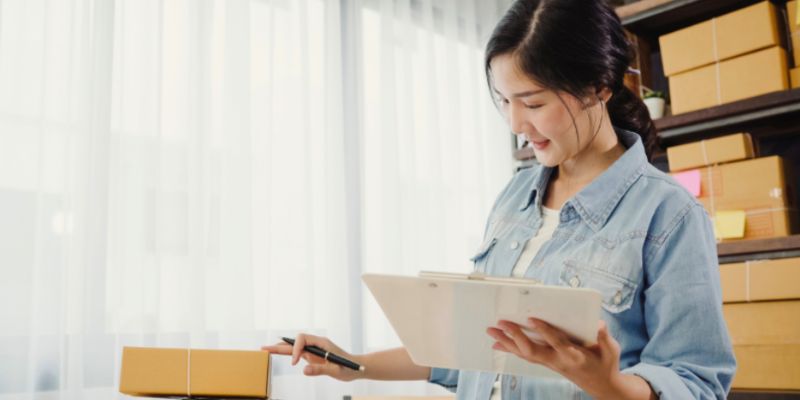 Market research
You need to do research to know what your customers want. ChatGPT can offer deeper insights on trends and opportunities that help you identify what styles to promote and which items to stock up on.
While ChatGPT's database is limited till 2021, it can share market trend predictions for 2023 and beyond. This gives you additional market insights which lets you capitalize and connect with your customers.
Personalization
Customers want to feel like they're special. The best way to offer this is through personalization. A lot of personalization comes down to using what you know about your customers which helps you communicate with them better.
All this information is integrated into your point of sale (POS) system. Retailers can capture all their customer's sales history and use ChatGPT to aggregate it into customized profiles and offer them promotions that are based on their purchase history.
Email marketing
Email marketing is one of the most effective ways to encourage new and existing customers to visit your store. The audience you are targeting has agreed to receive your communications, so they're more likely to be receptive but only if the content you send them is tailored to their needs.
ChatGPT can help create and manage your email marketing campaigns by analyzing customer data. By creating targeted email campaigns, it can increase open and click-through rates and ultimately drive more sales.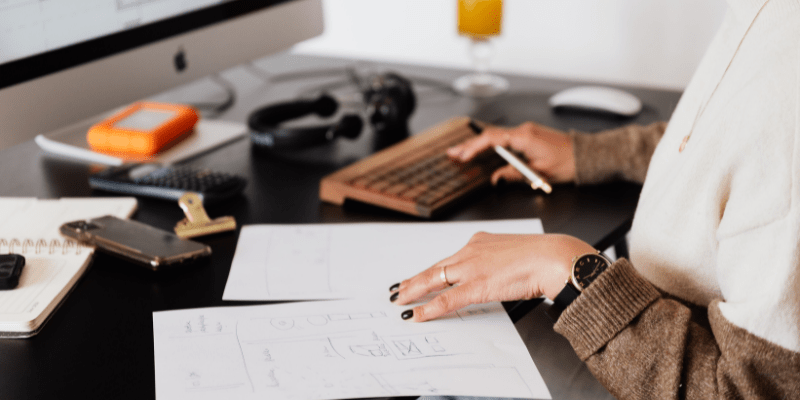 Prediction analysis
How will your customer's behaviour change? What should you do to stay ahead?
Anticipating changes in customer behaviour is crucial for businesses to stay ahead of the game.
Fortunately, with ChatGPT's predictive capabilities, you don't need a crystal ball to gain insights into what the future may hold. By analyzing trends and patterns, ChatGPT can help you predict how your customers' behaviour may change and what you can do to adapt.
For example, this could help business owners better prepare for seasonal festivities like Deepavali, Christmas and other celebrations.
ChatGPT can help make predictions such as:
Customer behaviour predictions
Sales forecasting
Trend analysis
Pricing optimization
Marketing campaign performance prediction
Conclusion
This is just the surface of the unbelievable possibilities made real through the use of AI in retail. At its core, ChatGPT empowers retail business owners with high-level data and information that can open new opportunities.
ChatGPT can help increase brand loyalty through a high level of personalization, offering everything from tailored recommendations to predicting your customer's next purchase.
Whether you're looking to create a seamless experience for your customers or to increase sales, tapping into AI will definitely give you a competitive edge.
But you'll need to provide ChatGPT with enough details to craft effective marketing material for the AI model to understand your unique selling proposition, target audience, and other essential aspects of the business. Get access to all this data through your StoreHub POS BackOffice.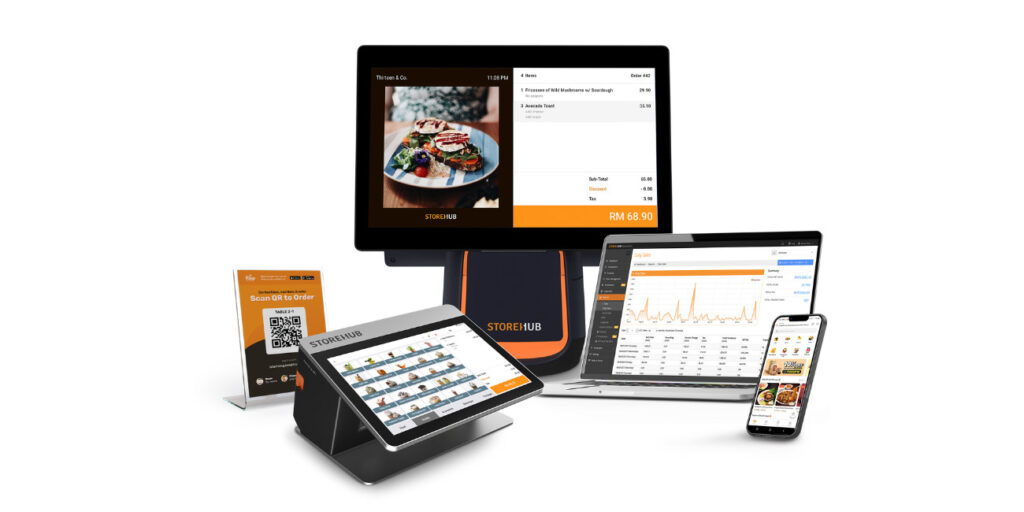 Interested in using StoreHub POS system for your business? Schedule a FREE demo with us today!