Reading Time:
4
minutes
Kuala Lumpur, Malaysia, 15 January 2020 – Southeast Asian tech startup StoreHub, which helps retail and restaurant business owners automate their growth, has raised US$8.9 million in Series A+ funding in a round led by returning investors Vertex Ventures Southeast Asia & India, with participation from Accord Ventures and a private family office.
StoreHub's total funding to date is US$15 million. The new funding round will bolster its aggressive growth and expansion in line with Southeast Asia's booming economy.
"Investors really liked our strong unit economics and recurring revenue model which are key to our sustainable growth and ability to reach profitability very quickly when we want to," said CEO and Co-founder, Wai Hong Fong.
Co-founded in 2013 by Fong and Congyu Li, StoreHub has since expanded from a simple tablet-based POS provider to a robust omnichannel operating system with offerings that include an e-commerce platform, a QR code-powered loyalty cashback program and a table ordering system.
Co-founder Li, who leads the 50+ Product & Engineering team at StoreHub, says her ultimate goal is to bring technology closer to everyone and help entrepreneurs embrace and leverage technology to grow their business to reach Southeast Asia's population of 360 million connected users.
CEO and Co-founder Fong explains that the retail scene in Southeast Asia is experiencing a massive shift driven primarily by technology. "As consumers now all have smartphones in their hands, they are becoming more informed and have expectations of delivery times and service standards. What we're seeing is that the businesses that are thriving are embracing technology to automate the management and growth of their stores, while those that don't are struggling to cope with the drastic changes in consumer behaviour."
StoreHub has seen rapid growth since its Series A raise in 2018, from 3,000 to over 13,000 stores in Southeast Asia, with transaction growth from US$269 million to US$1.2 billion to date. Its regional team of 325 people is located across multiple offices in Kuala Lumpur, Bangkok, Manila and Shanghai.
Chua Joo Hock, Managing Partner at Vertex Ventures SEA & India believes Fong and his team are poised to be a major player in the retail revolution. "Capitalising on its strength in tech and understanding what businesses need, StoreHub leads the industry in rolling out new innovations to enable businesses to increase their revenue and productivity. Their rapidly growing user base and high retention rate are strong indicators of the value in StoreHub's platform. We're excited to work with StoreHub to help businesses level up and stay relevant in this digital economy age."
About StoreHub
StoreHub is the operating system of successful omnichannel businesses. Our cloud-based platform enables more than 13,000 restaurant and retail entrepreneurs across Southeast Asia to automate the growth of their revenue and customer base, as well as the entire process of running their operations.
StoreHub was founded in 2013 by Wai Hong Fong and Congyu Li. It started off as an all-in-one tablet-based Point of Sale (POS) system, helping business owners manage and grow their store from a single platform. Since then, it has expanded its cloud-based offering to include a powerful QR loyalty cashback program, QR table ordering system for restaurants and cafes, and an easy-to-adopt ecommerce platform.
More at https://www.storehub.com
About the Chieftain/Co-founder
Wai Hong Fong is Chieftain and Co-founder at StoreHub, an omnichannel operating system for over 13,000 retail and restaurant businesses across Southeast Asia. Raised in Malaysia, Fong spent four years in Singapore as an ASEAN Scholar and lived in Melbourne for a decade. Soon after completing his BA at the University of Melbourne, Fong co-founded OZHut – a multi-niche online retailer – and served as managing director for five years.
Fong was also named Australia's Best Young Entrepreneur in 2011 by StartupSmart and amongst Melbourne's top 100 most influential people by Australian daily The Age, that same year. Fong spent a year and a half studying Mandarin in Shanghai and eventually returned to Malaysia in 2013, and founded StoreHub.
About the CTO/Co-founder
Congyu Li is the Chief Technology Officer (CTO) and Co-founder of StoreHub, an operating system for omnichannel retail and F&B businesses. Prior to StoreHub, she spent five years at Microsoft as an Engineering Lead. As someone passionate about promoting diversity at the workplace, she also acted as the Chairperson of Women@Microsoft, an internal initiative aimed at developing and retaining female employees. Congyu received her Electronic Engineering degree at the prestigious Shanghai Jiao Tong University and has previously come in #1 in two coveted national programming competitions in China.
As StoreHub's CTO, Congyu leads a team of over 50 product developers and engineers in Shanghai and Kuala Lumpur.
About Vertex Ventures SEA & India
Vertex Ventures SEA & India is a Singapore-based venture capital fund with offices in Singapore, Bangalore and Jakarta. The fund focuses on investing in promising high-growth companies in Southeast and India's growing consumer and enterprise markets.
Vertex Ventures SEA & India is part of a global network of Vertex Ventures funds, each operating independently, with its own team and set of Partners. This unique platform allows each Vertex Ventures fund to make locally informed investment decisions while being connected to a global perspective on technology and business models.
Notable investments of the Vertex Ventures SEA & India team include Grab, Patsnap, FirstCry, Tickled Media, Nium (formerly InstaRem), Validus, Glowroad, Licious, Warung Pintar and Payfazz.
For more information, please contact:
Xin-Ci Chin (Head of Marketing)
xinch[@]storehub.com
Power Your Retail Or Restaurant Business with StoreHub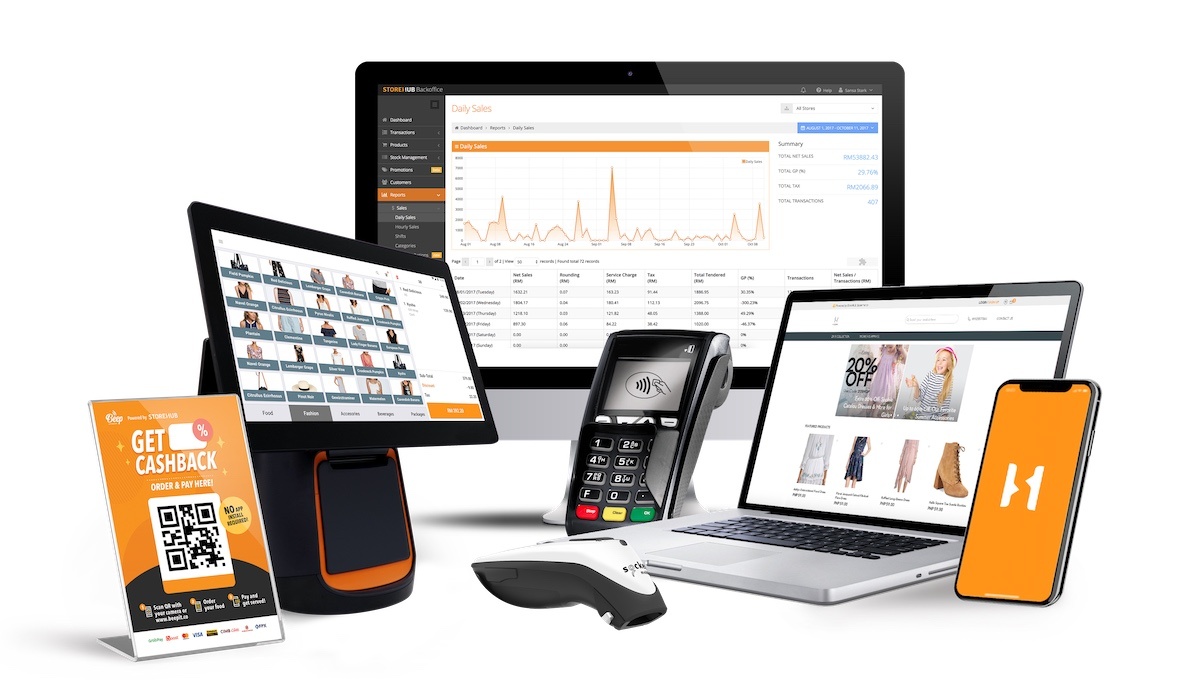 Apply here now for your free and personalised StoreHub consultation