Reading Time:
6
minutes
"Google Ads for restaurants?

How can I make it work for my F&B business?"
Have you ever asked yourself these questions and felt like giving up? We've got you!
Running Google Ads may seem challenging for most restaurant owners, but you'll thank yourself once it pays off.
Ready to see how? Let's dive into it now!
What is Google Ads?
Google Ads is an online advertising platform and one of the most effective marketing tools. It can be used as a marketing strategy to boost your restaurant visibility online and help to convert those who find you to be your customers. As a result, you can increase your restaurant sales by running a campaign on Google Ads.
What are the benefits of Google Ads for restaurants?
Google Ads can help you grow your restaurant sales by targeting relevant and high potential customers to your business via Google Search amd Maps. When people search for where to eat or if they're looking for a specific restaurant like yours, there's a high chance you'll get clicks because your restaurant will show up on the top search results.
Here are a few more advantages:
Direct more traffic to your website

– with Google Ads, you can encourage more people to visit your website. Whether it's your official website or food delivery links, double your conversion with just a finger click!

Receive more phone calls –

Promote your restaurant's phone numbers and a click-to-call button to increase your bookings.

Drive more foot traffic to your store –

Not only will your online sales grow, but Google Ads also helps you to gain store visits. That's because people will be able to find your restaurant on the map.
With these benefits, you can see more and more F&B businesses running a marketing campaign on Google Ads. So if you haven't planned to maximise your sales on this platform, it's really time to consider!
How does Google Ads work for restaurants?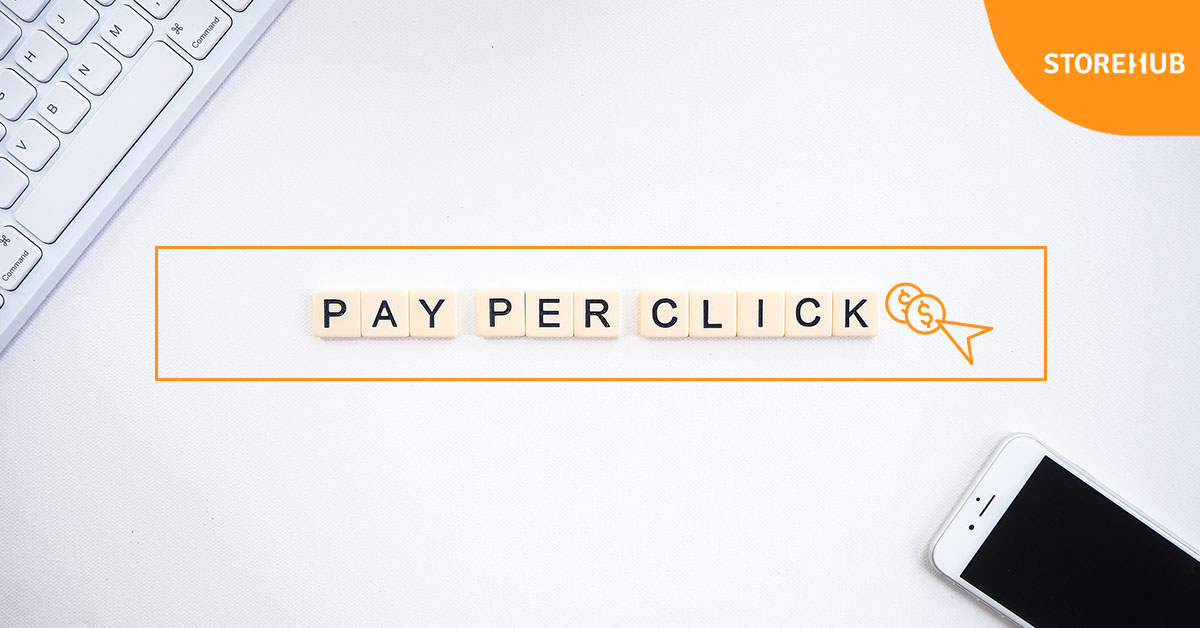 Photo launchpresso by Pixabay
Google Ads operates under a pay-per-click model where you need to bid on targeted keywords and pay a small fee each time one of your ads is clicked.
By bidding against other restaurants and F&B businesses, you're increasing the chance of your ads showing when people are looking for what you have to offer.
This is particularly valuable as Google receives massive amounts of traffic, which will translate into higher impressions and reach for your business.
The best thing is, with Google Ads you can set your daily budget, adjust or pause your ads at any time! Meaning you can easily set a budget to see how much you're willing to pay for your ad campaign.
What options do you have for bidding?
At a typical auction, you often bid for items on sale. The item is then sold for the highest bid. When it comes to Google Ads, it's the same concept as the amount you bid determines your ad's position. However, Google Ads also takes into account the relevancy of keywords and quality of your ads alongside your bid when determining the position. So even if your competition bids higher than you, you can still win a higher position—at a lower price—with highly relevant keywords and quality ads!
So that leads to 3 ways of keyword bidding which are:
Cost-per-click (CPC)

– the cost you pay for each click on your ad where you can set a maximum cost-per-click bid.

Cost-per-mille (CPM)

– the cost you pay for each 1000 ad impressions.

Cost-per-engagement (CPE)

– the cost you pay when a user takes a specific action on your ad, this can be clicking, sharing, sign ups, watching a video, etc.
You're now equipped with the basic understanding of Google Ads! Next we'll move on to the types of Google Ads you can run for your campaign.
Types of Google Ads
You can maximise and strategise your campaign's audience reach with 5 different types of Google Ads as follows:
Search campaign

–

the text ad in the results page when a user searches for a specific keyword.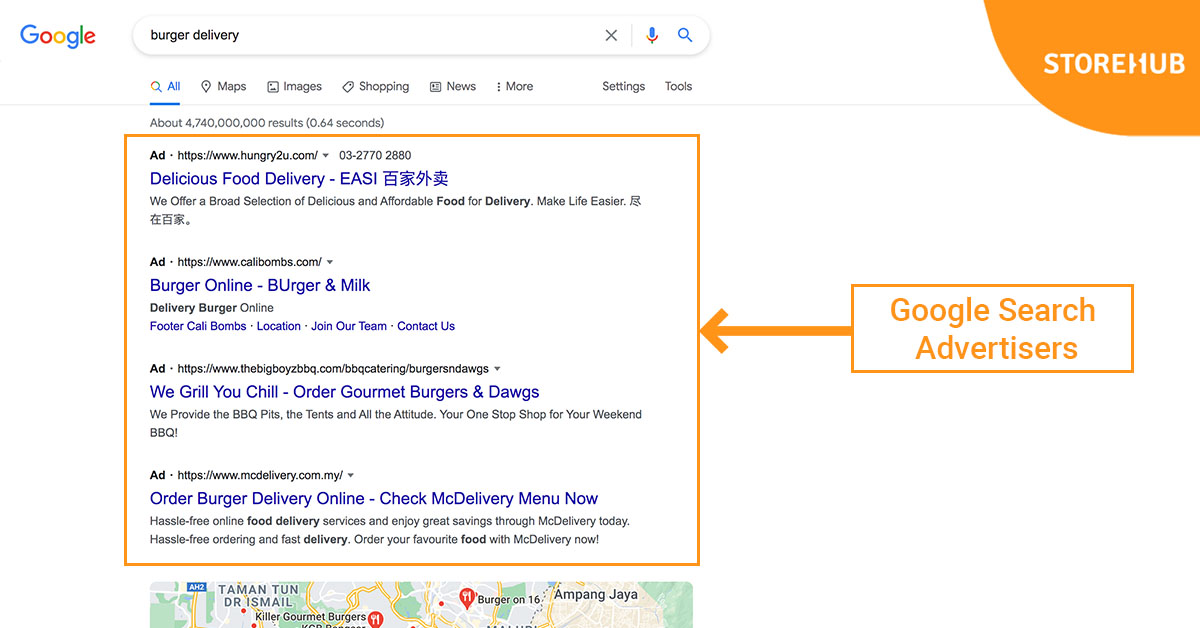 Display campaign

– the (

Display Network

) ads that show on Google's partner websites when a customer browses. This can be in the form of articles, videos, or websites.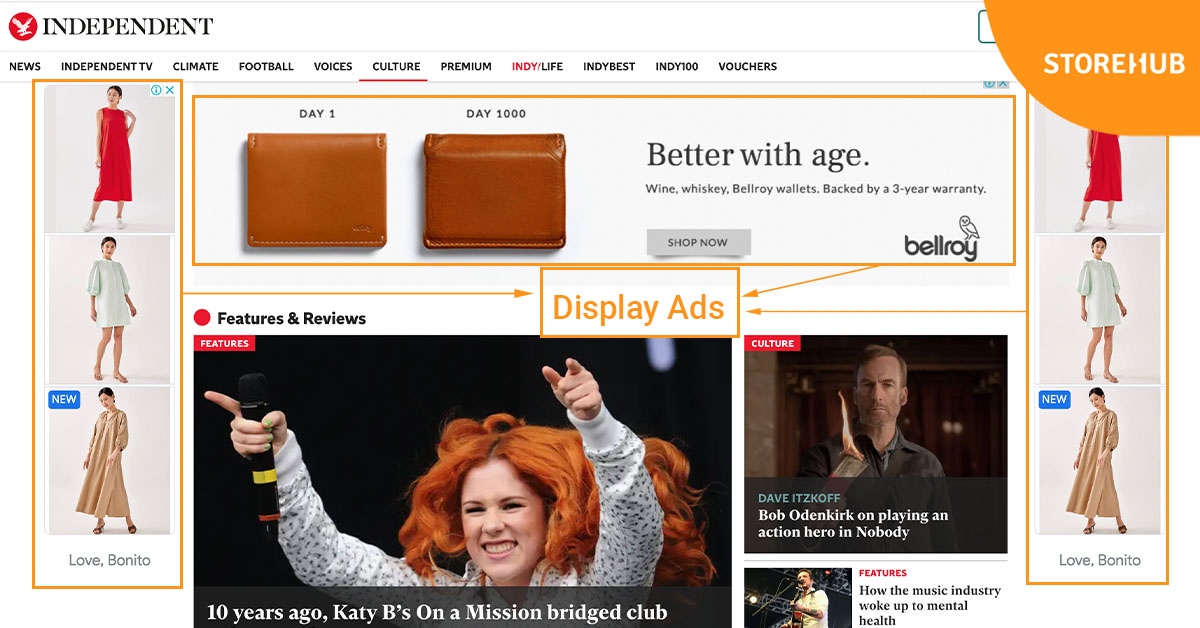 Image via independent.co.uk
Shopping campaign –

the images or listing product ads shown in the results page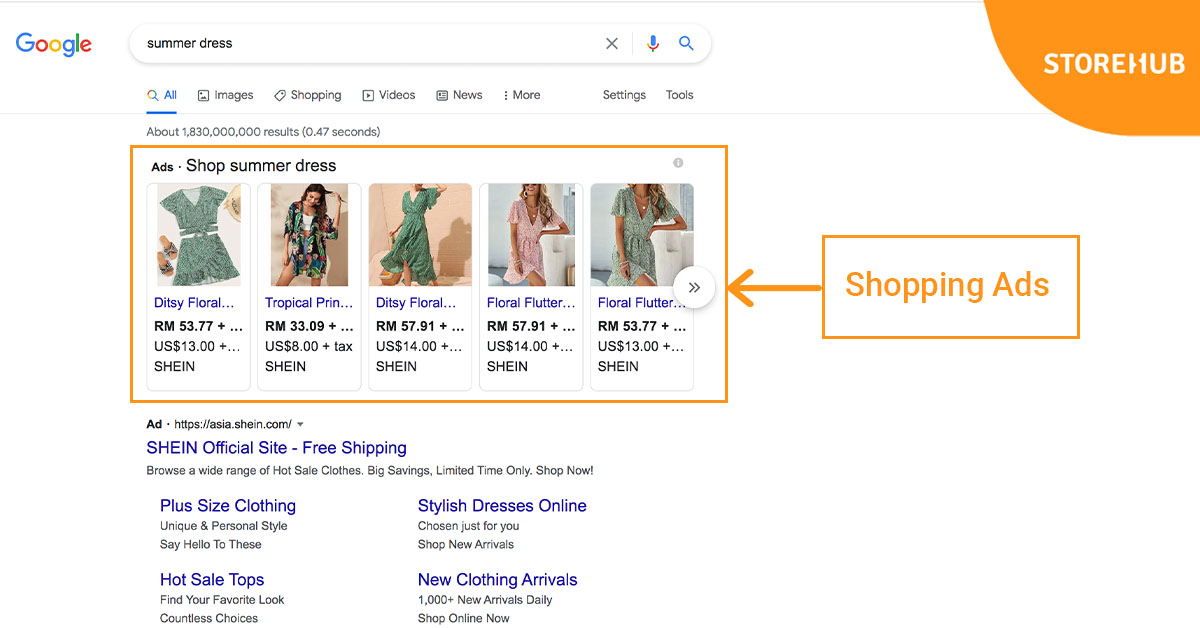 Video campaign

– this ad will show on YouTube videos in the beginning (pre-roll), at points in between (mid-roll), or after (post-roll).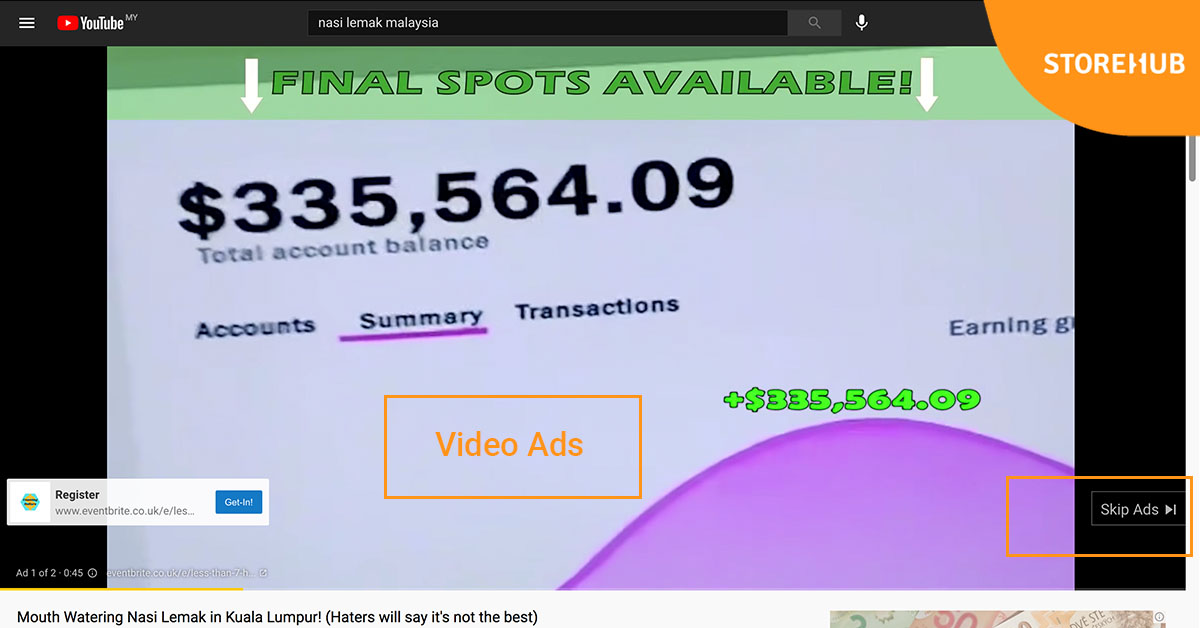 App campaign – app ads are also included in the Display Network BUT you can target this for your specific campaign.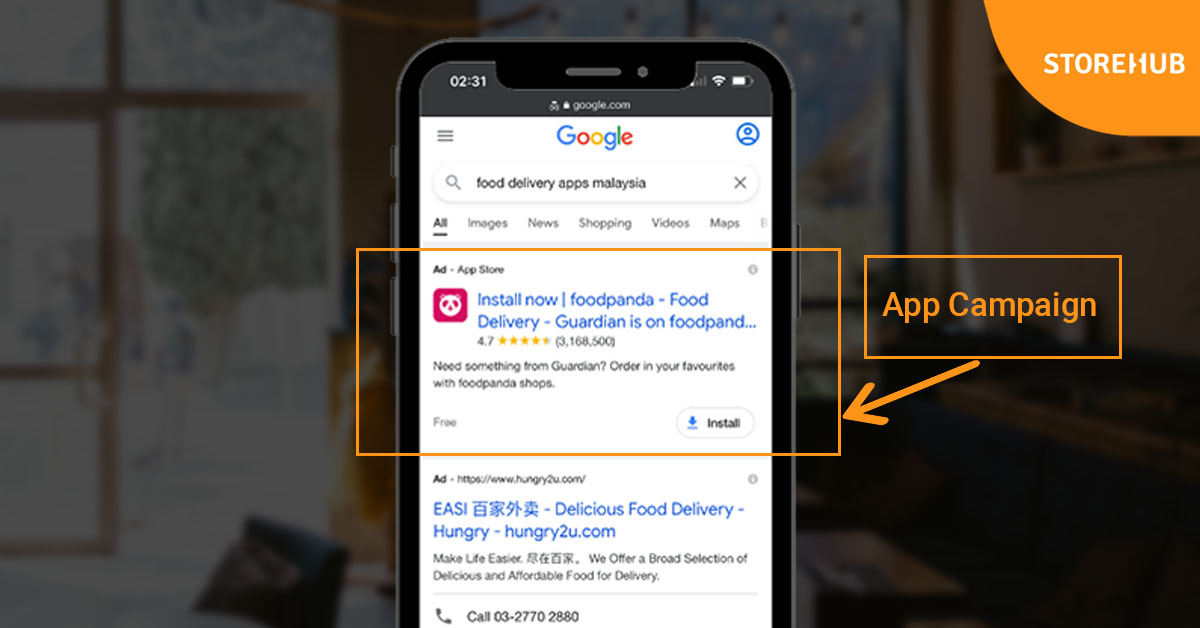 You can choose any of these to run your ad campaign on Google. If you're looking for the most basic and easiest option, choose a search campaign! So next, we'll teach you tips to promote your restaurant with Google Ads using a basic search campaign..
How do you promote your restaurant on Google Ads?
Wondering how you can advertise to attract more customers or use Google Ads for your restaurant?
In this section, we'll be showing you 3 practical tips to make your Google Ads campaign better for sales and conversions.
1. Use the right and relevant keywords for your Google Ads campaign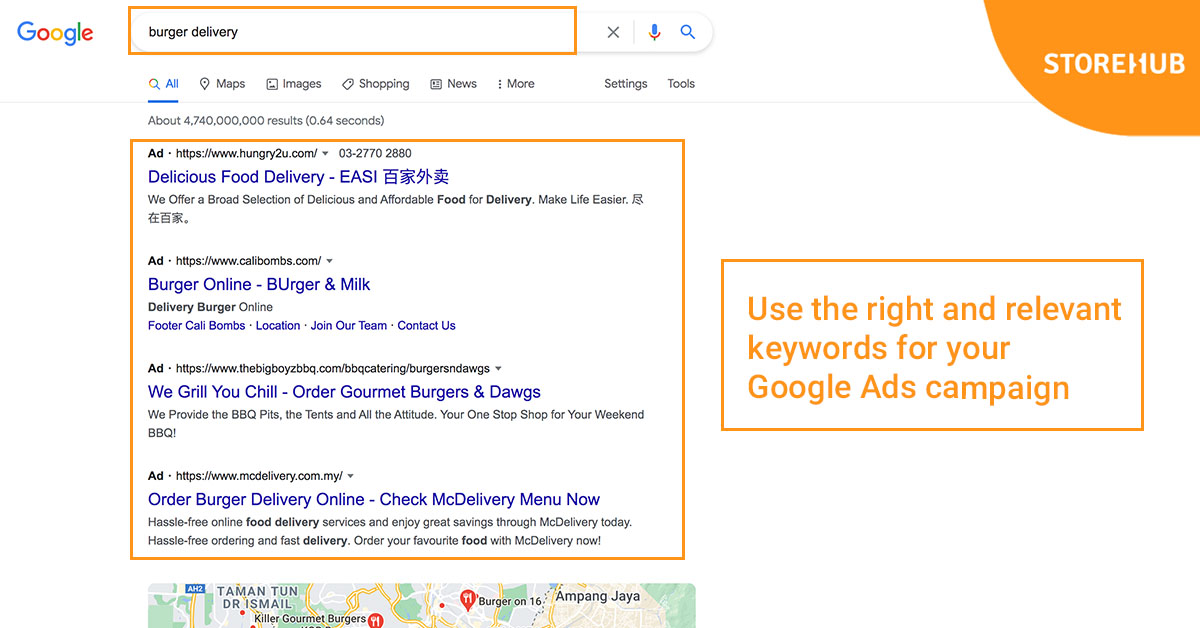 When you set up your Google Ads campaign, make sure you select the keywords that are relevant for your business and your customer's search intent.
For example, you can target keywords like "burger delivery", "best Nasi Lemak", "best burger near me", or "steamboat delivery" as long as it's relevant.
Then you can specify your audience by geographical location which can be Bangsar, KL, PJ, or wherever based on your restaurant location.
These practices will help your restaurant ad show at the top of the Google search results page.
2. Target your locations with Google Maps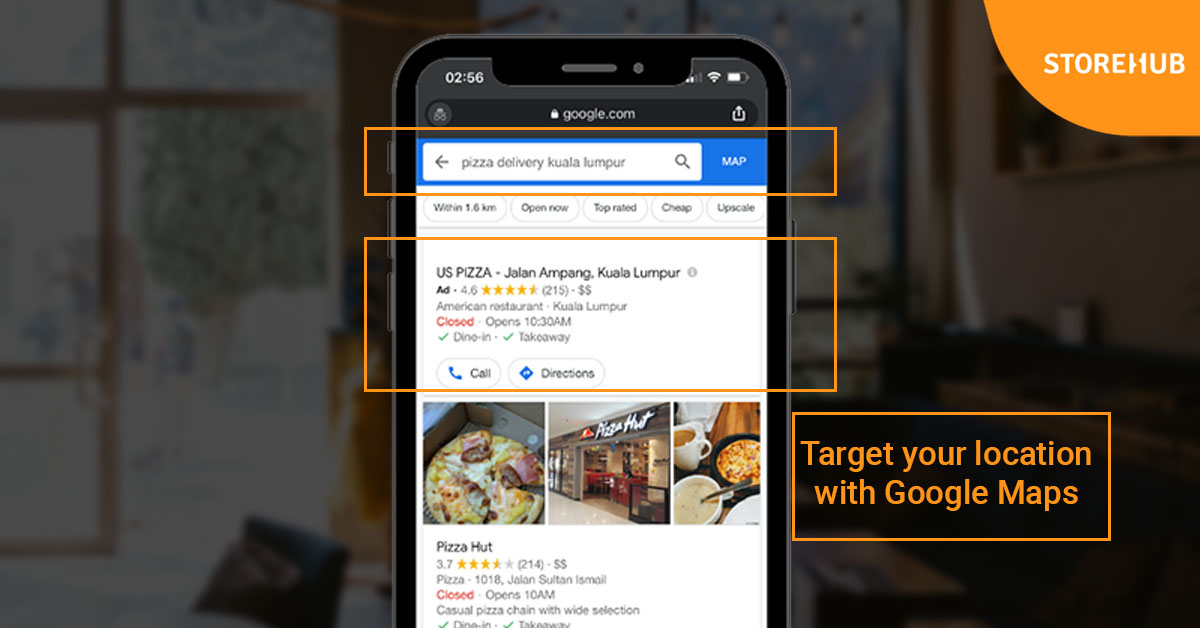 This tip is highly recommended if you have a low budget for your ads. Using niche and localised keywords will help to narrow down search intent. This is called "hyper-targeted marketing" in which you aim your ads at a very specific target audience.
For instance, depending on the location of your restaurant, you may choose "Indian restaurant in Bangsar", "Nasi Lemak in PJ", "Pizza Delivery KL", etc.
Your restaurant location on Google Maps will appear with images for your chosen keywords. Also, a report from Wordstream says that Google Ads with images can have a 29% higher clickthrough rate (CTR) than simple text ads. So, make sure you have nice and high-definition photos uploaded on your Google Maps too.
By doing these, your Google Ads campaign will be cheaper, and you'll reach the right potential customers as it's a very targeted campaign.
3. Use impactful messaging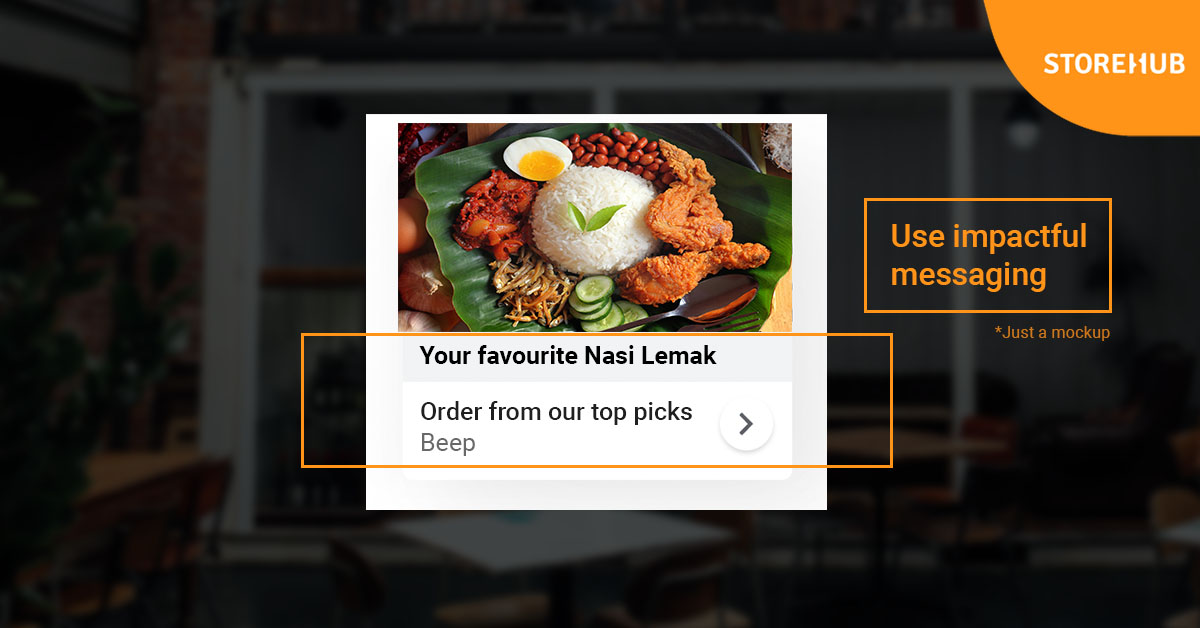 Message matters for all marketing campaigns, especially Google Ads. Thus, you need to convey your message on your Google Ads campaigns in a compelling way for maximum conversion.
Here are recommendations for your simple yet powerful messaging:
Describe your restaurant in 3 short sentences –

get your customers excited by featuring what's best about your restaurant – this can be your signature dishes, drinks, or desserts.

Use compelling images on your banners too

– your ad copy can be can be more attractive with images, so take the best shots of your food and drinks then put it up for your ad campaign. This is bound to get customers hungry at first sight.
4. Include your restaurant's name in one of the keywords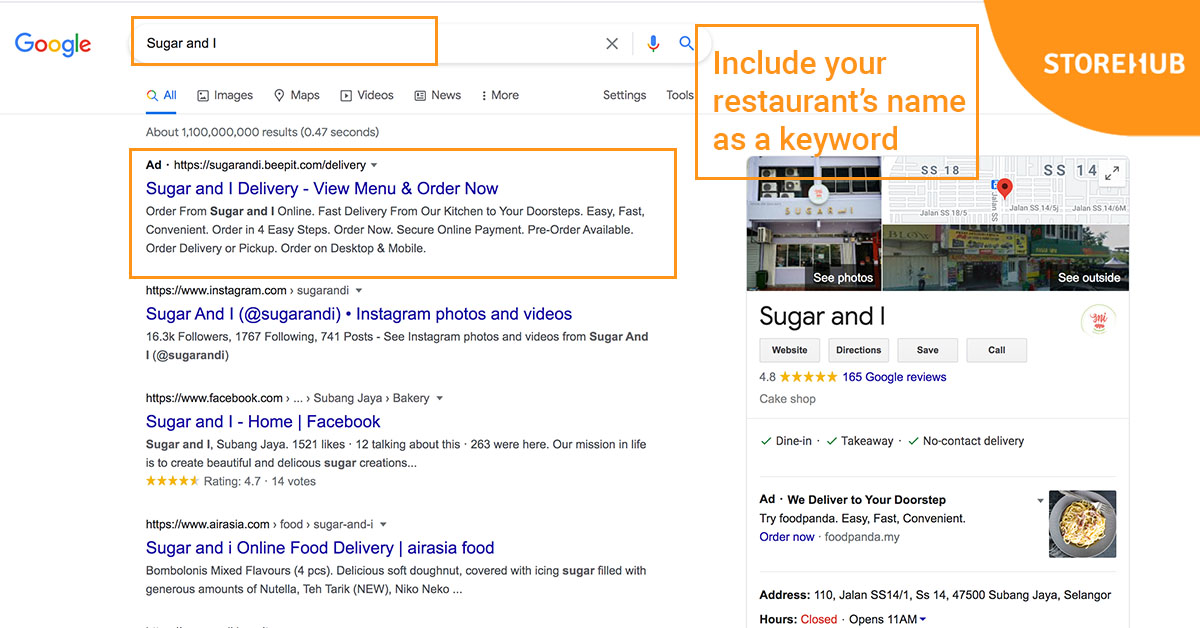 Don't forget about your loyal customers or potential ones when running your restaurant ads because there's a possibility people will search for your restaurant as well. Consequently, you should include your restaurant's name as a keyword in your Google Ads campaigns.
This will encourage your customers to click on your restaurant's website instead of a food review platform. It'll also increase the chance for them to call, book, or even ask for directions to your restaurant.
Your Turn!
Running a successful online marketing campaign requires you to maximise sales in all channels, and Google Ads is one of the most effective ways to help you increase your restaurant sales and grow your business.
By reading this part, you've already learned the basics and are ready to start your very first campaign! Try it out and let us know if this works for you. We're sure you'll get amazing results!