Reading Time:
11
minutes
The 2-week MCO in Malaysia has been extended from 31 March to 14 April.
Small businesses everywhere are scrambling to ensure that they can survive through this challenging time.
In anticipation of this, we put together a live webinar on Facebook to share actionable tips on how entrepreneurs who own cafes, restaurants, and so on, can get more sales for their F&B businesses.
Watch the full video webinar on how to get more sales for your F&B business during Malaysia's Movement Control Order
What's happening now for F&B during Malaysia's Movement Control Order
Speaker introduction
– Xinch
So today's webinar I've got today with me, Ian and myself, we're gonna be talking about how to get more F&B sales during this COVID-19 Movement Control Order like partial-lockdown-stuck-at-home situation that we're all in.
And I'm here with Ian. Can you introduce yourself a bit?
– Ian
Hi, my name is Ian, I'm the Product Operations Manager here in StoreHub.
I have a background in ecommerce and digital marketing, and a little bit in F&B. So yeah, here to share whatever we can with everyone.
– Xinch
Ian used to help do marketing and some operational stuff for F&B chains, he also ran a fairly successful ecommerce site called Koyara a couple years ago.
So he's got a really good background in both retail and F&B. And I'm Xinch, I'm the Head of Marketing at StoreHub. I also teach digital marketing. But today, we're not going to be talking so much about marketing tactic. So this is not a marketing class.
We're literally going to talk almost entirely about how to drive more sales to your F&B store during this season.
What will be covered in the webinar
– Xinch
So we're going to be covering three general areas today to help you get through the COVID-19 Movement Control Order season.
Number One is how to reach out to your customers, because that's super important. And we've been talking to a lot of customers lately, a lot of F&B businesses. And this is something many of them struggle with.
We're also going to teach you how to help your customers find you in very simple ways.
And lastly, how do you encourage them to buy once they've found you?
So the whole point of this webinar is to make sure that they're easy to do – actionable steps you can take immediately.
What's currently happening to F&B businesses in Malaysia?
– Xinch
So online shopping and food deliveries have gone up by like at least a minimum of 30% since the COVID-19 pandemic.
And this is before I've gotten data about how much they've gone up since we've all been locked into our own homes. I bet it's even more now. In fact, I think most purchases, if not all purchases are currently happening online. So they are about to go up even more, much more than usual.
And more importantly, the buying behaviour of the average Malaysia has changed quite a lot.
Ian had some thoughts about that. Can you share?
– Ian
Well, there's been a lot of changes in how we are consuming goods and services right now.
For one, we're locked down, we're at home, we can't really go out. So therefore, shopping online is an obvious thing. The other thing is that people are getting a lot more restless, they're bored at home, they're consuming so much social media.
But, yeah, we are forced into a position whereby we have to consume things online. It's it's just inevitable.
– Xinch
So Malaysians in the past have been so reluctant to just go online.
I know I asked my mom to buy stuff online back then, but she was so reluctant.
And I don't think many people have a choice right now. We live in a time that while it is incredibly sad, it's also a time of great opportunity to really, really dive into online purchasing and ecommerce.
So let's get started.
The power of a simple SMS or WhatsApp messsage to F&B customers
Important things to include in your SMS and WhatsApp message to customers
Xinch
How do you reach your existing customers?
We want to cover two main things, right? One is SMS, the other is social media. So SMS or broadcasting via WhatsApp are the most underrated ways of reaching your customers. Big companies love to use email and, email actually does work sometimes.
But if you're sitting at home, bored, and you're trying to learn how to use email – sending software can be really challenging. Simple SMS or broadcast via WhatsApp tends to work.
I've got here some screenshots of examples from other F&B outlets who've been messaging me, actually, as their customer.
– Xinch
So what you want to do is you want to first tell your customers, "Hey guys, I'm now online!".
You want to remember to add your order link, because telling them you're online is not enough. How in the world are they going to order from you?
And you also want to give them action with phrases like "Take my order now" or "Get it today".
– Ian
Here are some other key things.
Be sure to include things like your operating hours, telling them where you can find your menu, how to order from you, takeaway or delivery options, payment methods, your website, and if you have an online menu that you can send to them.
These things will allow them to take action right away and to order from you.
Using emojis to capture attention
And one easy way to differentiate yourself by using WhatsApp is to use emojis like LUSHBOWL here (screenshot at 5:40 in video webinar).
If you're sending a broadcast via WhatsApp, emojis really help capture attention. Some businesses (using our StoreHub system) have been sending out SMS messages via their StoreHub BackOffice, which has an SMS option.
If you import your customer list, you can send out an SMS to your customers really, really quickly.
How to use social media and Google My Business to get more traffic to your online F&B profile
Small F&B businesses that win with social media
– Xinch
And here's the other thing, social media is so huge. There are so many things you can do. So here are a handful of immediate things you should do using social media.
– Xinch
Number one, put your website on social media.
Sounds like a no brainer, but so many businesses don't have it here (screenshot at 6:44 in video webinar). Look at these sections right here – Tray Cafe, Kinme, VCR – these guys have put their URLs in their social media profiles, so that when a customer searches to see whether these stores deliver, they can take action immediately.
– Xinch
And you don't just stop there.
Shout it out on social media, announce on your social media, "Hey, you know, we're ready for delivery and takeaway!", "these are what we're going to do", or "I'm only doing takeaway".
So these are examples (screenshot at 7:15 in video webinar) of cafes and restaurants that have been super, super good with their social media game.
But you don't want to stop there. You want to keep posting.
– Xinch
One of the key things is that not everyone is currently like us, working 16 – 20 hour days trying to push out products.
They are scrolling through social media obsessively. People are just spending so much time right now on Instagram and Facebook.
So you want to keep posting stuff there. If you're a restaurant or a cafe, you want to post stuff of your food because people eat with their eyes.
I mean, I have impulse-bought so many things to eat just from scrolling on social media.
Tell a quick story with Instagram Stories
– Xinch
Instagram Stories are also an amazing way to educate your customers.
So this is an example of VCR Cafe (screenshot at 8:07 in video webinar). They have actually posted Insta Stories on how to order from them step-by-step, with emojis and gifs. They also put them as Instagram Highlights, and they keep this going on every single day.
And that really, really helps get outreach as well.
And here's so me inspiration if you're wondering who does it right and who does it really well.
These are the three Instagram accounts (screenshot at 8:30 in video webinar) we feel that have really upped their Instagram game.
– Ian
S o if you can really think of what to put on Instagram, just post simple things like behind-the-scenes of your F&B outlet, what goes on in your restaurant, how you guys are coping during this COVID-19 Movement Control Order, and so on.
I think people really want to connect to you and not just as a business, they want to connect with you on an emotional level.
So even things about what your staff is doing during this period, and how they're taking certain measures to make sure they're clean – these posts help to allay the public's fears on food prep and delivery.
So be as creative as you can.
Show things that people normally don't get to see like how you cook and prepare your food. That's real. That's a good way of sharing content.
– Xinch
And the thing about Instagram Stories is that it's only up for 24 hours.
So if you feel that you've made an error, or that you could've done it better – you have another chance to try it tomorrow. So those are some quick steps you can take.
– Xinch
And this is how you can reach your existing customers, especially if people already follow you on social media. But how do you get discovered by new customers?
Can people find you on Google?
– Xinch
Here are just two super simple things.
One, update your website on Google Business.
People like to Google "coffee delivery near me" or "pizza delivery near me". So make sure your website is updated here (screenshot at 10:07 in video webinar). There are step-by-step instructions if you Google "how to update website on Google My Business", and that will teach you how to put in your website here.
This is where you want to tell people your order link. Also, update your phone number.
– Ian
Link your social media profiles as well. I mean, people underestimate the power of listing your website on Google.
Every business, you know, no matter the industry you're in, is pretty much forced to come online right now due to the partial lockdown.
And discovery on Google is going to be a key thing for your business, because now, people are not just going to walk by your store anymore and say, "Oh, this cafe looks interesting!". Instead, they're going to go on Google and type in "steak near me" to get delivered or "coffee near me".
So this is where Google is going to play a very big part of the discovery of your store. So tell people online that you're a coffee place, post photos, and tell Google that you know what you're selling whether its pasta or steak – let them know.
And it's free. Google My Business is completely free for you to use right away. It will cost you nothing.
On getting listed online and enabling food delivery for your F&B business
List your F&B business on fooddelivery.com.my
– Xinch
Yesterday, our team launched fooddelivery.com.my.
It's just a project by the StoreHub team. All of us, everyday, we're just looking for our favourite places that deliver that might not be on Grab or might not be on Foodpanda.
So we put out a website over the weekend – huge props to our designer and our team that stayed up till 5:00 AM on Monday night to just get this out there.
And this is a really, really quickly hacked together website that lists all the restaurants that we can think of who are doing their own food delivery. And I want to highlight this – their own food delivery.
My favorite place is this shop Alison Soup House and they're not on GrabFood, they're not Foodpanda, but they might be doing their own delivery, I think they are. How do I get them? How do I discover them? It's by listing them on this website.
– Xinch
So you go get listed on fooddelivery.com.my.
There's a button here (12:37 in video webinar) that you can click to submit your request. So just go and submit your restaurant there for free.
We're a bit slow right now because it's all kind of manual, but we will get you listed eventually.
– Xinch
And now we're going to go into the third part. This is, I think, Ian's favourite segment – promotions to figure out how to position your products better. Ian, why are we talking about this specifically?
– Ian
Well, I mean, let's assume that you've already done outreach.
You've told people how to find you, you've done discovery, you know, people are discovering you, so the thing now is that how do you encourage them to to buy from you? What's the value you're going to give to them?
And during this time consumers will go, "I might have to pay a delivery fee, what's the best way I can get the most value out of that one delivery fee?". Everyone hates delivery fees, right? They want free shipping and things like that.
Types of F&B promotions you can run during the MCO
– Xinch
Malaysians love their value for money.
So how can you make sure that your customers feel like buying from you? It's… Value for money.
So here are some really interesting things we've seen other people do.
Here are some Beep Delivery customers. Little People Cafe in Old Klang Road started these Quarantine Starter Packs (screenshot at 14:51 in video webinar).
And the packs are really cute. They comprise of pasta and homemade pasta sauce that you can cook at home because some people might be afraid of "food delivery" food, especially after they receive all these really horrible forwarded message chains.
So this is to cater for those who are a little bit more afraid.
IDC KL, on the other hand, is running a "Buy 3 Free 1" promotion.
And this is just to encourage people to buy more. Ra-Ft Cafe offers bundle meals, because most people right now are not ordering for themselves, they're ordering for a whole family – their mum/dad/people they live with/husband/wife/kids.
So bundling meals together instead of having people order one by one really helps people order more from you instead of just ordering one or two items.
– Ian
We are seeing the average order value for each customer go up.
Again, of course, consumers are not just buying for one person, but the other thing is that merchants are setting things like a minimum order value for free delivery. So these things are really encouraging the average order values to go up.
– Ian
Now back to Little People Cafe, what I like about them is that they normally don't sell "raw" products like that.
They're known for their homemade pasta and things like that. And they want people to experience that at home by themselves. And that's how they came up with this whole Quarantine Starter Pack, which is amazing.
– Xinch
VCR Cafe has done the same thing. They call it a "Stay At Home" pack, which has bread and spreads.
And the reason why we say people are ordering more now because they're ordering for their families, is because we've noticed the average order values on Beep Delivery.
I think it ranges from between RM30 to RM100. Typically last time when you order stuff on GrabFood or Foodpanda, you order a meal for one person.
But most people now are ordering much larger cart sizes.
– Ian
If you think about it, even before the days of Foodpanda, where you walk into a restaurant, you're just ordering RM10 – RM12 worth of food.
But when it comes to food delivery in general, people do order more. I don't know if it's because different upsells? I mean the things that you can do on an online menu, you normally don't see on a normal menu.
So we do see the average order value going up quite a bit.
On launching Beep Delivery for small F&B businesses
– Xinch
That is true. And Ian mentioned this earlier, free shipping with a minimum order.
I know you can do this on Beep Delivery. I'm not sure about other platforms, but you can offer free shipping offline. Let's say at a minimum of RM50, so that you encourage people to spend more in your shop.
Right now cash is so important for you guys. So you really, really do want them to be able to spend more per transaction.
– Xinch
Honestly, one of the big reasons why we launched Beep Delivery is because we noticed from our data that even right before the MCO, the quarantine order was announced, business traffic was dropping by 50 percent.
And then suddenly after the MCO, some businesses had gone down to an 80% drop, or 0%.
And I don't know how many F&B businesses, cafes, can survive for so long without the traffic. And that is a huge challenge. And this is where like we actually want to help businesses like you.
Delivery is a critical part of your business now. And you're going to have to start delivering.
If not, it's going to be really, really hard to survive.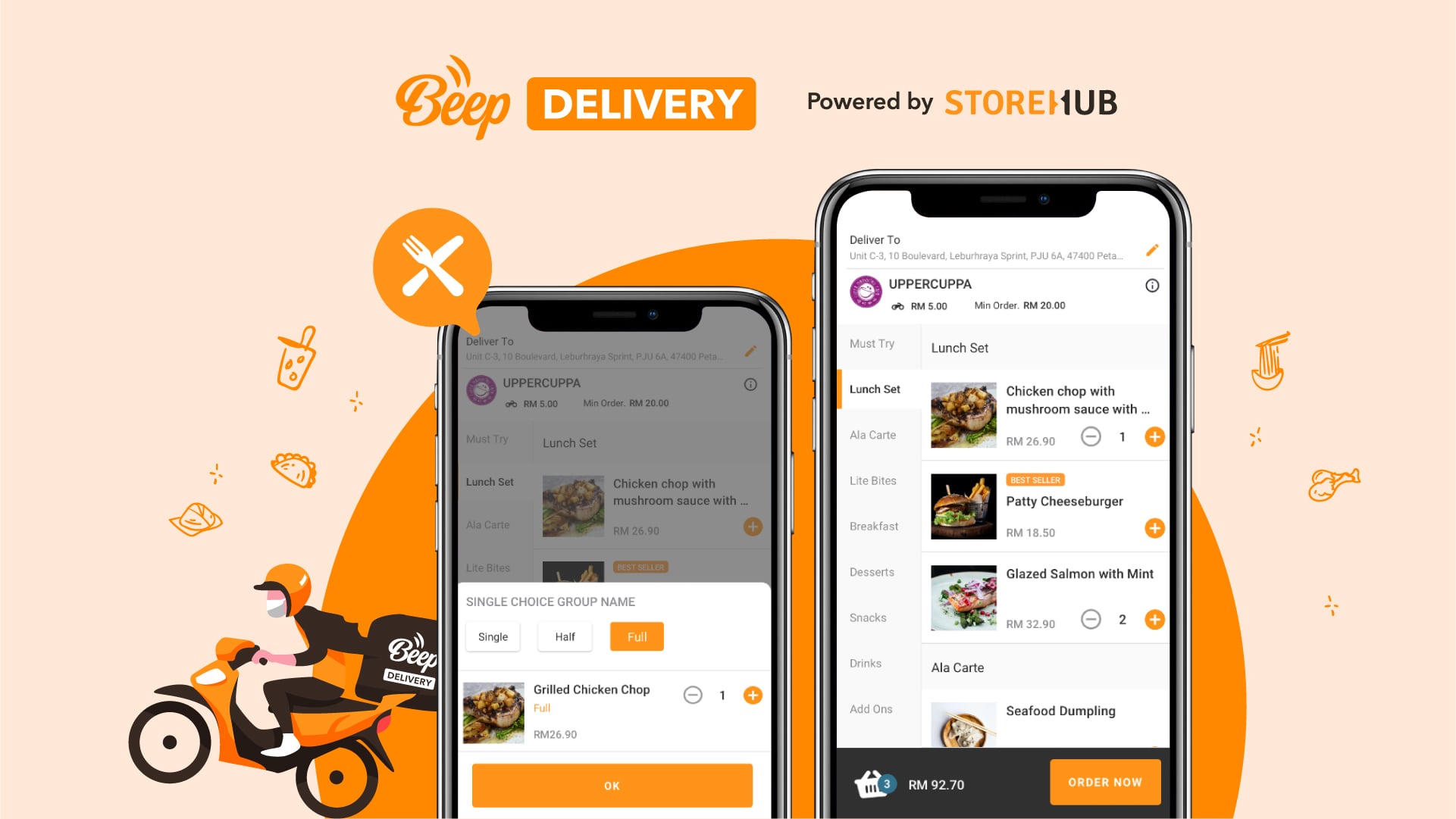 Fill up this form to find out how to unlock food delivery for your F&B business