The F&B business is among the numerous industries that was severely impacted by the recent pandemic.
Now, with the sudden reintroduction of the 14-day (14th – 27th October 2020) Conditional Movement Control Order (CMCO) enforced on Selangor, Kuala Lumpur and Putrajaya, F&B businesses must find new ways to survive this hurdle.
The spike in COVID-19 cases has also influenced about 43.5% Malaysians to not dine in restaurants for the time being.
So the question is, will F&B businesses be able to sustain themselves without having a consistent stream of walk-in customers?
For this reason, local F&B businesses have to explore different available options to continue running their business and stay connected with their existing customers.
According to Mastercard Impact study, 50% of Malaysians are now opting for home delivery of food and groceries.
Tray cafe, however, was able to thrive during MCO just by doing one thing right.
Enabling Beep Delivery through StoreHub BackOffice.
Serving food we want to eat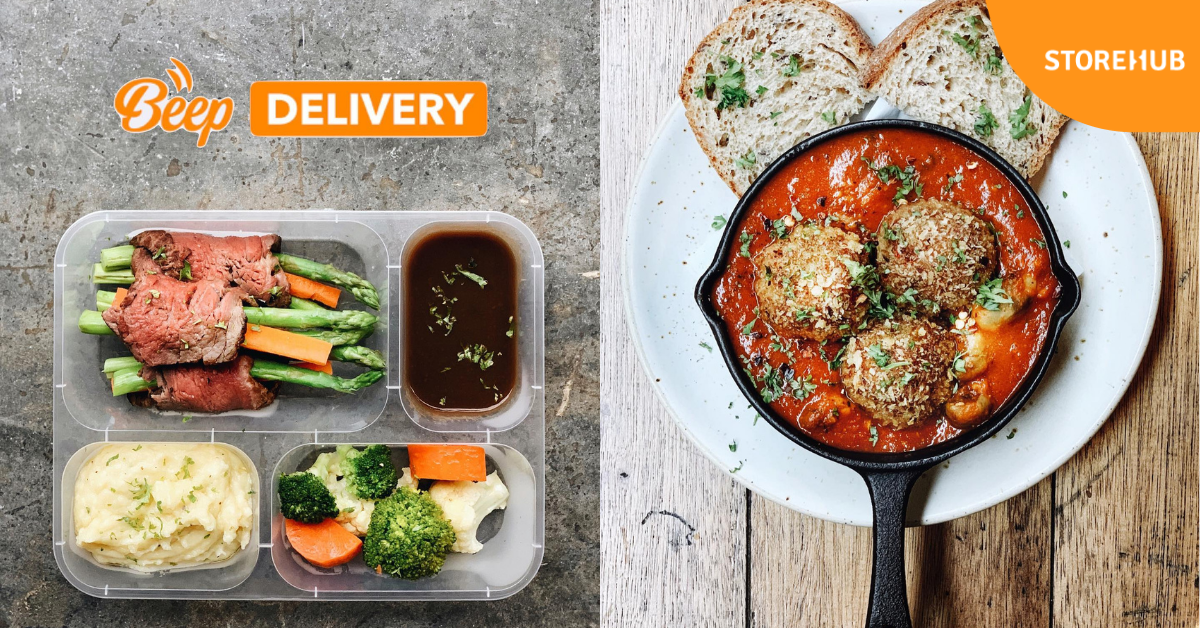 "Business has not been the same ever since the Movement Control Order (MCO)" – Victor Yap, Tray Cafe Founder
Tray Cafe, a small yet cosy cafe situated in Plaza Damas, Kuala Lumpur, is the perfect spot for brunch with family and friends!
Founded by three friends (Victor Yap, Dinesh Rao and Allison Wong), the cafe started out as a place that served food the trio simply wanted to eat!
None of them had been in the F&B industry before: Victor was a civil engineer for 11 years, Dinesh was in human resources, while Allison was a banking executive.
Victor developed a passion for fine food while dining out when he worked in London; Dinesh said he enjoyed the process of cooking more than anything; and Allison's mother was a home baker so she helped in the kitchen growing up.
After operating for more than 7 years, Tray Cafe is now well-known for having more than 27 choices of cake in their menu!
What's their secret to a successful business journey?
Keeping things simple and giving their customers what they themselves would want.
Here are some of our Tray Cafe recommendations:
Farmer's Skillet

Australian Roast Rib-eye Sandwich

Belgian Chocolate Truffle Trote

Orange Clementine Cake
Order from Tray Cafe now: traycafe.beepit.com
Road to reconnecting with regulars
"It was really a means of letting our regulars have the option of having our food delivered to their homes." – Victor Yap, Tray Cafe Founder
The 'New Normal' era initiated by the COVID-19 pandemic is changing industries one by one, and the F&B ecosystem is not excluded from the unavoidable change.
Tray Cafe, with zero food delivery experience, was driven to reach out to their regular customers during this challenging time by activating their Beep Delivery feature which is linked to StoreHub's POS system.
Upon enabling the Beep Delivery feature, Tray Cafe was able to:
1. Run their business as usual
2. Receive online orders from their customers
3. Deliver orders to customers without hassle

How can your business can benefit from

Beep Delivery

?
Beep Delivery is a feature which existing merchants can enable through their BackOffice, and start running their own food delivery service.
Once you've enabled the Beep Delivery feature, you can set up your online menu.
Subsequently, you'll receive a direct store link like this: traycafe.beepit.com
Share this link or let people discover your restaurant through the newly launched Beep app or the Beepit.com.
Beep Delivery comes with fully integrated logistics options, saving you the struggles of finding riders for your orders!
Delivery partners include Lalamove, GoGet, Teleport and more.
What's more?
With Beep Delivery you can also:
Operate and manage delivery and in-store orders

Collect and view customer info

Receive sales report so you can make better business decisions