Reading Time:
4
minutes
A QR ordering system has become crucial for F&B businesses in Malaysia since the COVID-19 pandemic fully hit us in March 2020. It's now become a best practice for all types of F&B businesses, especially restaurants and quick serves that have a high volume of orders, in order to keep both employees and customers safe.
Utilising QR ordering is convenient and minimises contact risk that dine-in and takeaway have.
So, we will explain more on how a QR ordering system can actually benefit F&B businesses like yours. And to help you choose what's best for your business, we will also have Malaysia's QR ordering system comparison in this article.
What is a QR ordering system?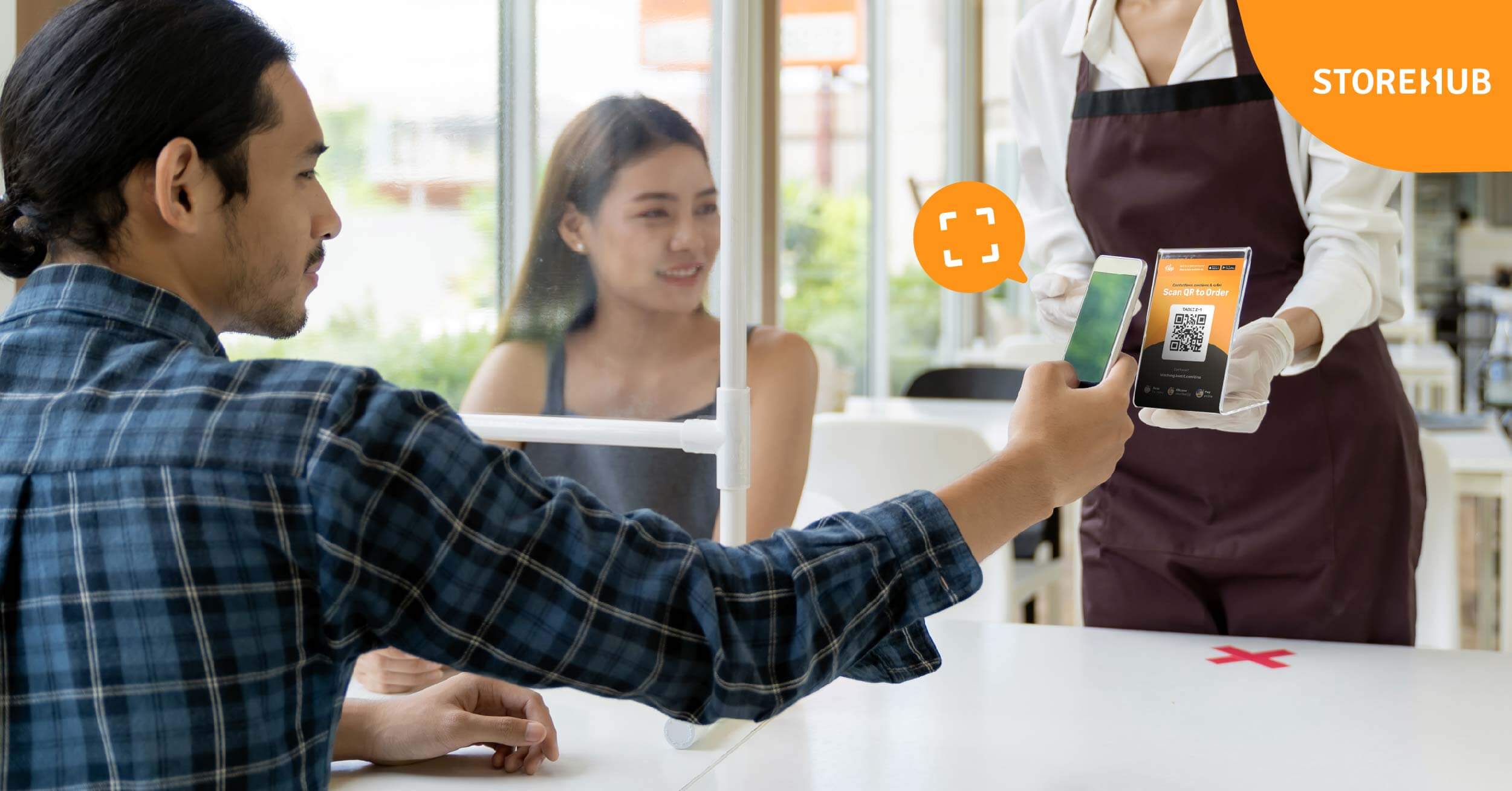 A QR code is a machine-readable optical label that has information attached to it. Therefore, when it's a QR ordering system, it refers to a QR-generated code that's used as a table or online ordering system, which contains a digital menu, pricing, and menu description.
F&B businesses place QR code standees or stickers on tables or counters , which customers can scan to order and pay with their smartphones. The restaurant will then receive a notification on their POS system or mobile device. This really improves operational efficiency especially for the ordering process and turnover rate.
How a QR ordering system benefits your F&B business
Save cost on physical menus

– you just need an e-menu for your online food ordering system which can be updated anytime and also saves you money on the printing cost.

Save on staff cost

– you don't need as many staff members as before with this online food ordering system since customers can directly order and pay on their phones. Plus, this helps with the lack of workforce availability.

Accurate orders

– your waiters don't need to write down the orders or remember the customer's order anymore, so this reduces human error very well.

Fast ordering process

– a QR ordering system helps to fasten the ordering process which means more customer satisfaction, higher table turnover rate, and more sales!
How it works for customers
QR ordering is a convenient and safe way for your customers to order their food as it's both contactless and cashless.
This helps to assure your customers safety when they dine-in at your store, and your customers won't have to touch a physical menu or risk the virus or germs anymore.
And this is how QR ordering works for your customers:
Scan the QR code

on the table/standee

Browse the menu

and select items to order

Review order

and confirm (some QR ordering systems let customers pay right after they order, and we will go into more details about this in the comparison section.)
Which QR ordering system is best for your F&B business?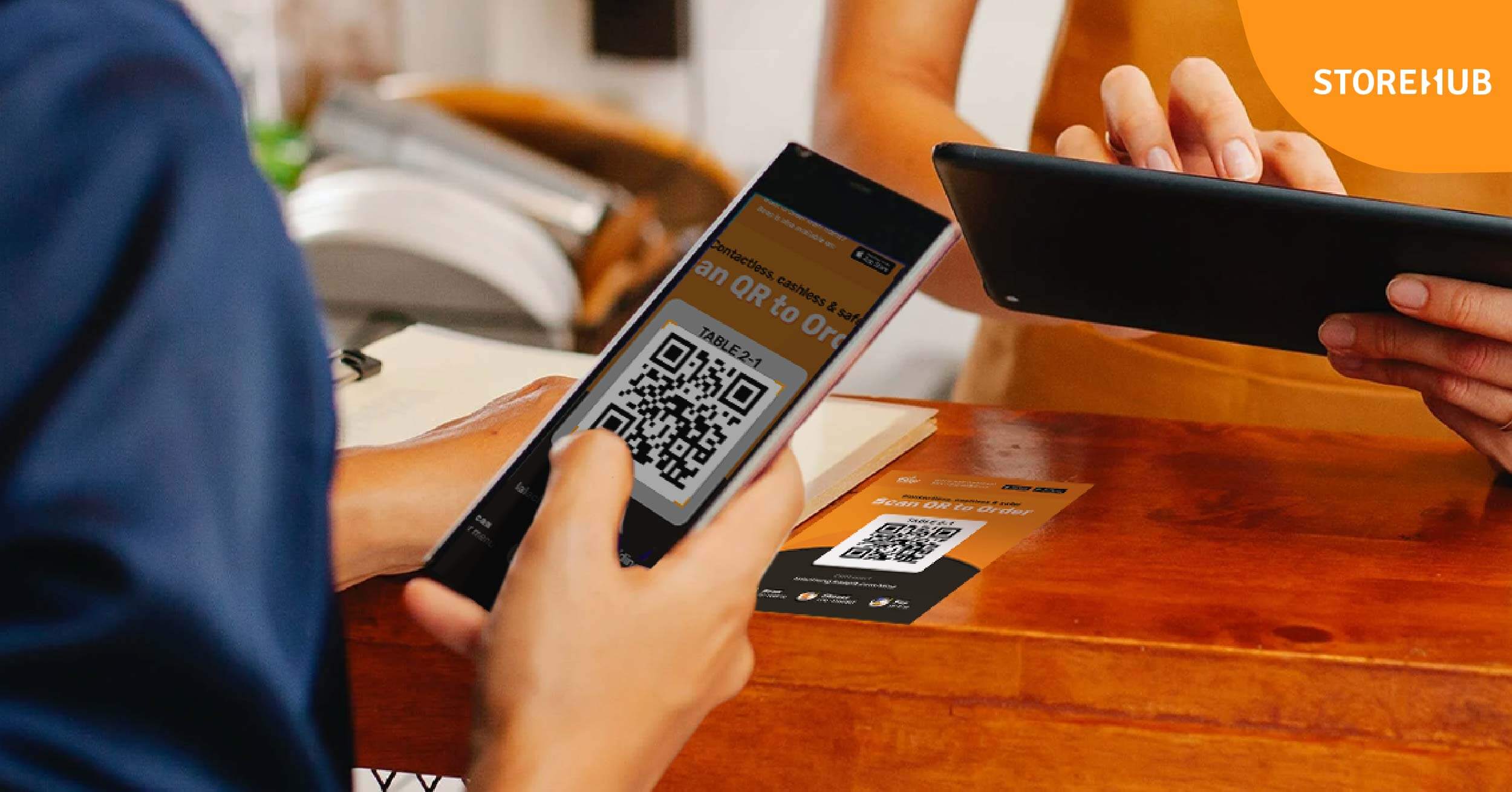 This section will highlight QR ordering systems in Malaysia to help you as an F&B business owner choose what is best for your restaurant.
Ready? Let's see the table below to find out which is most convenient for you and your customers, and which comes with more perks for your F&B business!
QR Ordering System Comparison in Malaysia
Feature

/Provider

Comes with POS system
App required for customers
Instant online payment for customers
Free Trial
Pricing

Beep QR Order (by StoreHub)

✔️

❌

✔

✔️

(14 days)

– Advanced: 0% txn fee (RM249/mo)

– Pro: 0% txn fee (RM499/mo)

Note: Beep QR Order transaction fee is 0% from now until further notice.

Epoint

Cirrus Cloud

✔️

❌

❌

✔️

Can get the quotation via email

Dinlr

❌

❌

✔️

✔️

(14 days)

RM 150 /mo/location

Aliments

✔️

❌

✔️

✔️

– Lite Plan: FREE

– Silver Plan: RM990/year

– Gold Plan: RM1490/year

White

Bean

Asia

❌

✔️

✔️

❌

Can get the quotation via email

SifuApps.Biz

✔️

❌

❌

✔️

(7 days)

– Standard: RM25/mo/location

– Premium: RM50/mo/location

Menumiz by Univeral Apps

❌

✔️

✔️

✔️

(Flat monthly rate, commission based plan, combo plan)

– FREE plan

– RM99/mo

– RM199/mo

– RM299/mo

– RM499/mo

YhoFoodie

✔️

✔️

✔️

✔️

RM3500 for hardware and RM0.10 for additional cost

Genius POS

✔️

❌

✔️

✔️

Can get the quotation via email

i

RS

Software

✔️

❌

❌

✔️

– Basic: RM2000/Lifetime

– Standard: RM3200/Lifetime

– Advance: RM3700/Lifetime
Note: This information was last updated on March 19, 2021 and may be different by the time the content was published.
These QR ordering systems and providers offer some good benefits for your F&B business especially ones that are attached to POS solutions.
They have some significant features that can help your business operation and improve sales, which you need to check all the perks that come in the package when you make a purchase.
Like Beep QR Order by StoreHub, it's so convenient for both restaurants and customers. It's a feature under the StoreHub POS system that helps you collect customer data and give cashback as part of your loyalty program.
The StoreHub POS system allows you to utilise and streamline your F&B business operations with a lot of prominent features like inventory management, reports, customer management, employee management, CRM, loyalty program, Beep Cashback, Beep Delivery (integrated food delivery feature), and many more!
Your Turn!
Now you're all set to serve your customers safely, fasten your ordering process, and increase sales. A QR ordering system will definitely help give you and your customers an easy and convenient cashless and contactless ordering method for dine-ins and takeaways.