Reading Time:
4
minutes
Running an online store, the first and most important page is your home page. This is the first thing your website visitors will see when they search you up. Ideally, it should introduce your brand's best sellers and different categories of products or services that you offer.
In fact, most people spend the most time creating their home page design that they end up neglecting the importance of other pages.
I'm talking about pages that would help your visitors find useful information easily. This could potentially improve your website's impression and conversion.
Let's cover 4 basic pages that are essential to your website:
About Us

FAQs

Contact Us

T&C
1. About Us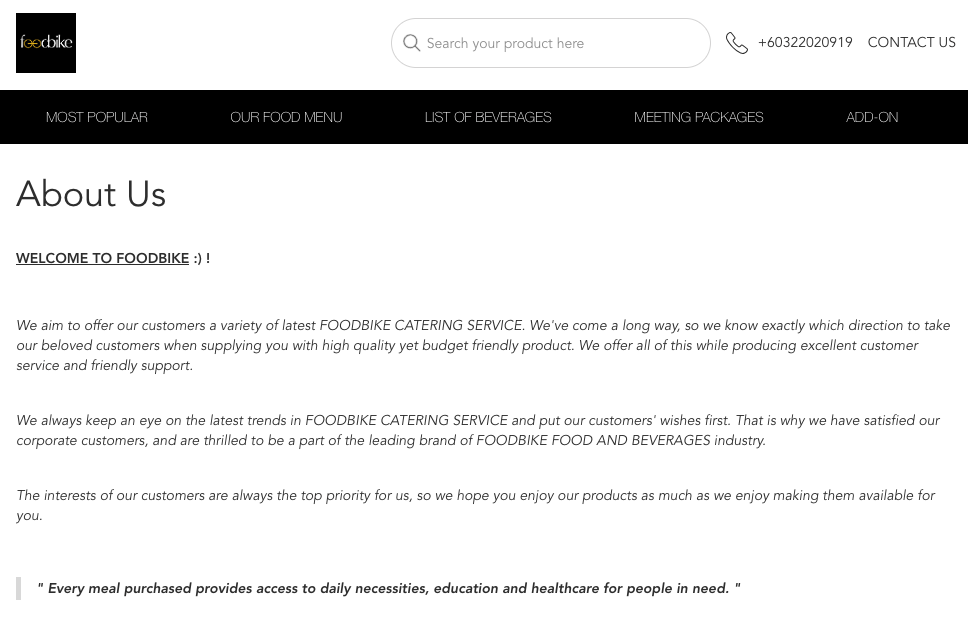 Most often, people would visit this page to find out more about:
What your company does

Who founded the company

Whether the business is legitimate
As such, this should be the first and one of the most important pages you create. Use this page to make a strong impression about your brand. Tell your founding story, mention your business success or milestones and convince new customers why your products are better than others and why they should buy from you.
To optimise your 'About Us' page, include the most relevant information on top and a CTA at the bottom.
I've provided you with some templates below as a guidance.
About Us
Page

Template #1

Hello and welcome to , the place to find the best for every taste and occasion. We thoroughly check the quality of our goods, working only with reliable suppliers so that you only receive the best quality product.

We at believe in high quality and exceptional customer service. But most importantly, we believe shopping is a right, not a luxury, so we strive to deliver the best products at the most affordable prices, and ship them to you regardless of where you are located.
About Us Page Template #2
Welcome to !

We aim to offer our customers a variety of the latest . We've come a long way, so we know exactly which direction to take when supplying you with high quality yet budget friendly products. We offer all of this while providing excellent customer service and friendly support.

We always keep an eye on the latest trends in and put our customers' wishes first. That is why we have satisfied customers all over the world, and are thrilled to be a part of the industry.
The interests of our customers are always the top priority for us, so we hope you will enjoy our products as much as we enjoy making them available to you.
About Us Page Template #3
We are , a small but motivated company specializing in . We believe passionately in great bargains and excellent service, which is why we commit ourselves to giving you the best of both.

If you're looking for something new, you're in the right place. We strive to be industrious and innovative, offering our customers something they want, putting their desires at the top of our priority list.
2. FAQ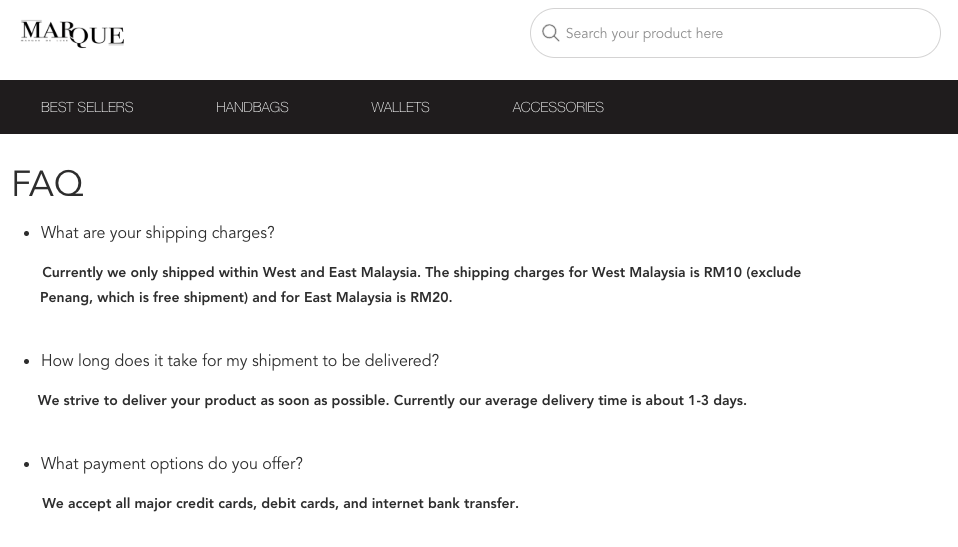 Do you get different customers always asking the same types of questions? If so, create a Frequently Asked Questions (FAQ) page to answer them to prevent double work!
Plus, it'll help improve the user experience as they can find answers quickly in a single page. This means less time spent on customer service!
An FAQ page can also enhance your internal link-building (which increases your SEO ranking) if it contains links that direct customer to useful content on your website.
Now that you know the importance of having an FAQ page, take a look at some of the customer commonly asked questions when they are looking to make a purchase from you.
What are your shipping charges?

What shipping options are available and how long does it take?

What payment options do you offer?
Which shipping company do you use?
What happens if my product arrives faulty/damaged/lost?
How do I cancel my order?
What is your return policy?
How do I care for my product?
What sizes do you offer?
Who do I contact for support?
3.
Contact Us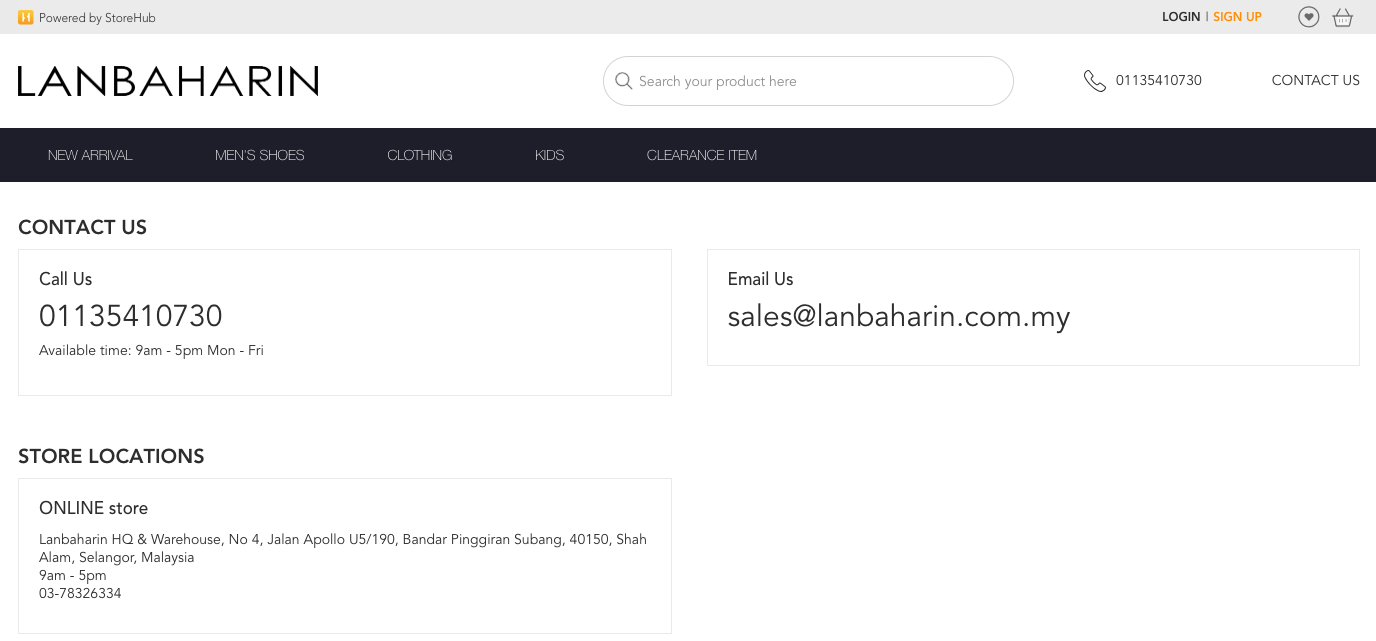 If your customer is not able to find what they are looking for in the FAQs section, they may want to contact you for more information.
This page is especially important as it helps you collect data from customers that are interested in your products for you to follow up with. It also acts as a place for customers to provide their suggestions, or feedback about your company.
Some necessary information to provide in your 'Contact Us' page include your:
Email

Phone Number

Chat (Whatsapp, Line, etc.)

Physical Store Address

Link to your social media profiles for updates
Use CTAs so they can contact you easily i.e. "Call Now" or "Email Now" button.
4. Terms & Conditions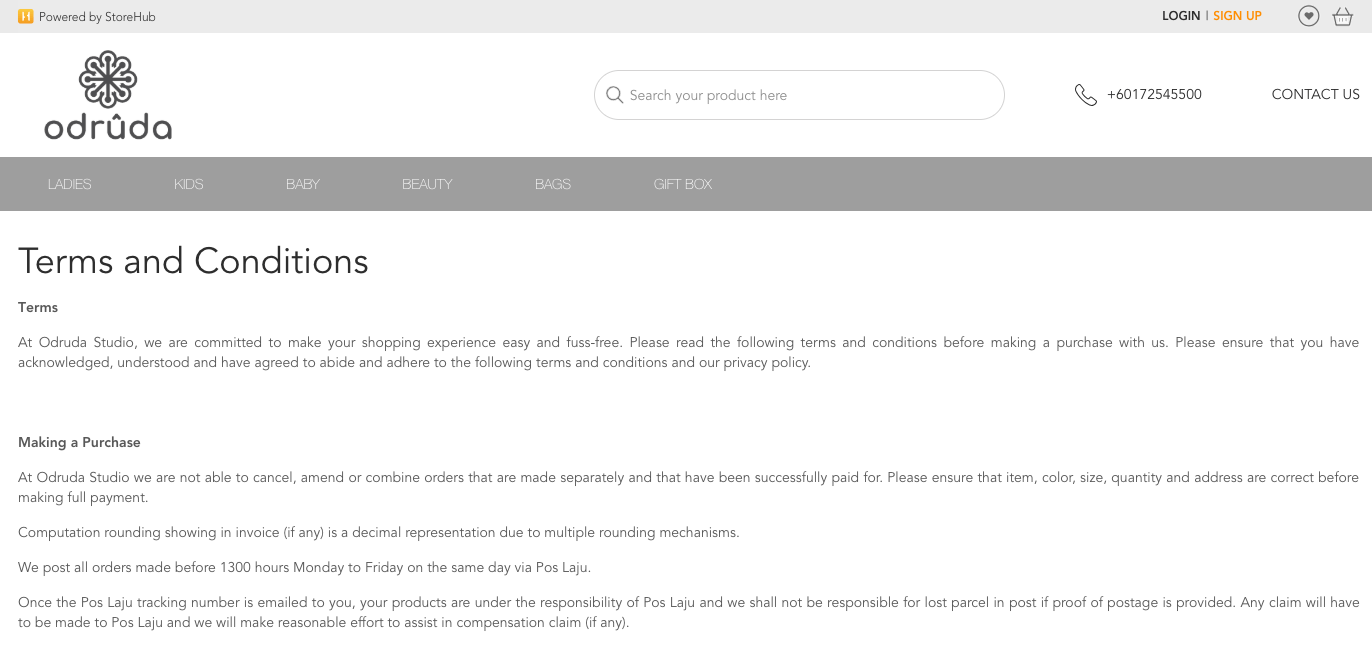 The Terms and Conditions page is basically a legally binding contract between your website and your users.
It outlines the responsibilities of the website owner, as well as the regulations that your users must comply to, in order to use your website. In cases that your users abuse or misuse your website, this page should include the necessary actions to be taken for such situations.
Remember to state your terms of use in clear, simple, and easily-understood language to protect your website, company, and customers.
Ready to create your T&C page?
Use this online generator, follow the instructions and generate your own.
In Conclusion…
Provide your customers with useful information to help them with their decision making process. Take a look at your most visited pages and most frequently asked questions, figure out their preferences, concerns and needs. Once you're able to give them what they are looking for, they might just transact with you!
ADDITIONAL TIP FOR YOU:
If you need help creating images but you are not experienced in graphic design or using illustrator, make use of Canva! Here are some shortlisted templates you can use: